Admittedly, we Europeans still don't really have Taiwan with its metropolis of Taipei and its diverse sights as an Asian travel destination on our radar. With its mix of tradition and modernity, rugged nature with mountain peaks up to almost 4000m high and superlative futuristic skyscrapers, the country is as rich in contrast and exciting as hardly any other country.
In the capital Taipei in particular, you can experience these contrasts up close: for a moment you are standing somewhere between neon advertising and stinky tofu in the middle of one of the most vibrant districts in the world, but only a few kilometers away the city limits of Taipei lead into densely forested nature with hot springs , Tea fields and high mountains that offer the most wonderful views of the impressive Taipei skyline that you can imagine.
What strikes me in Taipei first, that it is not the is a city center as we know it, for example, from European cities. The Taipei sights are spread over the entire city area right into the New Taipei district. But don't worry, Taipei is a very orderly Asian city, everything can be easily reached by public transport.
In this article you will learn which highlights and sights you should definitely see in Taipei, as well as a few (more or less secret) culinary tips. Here we go!
Taipei Attractions: The Taipei 101
The Taipei 101 is the symbol of the city. The 508m high skyscraper was the tallest building in the world until 2007 when it was replaced by the over 800m high Burj Khalifa in Dubai. The construction of the skyscraper is modeled after a bamboo tube, the Taipei 101 is today the tenth highest building in the world.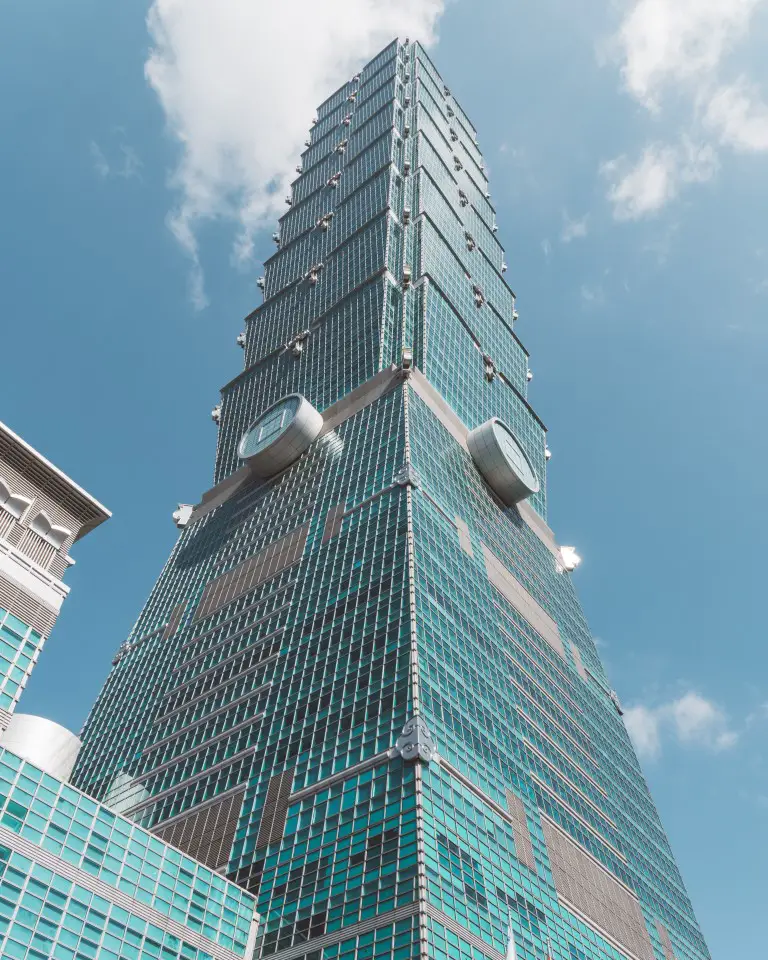 It is located on the lower floors of Taipei's largest shopping center, otherwise it is a pure office building. There are 101 floors in total (hence the name), on the 89th floor there is a closed viewing platform for visitors. From there there is an incredible view of Taipei and the entire surrounding area that you shouldn't miss.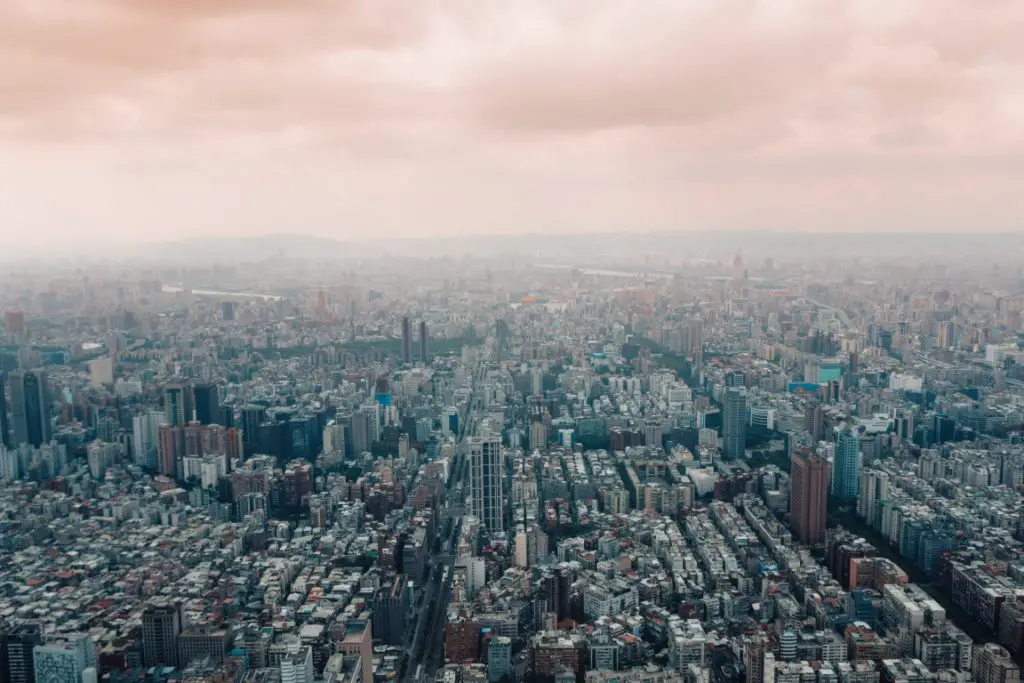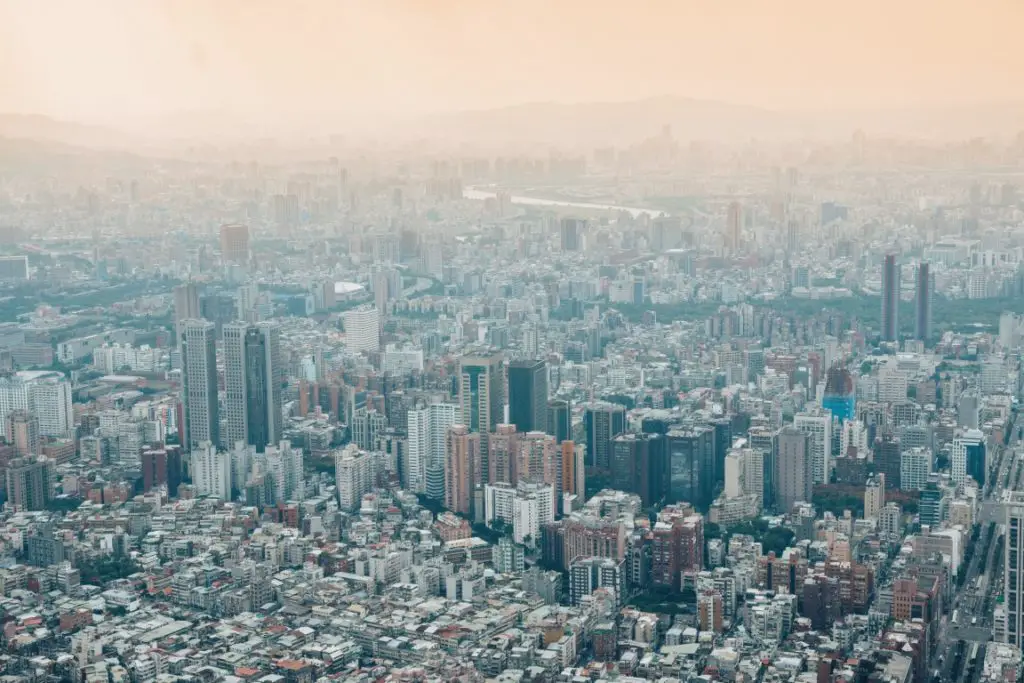 The elevators that take you to the top of the tower are also completely gone: With a speed of 16.8 m / s, you will be catapulted upwards in just a few seconds, but the air pressure is so cleverly balanced that you absolutely cannot do it feels nothing. Until 2013, the Taipei 101 had the fastest elevators in the world – the ride alone is an experience in itself.
Incidentally, on the 89th floor there is a huge gold-plated steel ball that acts as a pendulum and compensates for vibrations caused by earthquakes. From the same floor, a staircase leads up to the 91st floor to a small, open viewing platform, from which you have a clear view down.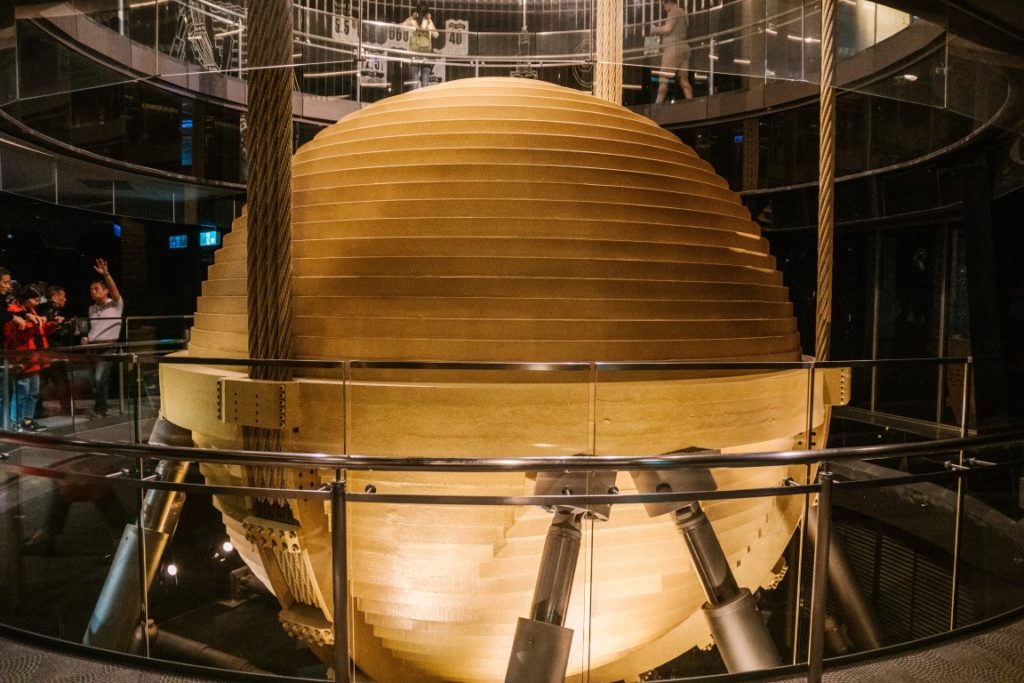 The best dumplings in Taipei
The next highlight awaits you on the ground floor in the Food Mall of Taipei 101: the Din Tai Fung restaurant , which specializes in dumplings. Wait a minute … dumplings – don't you find them on every corner in Asia? Right, but not this one! Din Tai Fung has so-called Xialongbao , Taiwanese soup dumplings, which are not served in soup as you would expect, but are actually filled with a kind of soup and cooked in steam.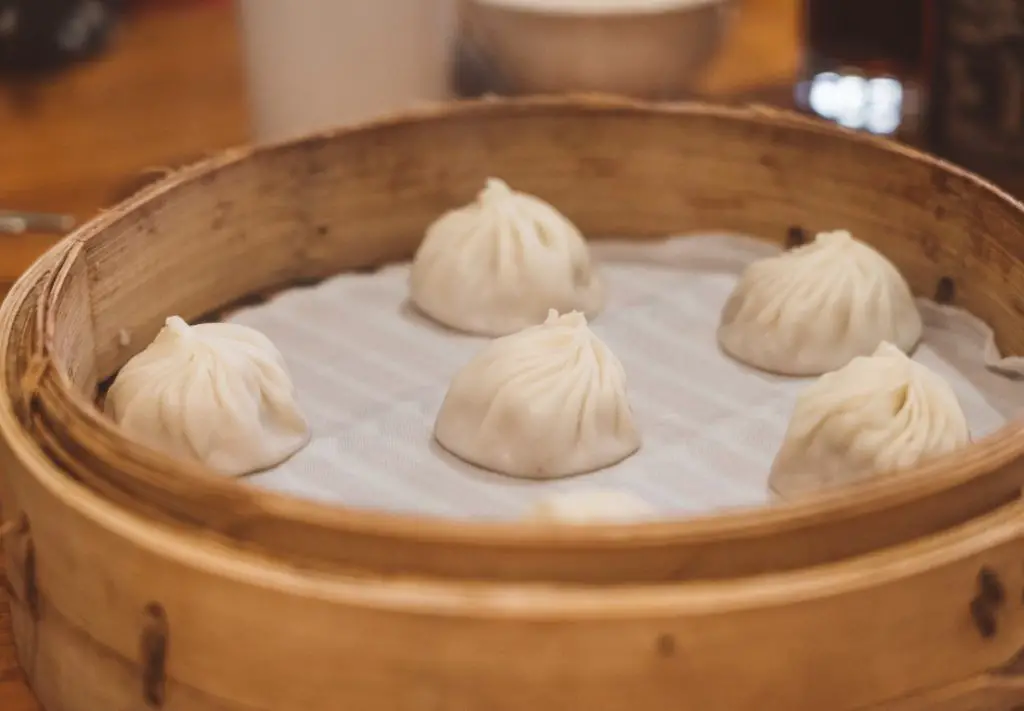 Din Tai Fung has perfected the preparation of these dumplings and you can watch them being made live through a large glass front. Each dumpling has exactly 18 folds and weighs exactly 21 grams.
The restaurant has now developed into a franchise that you will primarily find in Asia. Some of the branches have even been nominated for a Michelin star. And what can I say … rightly! I found it very tasty and the Din Tai Fung was definitely my culinary highlight during my week in Taiwan.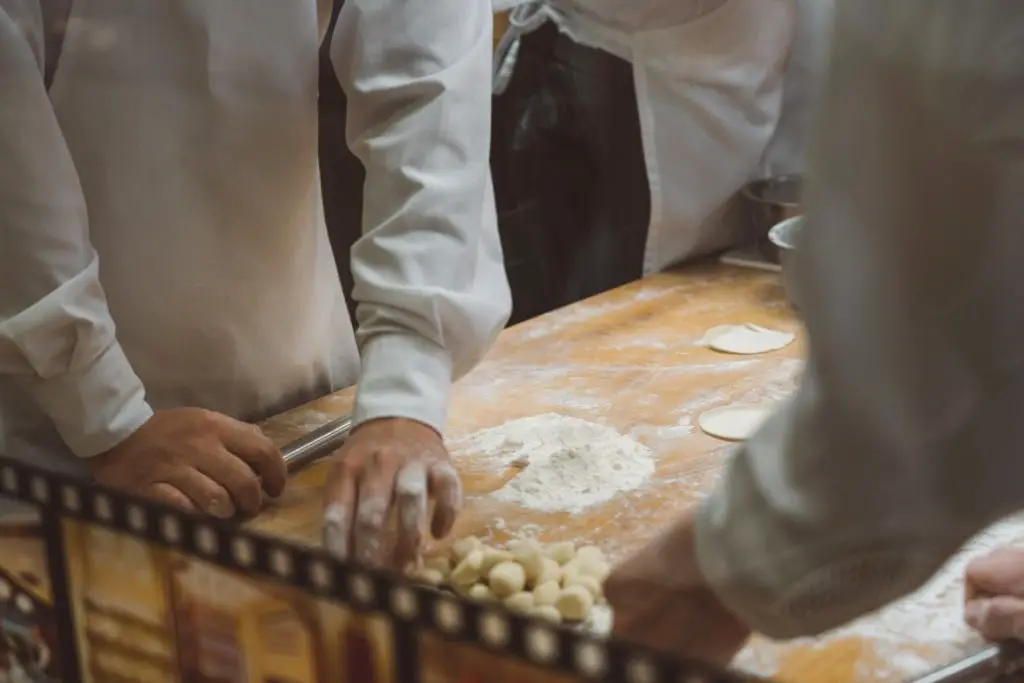 The Elephant Mountain
It's always one thing with skyscrapers: Standing on top is nice, but it's actually even more impressive to see the skyline from a distance. In Taipei this is best done from Elephant Mountain, which is why it is rightly one of the city's top attractions. You have probably already seen pictures of Taipei with people sitting on a rock and Taipei 101 towering in the background, right? Here we go, Elephant Mountain is exactly that spot!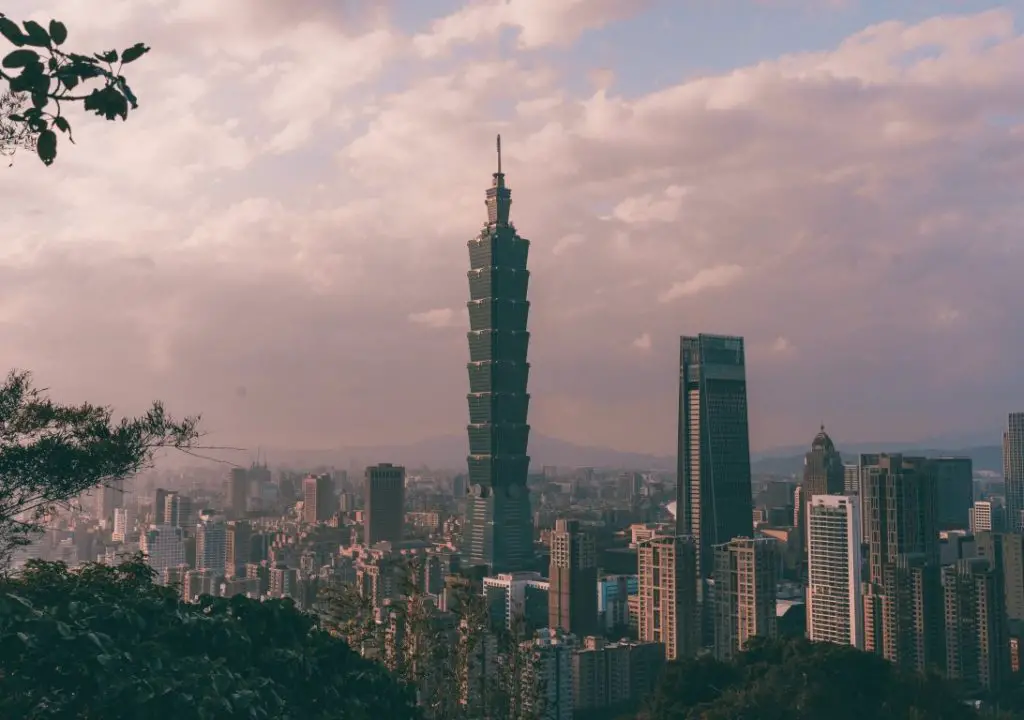 From the only 180m high mountain, which is also called Xiangshan, you have an incredible view of Taipei 101 and the surrounding skyline. The starting point on Elephant Mountain can be reached by public transport via MRT Xiangshan Station. The way up leads over several hundred steps and can be reached on foot in about 15 minutes.

It will definitely be a little strenuous due to the sometimes tropical temperatures, but you don't need sportswear or particularly sturdy shoes. The mountain is freely accessible and free of charge.
My tip: The best time for the mini hike on Elephant Mountain is late afternoon. At sunset the sky over Taipei turns pink with a little luck and you can take great photos. But expect that you might have to stand in line for the well-known Instagram photo spot on the rock and plan it in time.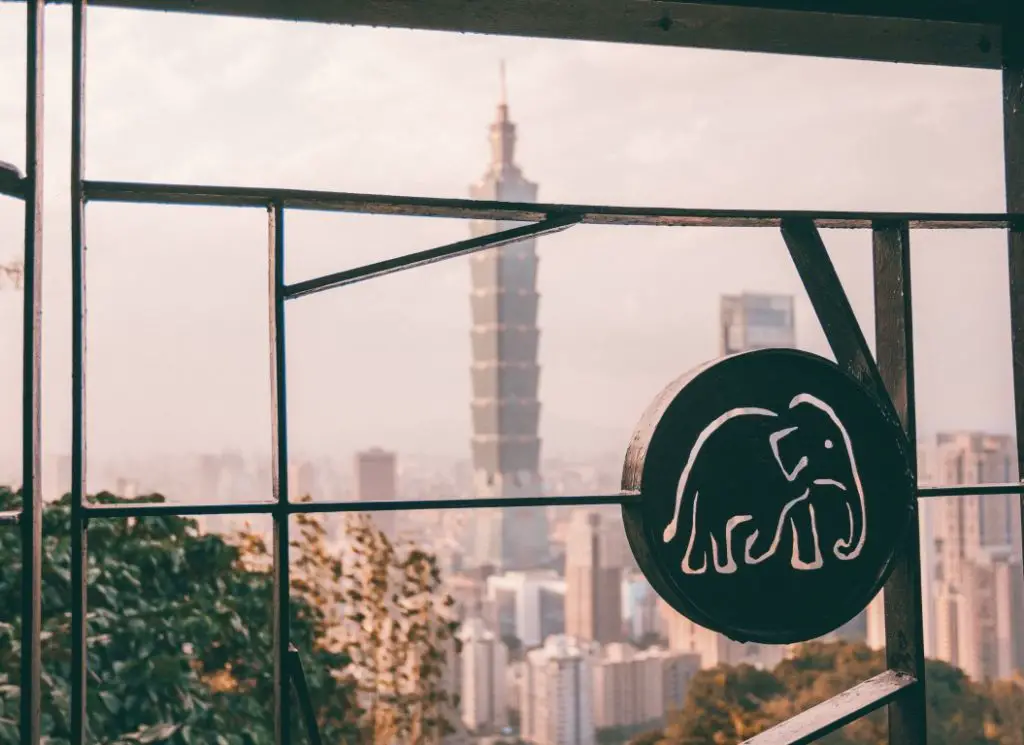 The Ximending neighborhood: sensory overkill and the best bubble tea in town
For someone who is already familiar with major Asian cities, the Ximending neighborhood in Taipei is probably nothing new. For me, who traveled to her first Asian country with Taiwan, Ximending is a sheer overkill of sensory impressions – and that is definitely meant positively!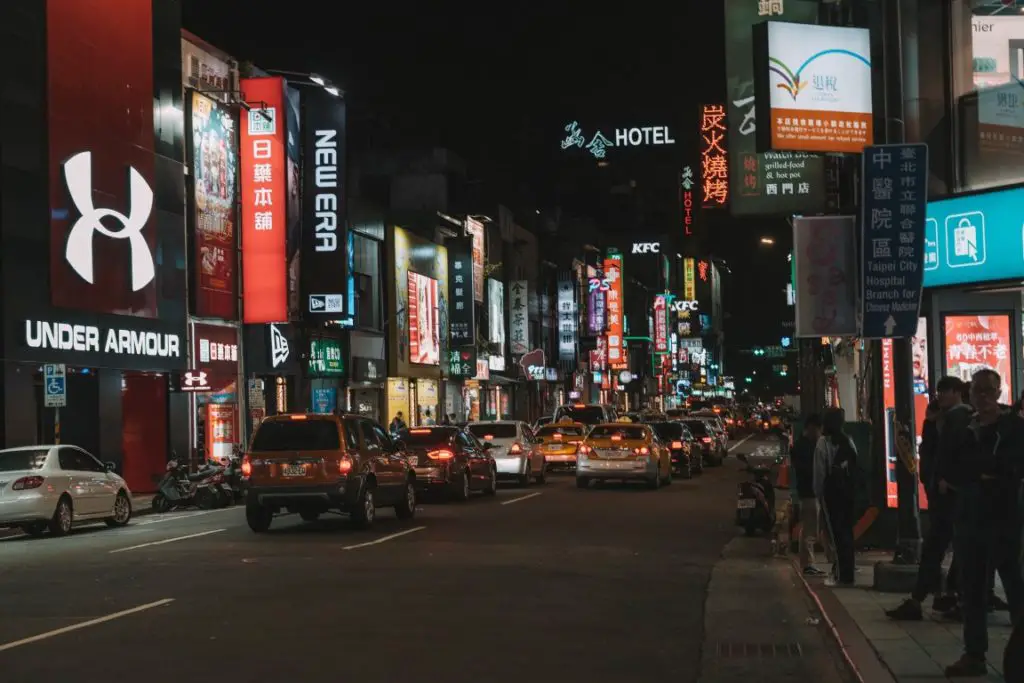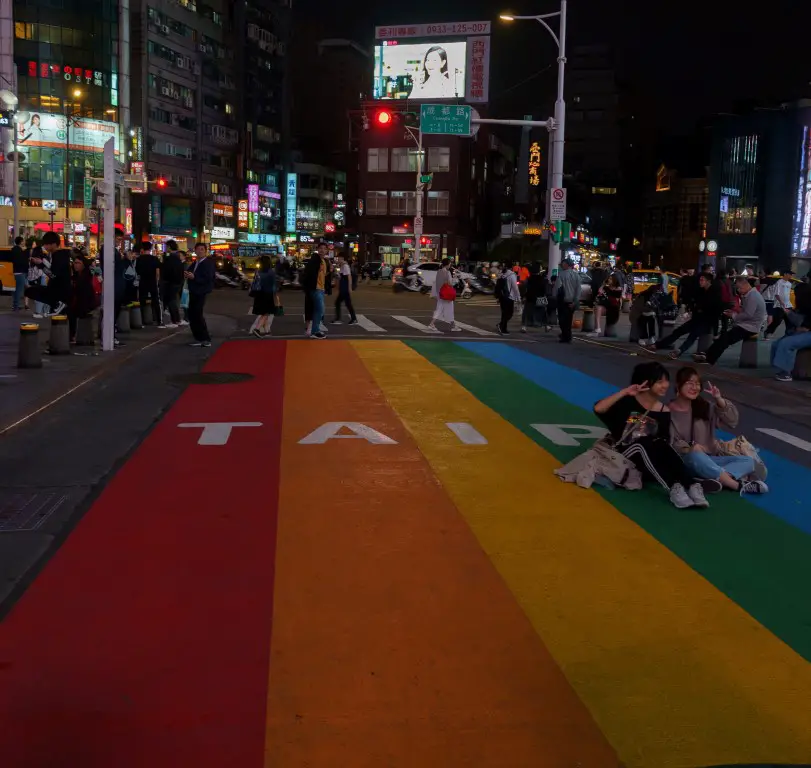 You can easily reach the lively entertainment district via the MRT Ximen Station. As soon as you put one foot up there, you are already standing in the middle of a sea of ​​shrill neon advertising, countless smells from countless street food trucks, loud music from all directions and all kinds of curiosities like 'Giant Cock Cake' (yes … right, that is cake in the shape of an oversized penis) and shops whose only business model is the provision of masses of pink gripper arm machines.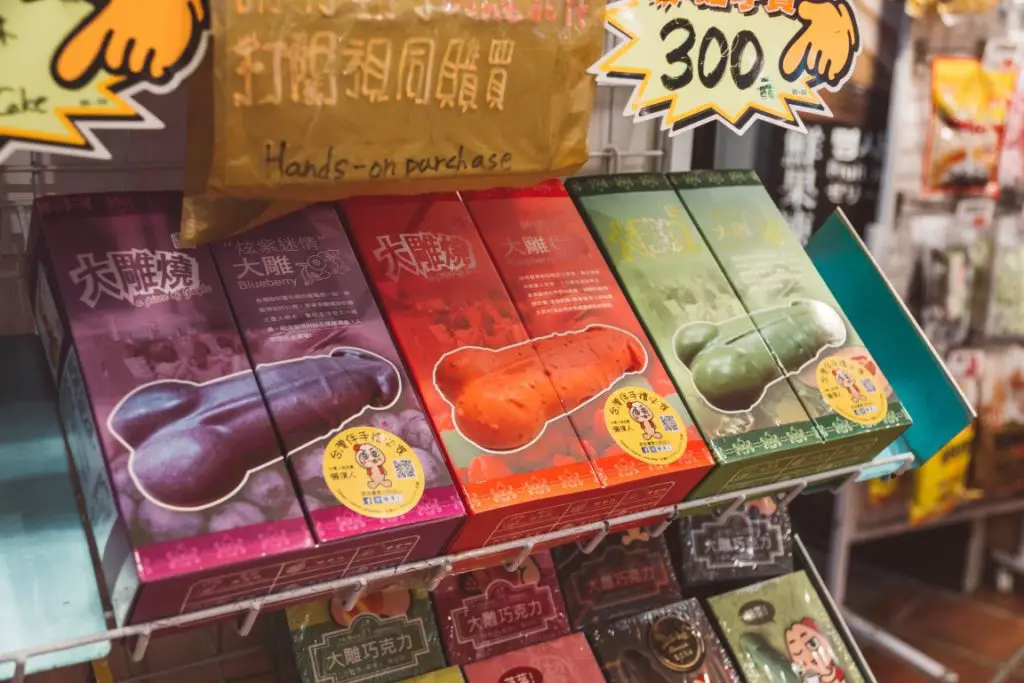 In Ximending: just let yourself drift and be amazed! So that you don't get completely lost there, I have 4 spots for you that you should take a closer look at:
The Xing Fu Tang is known for the best bubble tea in town. We discovered the store more by chance when we passed a long line of people and were curious about what everyone was waiting for. Without further ado we decide to do the same and we will not be disappointed. The Xing Fu Tang bubble tea is worlds more delicious than the bubble tea that suddenly flooded Europe a few years ago and just as suddenly disappeared again – no wonder, after all, bubble tea was invented here in Taiwan too. Definitely try it!

If you haven't shaken your head enough yet, then you should check out the Modern Toilet Restaurant . There you take your food on toilet bowls – from toilet bowls. In the form of a brown pile, if you want. Bon Appetit!

Those of you who are into street art will find what they are looking for on the outskirts of Ximending in the side streets. Orientate yourself on Google Maps at the points Taipei Cinema Park and The Walls , then you will find the corner.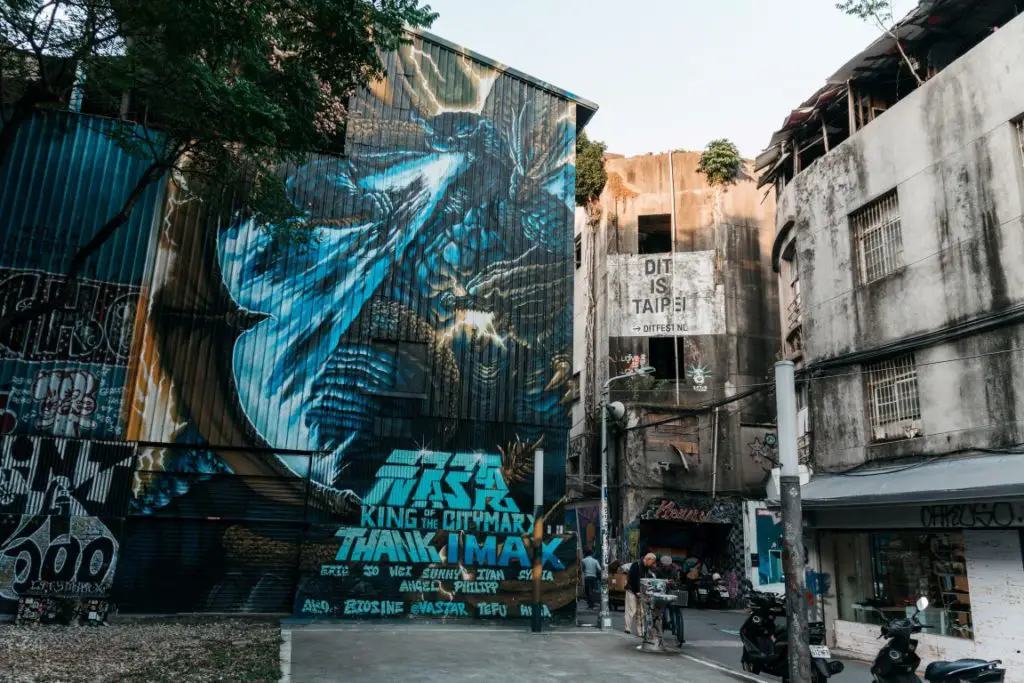 If you feel like quiet with all the hustle and bustle, there is also a temple in the bustling and noisy Ximending (how could it be otherwise, temples can be found everywhere in Taipei or Taiwan). We almost overlooked the Tianhou Temple between all the hustle and bustle (especially since it was hiding behind scaffolding at the time of our visit), but a short visit is definitely worth it.

Taipei attractions: The Longshan Temple
Speaking of temples: As I said, there are almost every corner in Taipei and each of them is impressive in its own way. One temple that I would particularly like to recommend to you is the Mengjia Longshan Temple in the west of the city. At over 250 years old, it is one of the oldest and largest temples in Taipei.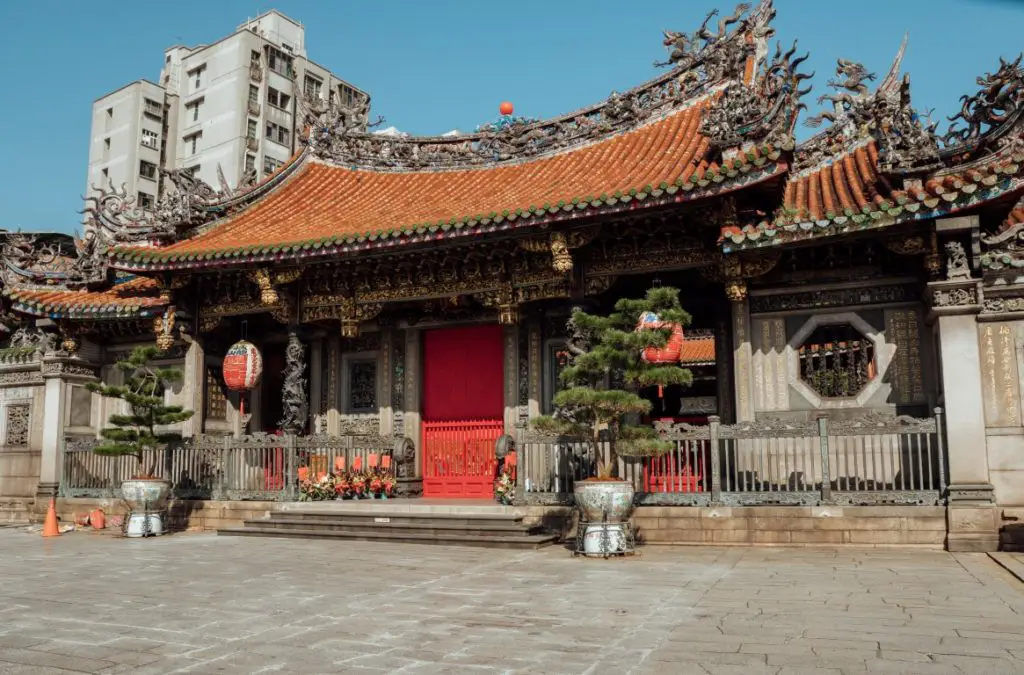 When entering the temple area, I don't know where to look first – everything is colorful, lavish and elaborately decorated and an incredible number of people visit this place. This may be because each god in Longshan Temple has a kind of separate area. In contrast to the smaller temples, there is not only one general god here, but a love god, a marriage god or the goddess who gives children. Every temple visitor can turn to the God who is "responsible" for their specific problem that is currently bothering them and to which they are looking for answers.

I don't know about you, but Christian places of faith usually seem a little oppressive to me and I always find the mood a bit sad. This feeling was completely absent when I visited the temples in Taiwan. I found the Longshan Temple in particular to be a mystical but lively place where people go who are looking for answers to their questions full of confidence. It was pleasant to watch the goings on and soak up the atmosphere of this place.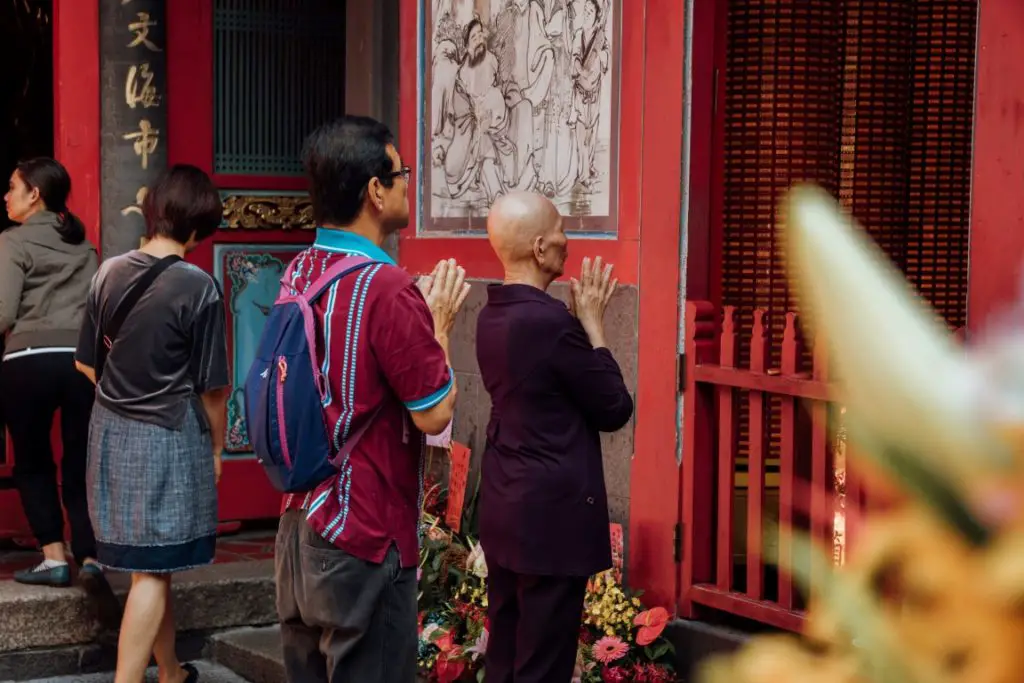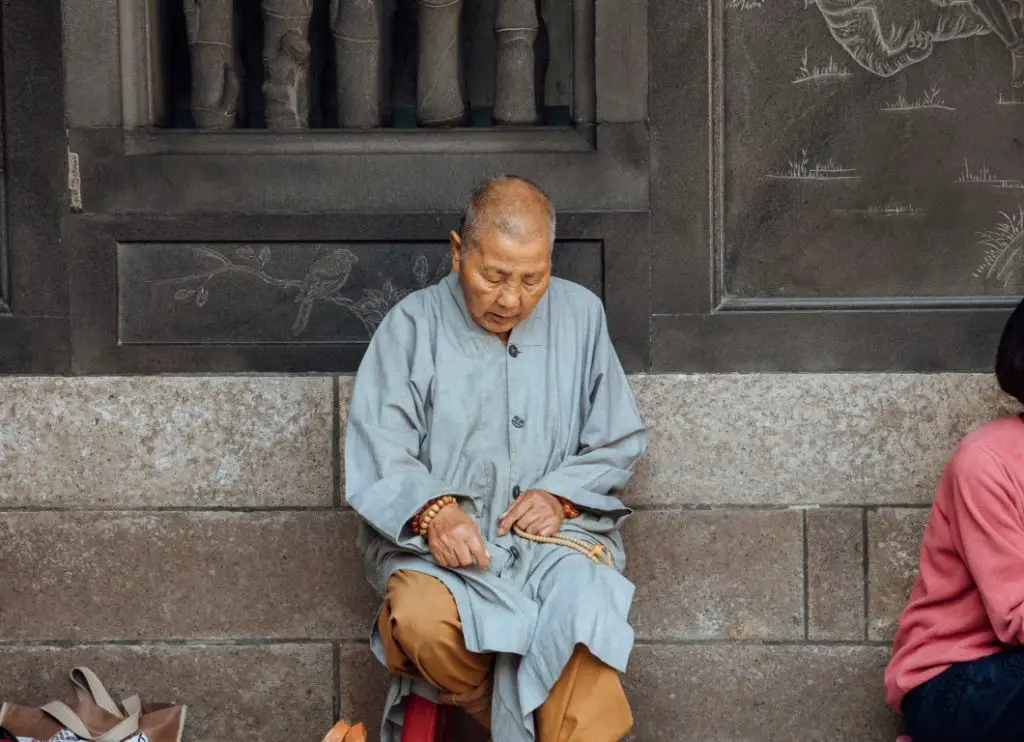 Good to know: very close to the Longshan Temple there is a kind of shopping mall with many fortune teller shops underground. Yes, you heard right. In Taiwan, contrary to our culture, fortune telling is taken really seriously, so it's not cheap fun either. Two soothsayer birds are particularly well known. For the equivalent of around 25 € you can ask the birds a question, they will then pick out a card that will give you the answer to your question. You can do it, but you don't have to ?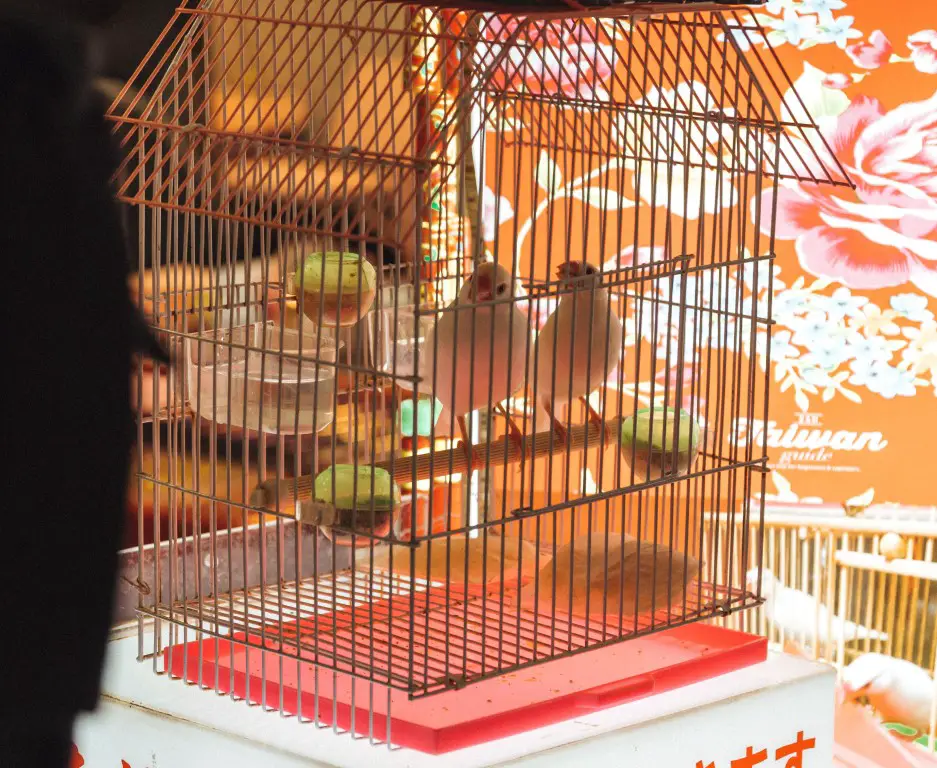 Experience Taiwan's history at the Chiang Kai-shek Memorial Hall
As an island nation that lies geographically between Japan and China, Taiwan is accompanied by a long conflict over belonging to one of the two countries. Until 1945, Taiwan was under the rule of the Japanese Empire and only fell to the Republic of China after World War II (not to be confused with the People's Republic of China, which is now commonly known as mainland China and was only founded in 1949). The Republic of China consists essentially of the island of Taiwan and a few smaller surrounding islands and was under the rule of then President Chiang-Kai Shek from 1949 until his death in 1975. Although he led an authoritarian regime, it also contributed significantly to the development of Taiwan as an independent country and is therefore still revered today.
The Chiang Kai Shek Memorial Hall and the surrounding park with its buildings were completed in 1980 to commemorate him.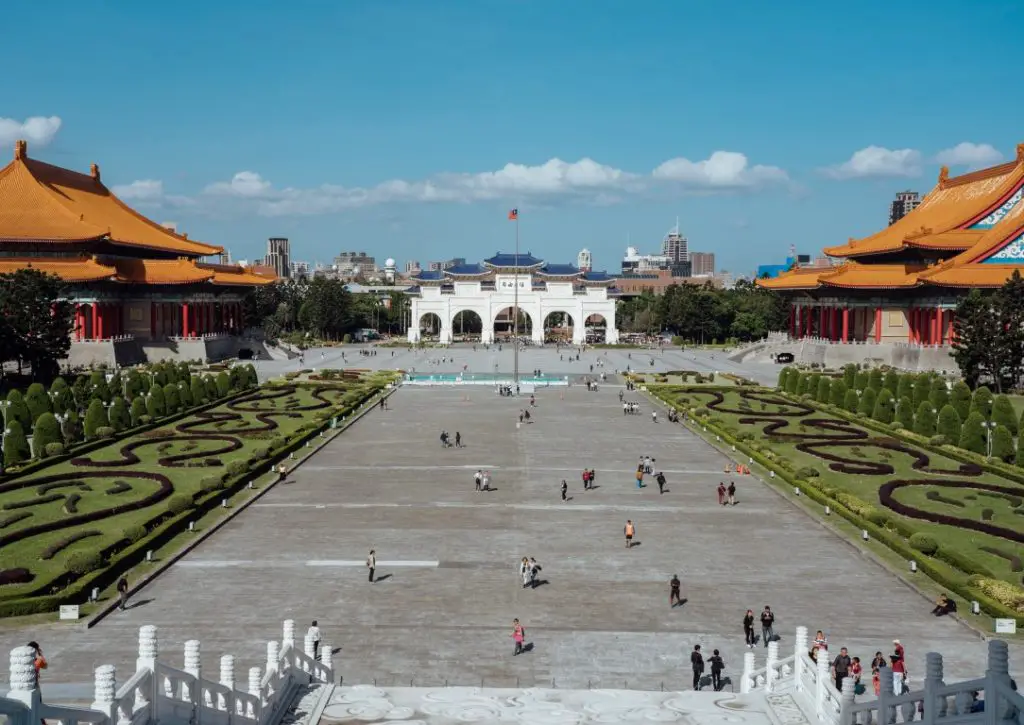 Exactly 89 steps lead up to the imposing 70m high hall – the age of the president on the day of his death. There is a statue of him in the hall itself, guarded by the military – the changing of the guard is now one of Taipei's biggest tourist attractions.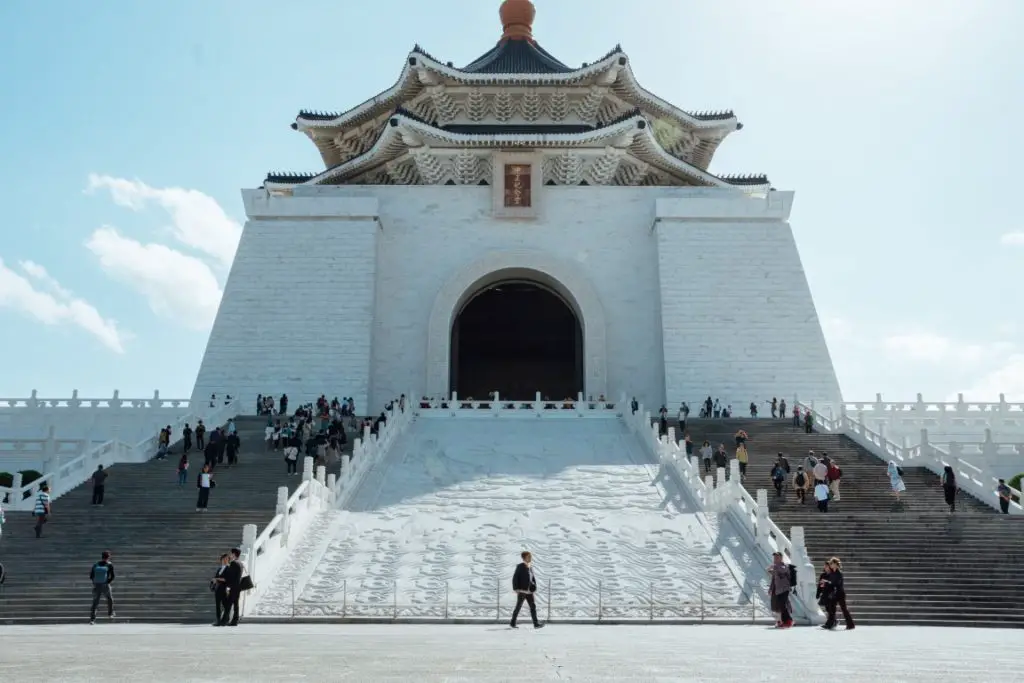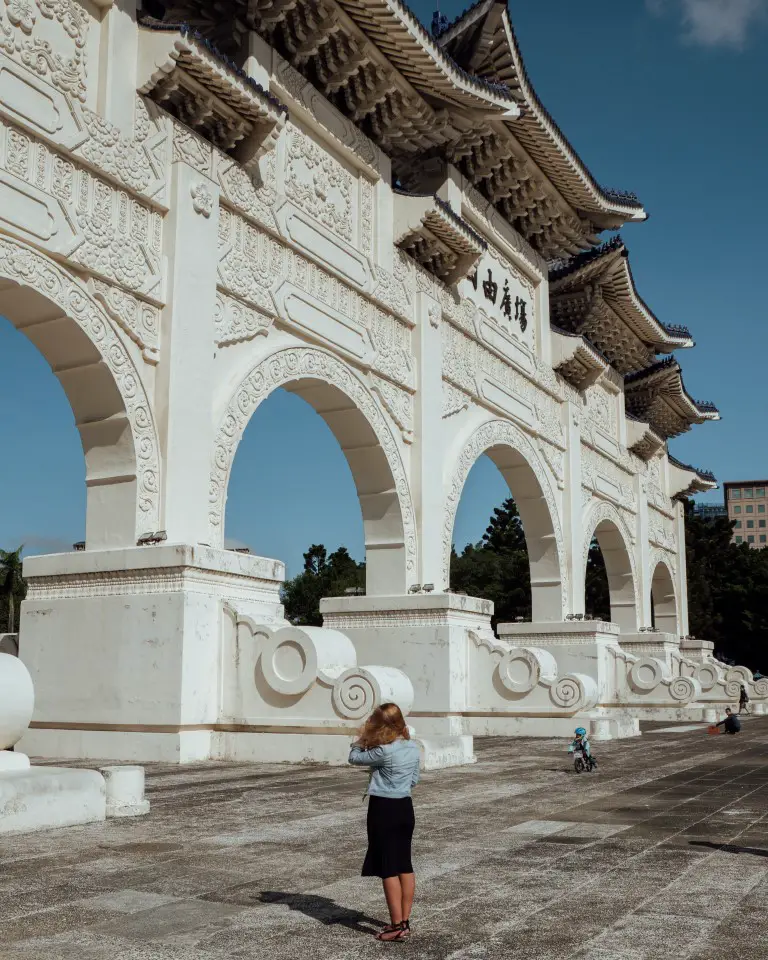 If you would like to learn more about the history of Taiwan, the museum, which is located in the basement of the Memorial Hall, is worth a visit.