With almost 700,000 inhabitants, Seville is the fourth largest city in Spain and the largest city in Andalusia and has the largest historical city center in Spain. Seville's old town is similar in size to the old town of Venice, making it one of the largest old towns in Europe. Amazingly, Seville is still not as touristy as other Spanish cities, you can still find a lot of the original Andalusian culture and mostly reasonable prices. The most important sights and highlights are all close together and you can easily explore them in 2-3 days, for example on a weekend trip.
This is exactly what Join My Trip thoughtwhen they invited me, a small group of other bloggers, and a lucky winner to Seville for a long weekend. Join My Trip is a platform where – as the name suggests – you can publish a trip that you would like to make, but for which you are still missing a companion, in order to then find one or more travel companions via the platform. As the initiator of the trip, you are definitely the trip leader and depending on how much effort you put into planning and organizing the trip, you can ask your travel buddies a small amount for this and even earn something on this way. You can of course also use Join My Trip more passively and just see if there is a nice trip there that you would like to join.
The trip leader for our weekend trip to Andalusia was Anna from Join My Trip herself, who has lived in Seville for almost a year and knows the Andalusian capital like the back of her hand. In this article you can expect not only the most beautiful sights of Seville, but also a few genuine insider tips. And tapas, lots of tapas … let's go!
The most beautiful sights and highlights in Seville
Plaza de España
The Plaza de España is THE landmark of Seville and is without a doubt one of the most impressive squares in Spain. It was created especially for the Ibero-American exhibition in 1929, but it looks like it is hundreds of years old. It is almost impossible to capture its size and dimensions on a single photo … I was definitely overwhelmed. The whole square forms a semicircle and is traversed by a canal (on which you can also ride a boat), over which a total of 4 bridges lead.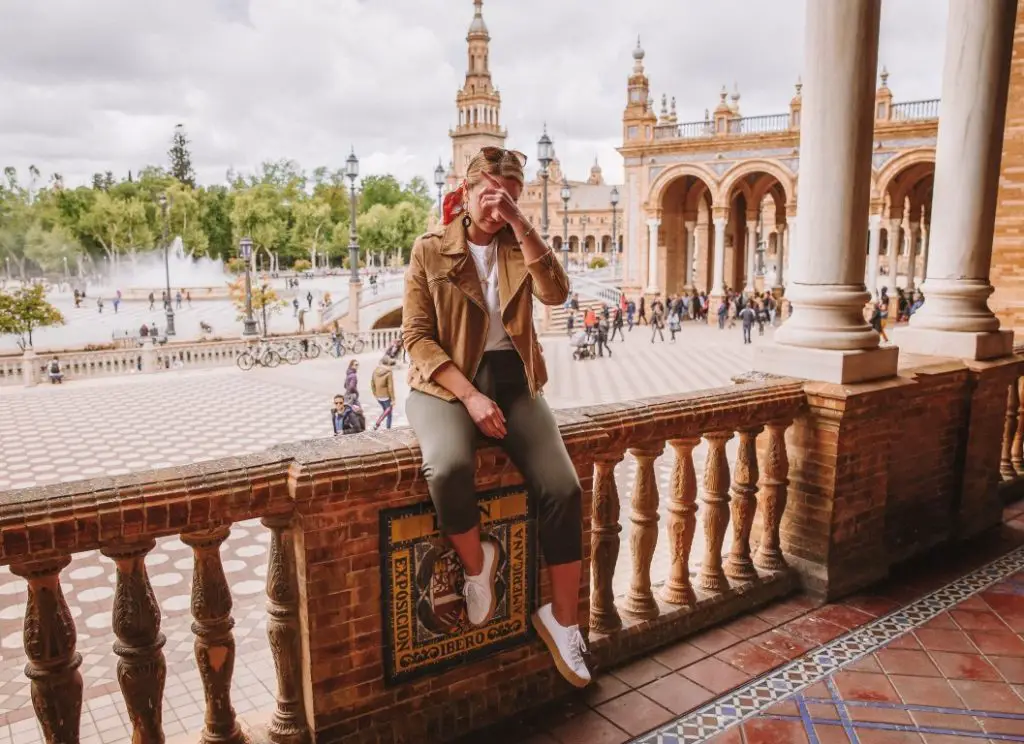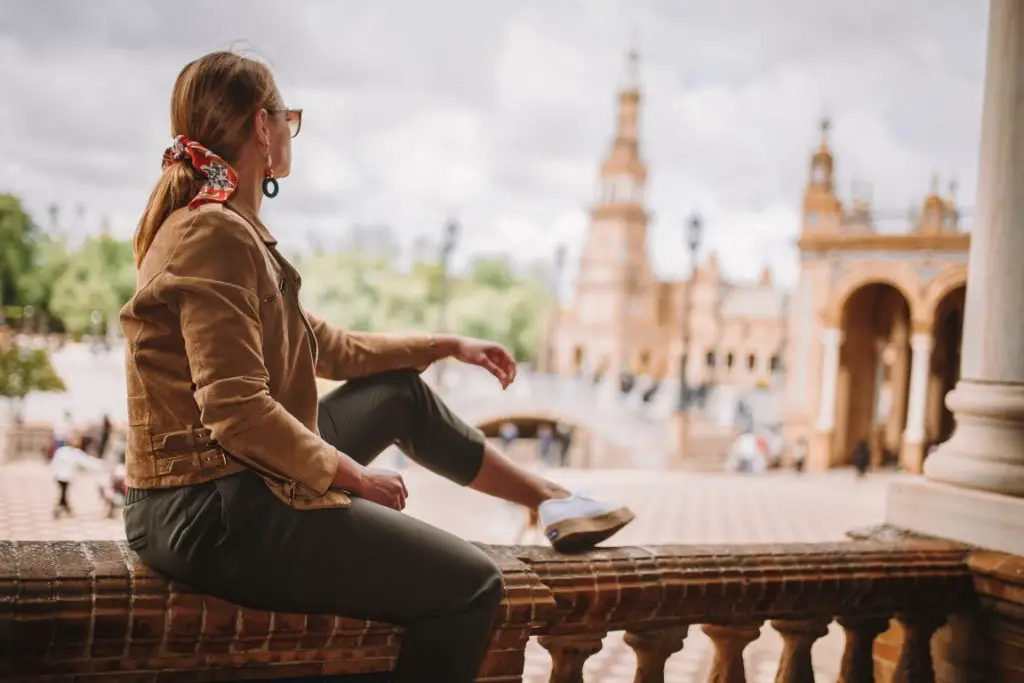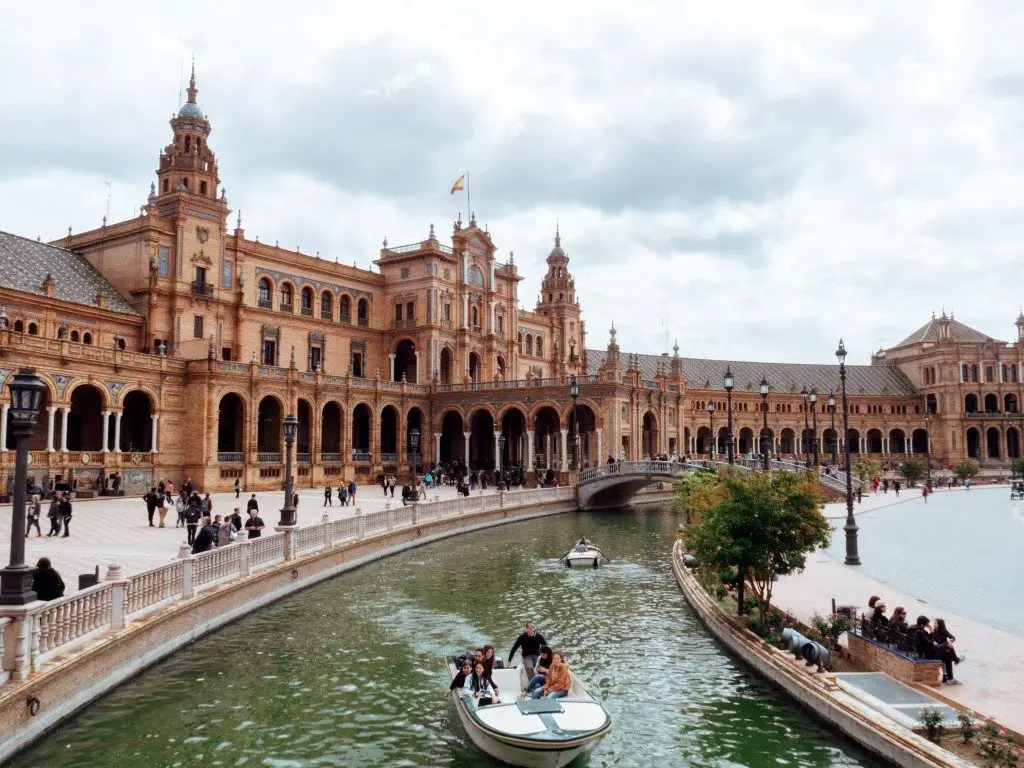 The place gets super crowded from the morning, but because it's so huge, everything goes pretty well anyway. In the summer months, however, it is yawning empty in the afternoon because of the great heat for the siesta – so if you are looking for nice photos, then this is your time (including sunstroke). Alternatively, you can just come in the morning ?
The Plaza de España is free and open all day.
Parque de María Luisa
Right next to the Plaza de España is the Parque de Maria Luisa, a large green park in the center of Seville. It is very beautifully laid out, very well maintained and also so spacious that you will definitely find a place there to relax for a moment in the shade.
Alcázar de Seville Royal Palace
For me and probably many other people, the absolute highlight in Seville: The Alcázar Royal Palace. Royal Palace because the Spanish royal family still lives in the complex when they are in Seville. And what can I say … at MTV Cribs they'd be a hit.
The oldest parts of the palace date back to the time of the Moors, later the complex was gradually renewed and supplemented, mostly in the Middle Ages. Today Alcázar is one of the best preserved buildings of the Mudejar style, a mix of Christian and Islamic architecture. Allegedly Alcázar is something like the prettier little sister of the Alhambra in Grenada, but since I have not yet seen the Alhambra, I cannot judge that. Alcázar is definitely beautiful and it's worth spending a few hours there.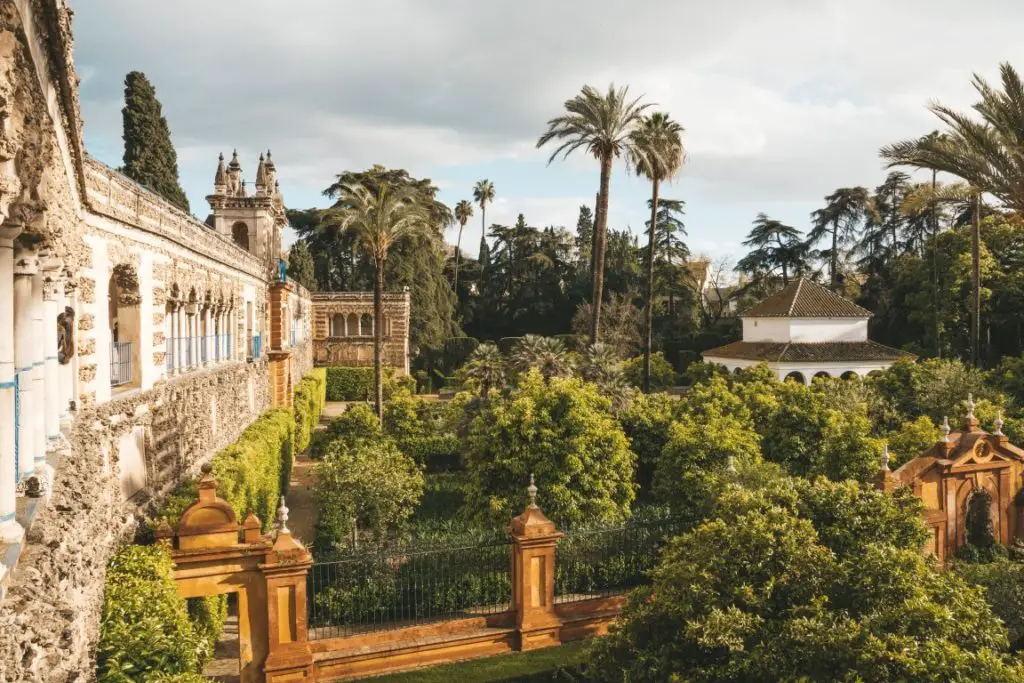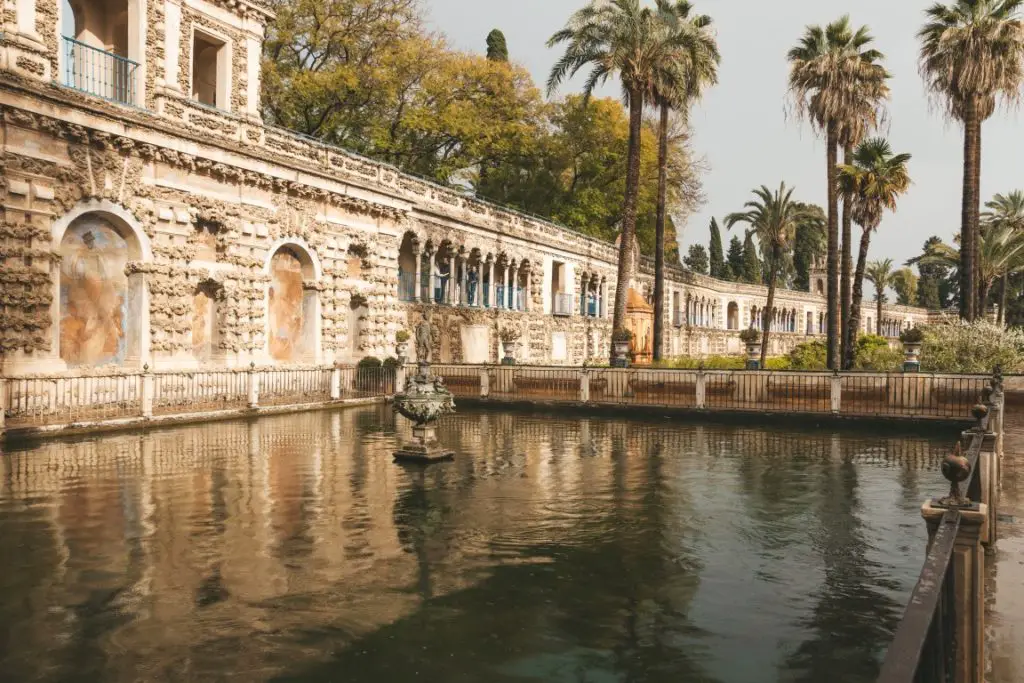 Again: Although the palace complex is one of Seville's tourist hotspots, the crowds get lost quite easily.
Important: There are two lines in front of the entrance, one for the box office and one for reserved tickets. The line for the box office is ultra long. Don't do that to yourself, but book a ticket in advance, preferably with a guided tour or audio guide. It costs a bit more, but is immensely worthwhile.
Skip-the-line ticket *

Skip-the-line ticket with tour *
Price at the box office (WITH queuing) : € 9.50.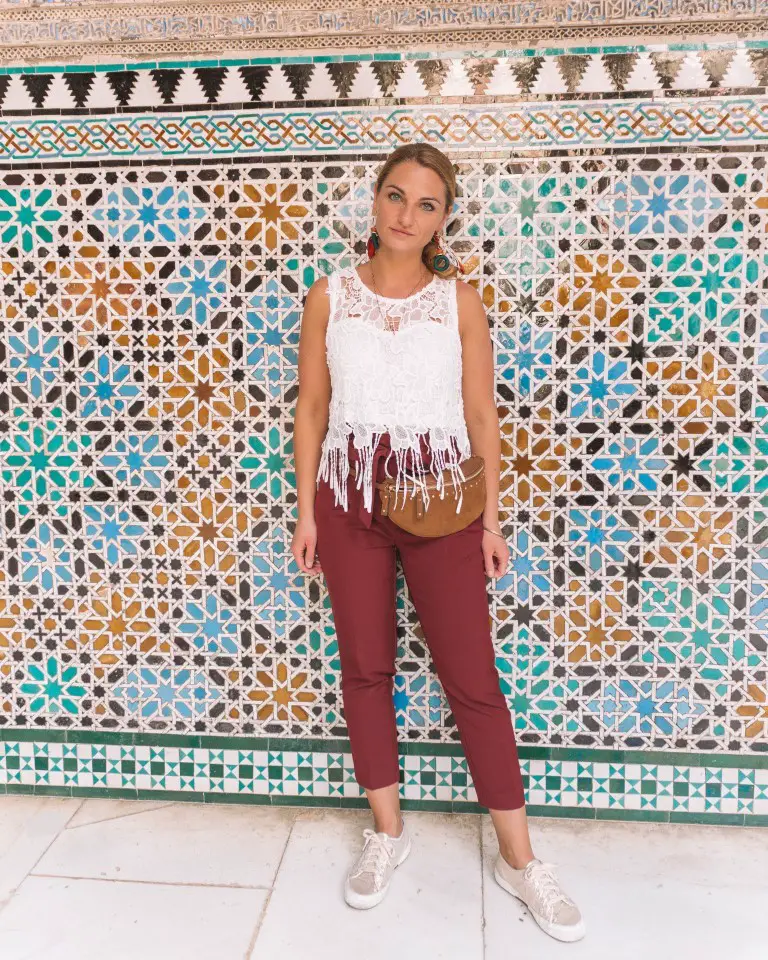 Seville Cathedral including Giralda
Seville Cathedral is one of the largest churches in the world and the largest Gothic church in Spain. Due to its size alone, the building is extremely imposing from the outside and, as one of the most important sights of Seville, is of course overcrowded. Since we unfortunately had far too little time, we had to leave the visit of the cathedral and the Giralda bell tower, from which one has a fantastic view of the city, to the other tourists with a heavy heart. Next time then ?



My tip: Since there are extremely long queues here too, you should get a combination ticket at the El Divino Salvador church, the price for this is € 9. This is also the price for the Cathedral of Seville, which means you can visit El Divino Salvador for free and – now comes the best – queue up at the group entrance of the cathedral with this ticket , which is comparatively empty.
In order to learn something about the history of the cathedral, I would recommend booking a guided tour, 'skip the line' is also included here.
>>> Guided tour of the cathedral & the bell tower *
Metropol Parasol // Las Setas de la Encarnación
The Metropol Parasol, or Las Setas = The Mushrooms by the locals because of its shape, is a modern wooden structure in the historic heart of Seville. It was completed in 2011 and to this day nobody really understands what it is all about. The construction stands in the middle of Seville's old town and is often referred to as the new landmark, but somehow doesn't fit into it at all.
Anyway, you should definitely use Las Setas as a viewing spot, because from above you have a fantastic view of the entire old town. There is hardly a better place in Seville, especially at sunset.
My tip:
 The entrance to the Metropol Parasol costs 3 €. With the ticket you can then get a free beer or a Tinto de Verano in the bar 'La Surena' right next door and start the evening before you start tapas bar hopping.



The old tobacco factory and now the University of Seville
Perhaps not the most classic sight, because most of us have probably not voluntarily entered a university since graduating. In all honesty … if I had studied in such an imposing building, I might have attended the university a little more often. So maybe. Maybe not. In any case, the University of Seville is located in an ancient building from the 18th century that was a tobacco factory until the middle of the 20th century. Tens of thousands of people worked here in tobacco production, mostly women. The best-known worker was rumored to be Carmen, after whom the opera of the same name is named.
The historic buildings have been used as a university since the 1950s. As a tourist you can enter them without any problems and visit them completely free of charge. The students are used to tourists too, nobody will look at you funny. From Monday to Thursday there is even a free tour at 11 a.m.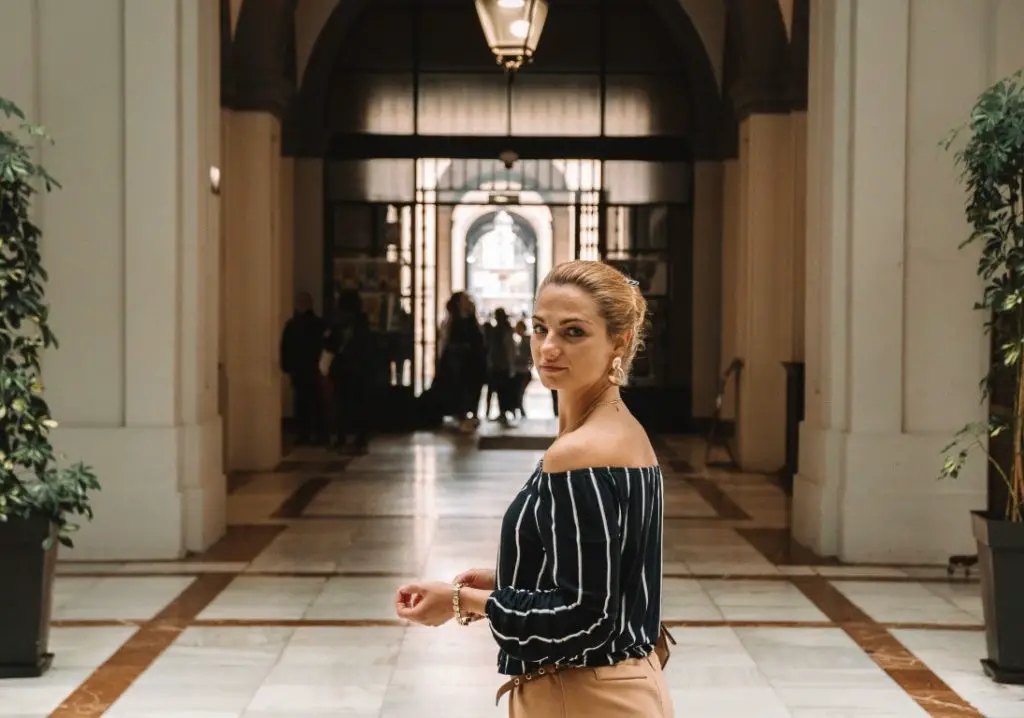 Torre del Oro: the golden tower
The Torre del Oro from the 13th century is the oldest building in Seville and is located directly on the river. It was previously used, who would have guessed it, to defend against enemy ships trying to attack the city across the Guadalquivir River (whoever can pronounce it gets a biscuit).
When strolling along the river, you basically cannot miss the Torre del Oro. The entrance fee is 3 €, which in my opinion is too much for the little turret and view, on the other hand, the money naturally goes into its constant restoration.
My tip:
 You don't have to pay admission to the Torre del Oro on Mondays, the visit is free on this day.
Plaza de Toros de la Real Maestranza: The bullring
Spain and especially Andalusia without a bullfight – that is still somehow inconceivable today. The bullring of Seville is the largest and most important in all of Spain, every year in April during the festival week Feria de Abril, the largest bullfighting festival in the world takes place here.
I understand that the bullfighting tradition is so firmly anchored in Andalusian culture that it is sure to continue for a long time to come. Nevertheless, I personally don't want to support bullfighting and because of that (and too little time) I didn't look inside the bullring in Seville. I imagine such a huge arena (it can hold about 13,000 people) but extremely impressive.
Entry to the arena costs € 7, and there is a guided tour around every 30 minutes.
Casa de Pilatos
The Casa de Pilatos is next to the Alcázar one of the most magnificent palaces of Seville in the Mudejar style. It was completed in the 16th century and is architecturally in no way inferior to the Alcázar, only the gardens are significantly smaller.
Admission costs € 10, with the upper floor and audio guide € 12.
My tip:
 Admission is free on Monday afternoon from 3 p.m. Outdated information is still circulating on the internet, as admission on Wednesdays used to be free. It has been Monday since 2017.
Insider tips for Seville
I already told you at the beginning of this article: We were incredibly lucky to be able to spend our long weekend in Seville with Anna from Join my Trip, who lived in Seville for almost a year. So you can now look forward to the fact that, in addition to the classic highlights, I've also brought you a few insider tips to get to know Seville a little off the beaten track.
Triana district: experience Seville like a local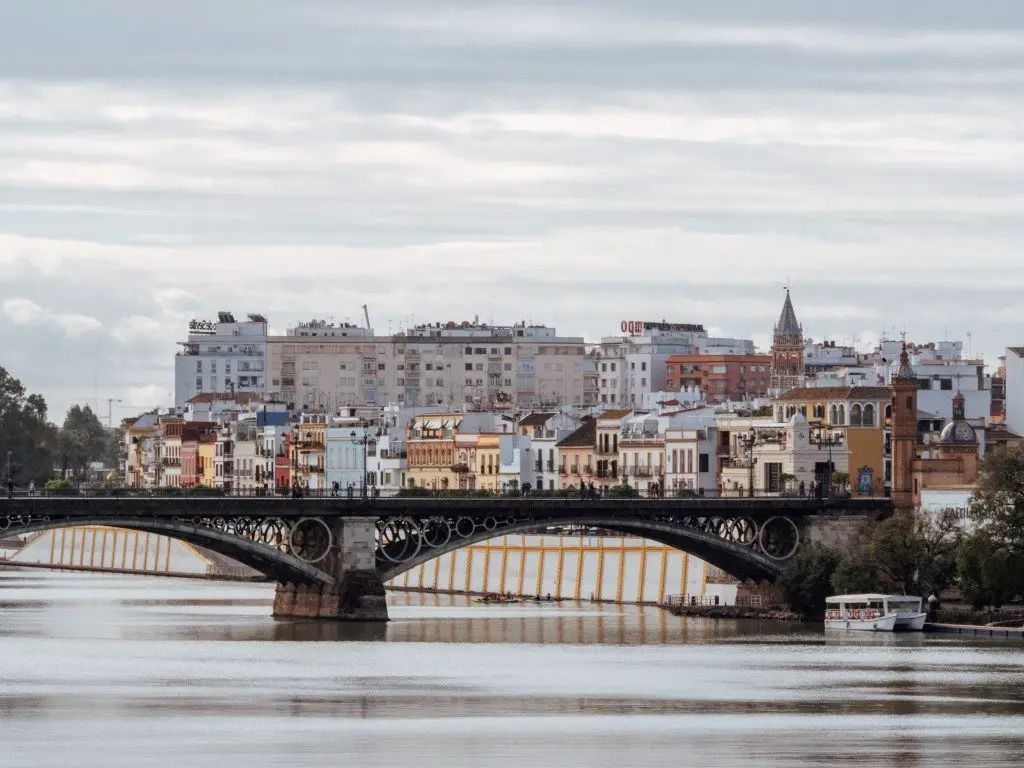 First things first: Seville is basically divided in half by a river, the Guadalquivir. On the opposite side of the river and the historic city center is the Triana district, which is connected to historic Seville by an ornate iron bridge, the Puente de Isabell II (by the way, the oldest still preserved iron bridge in Spain). In the past, Seville and Triana were two separate cities and someone from Triana would never have moved to Seville and vice versa. Completely understandable – after all, Offenbach and Frankfurt are still the same today ?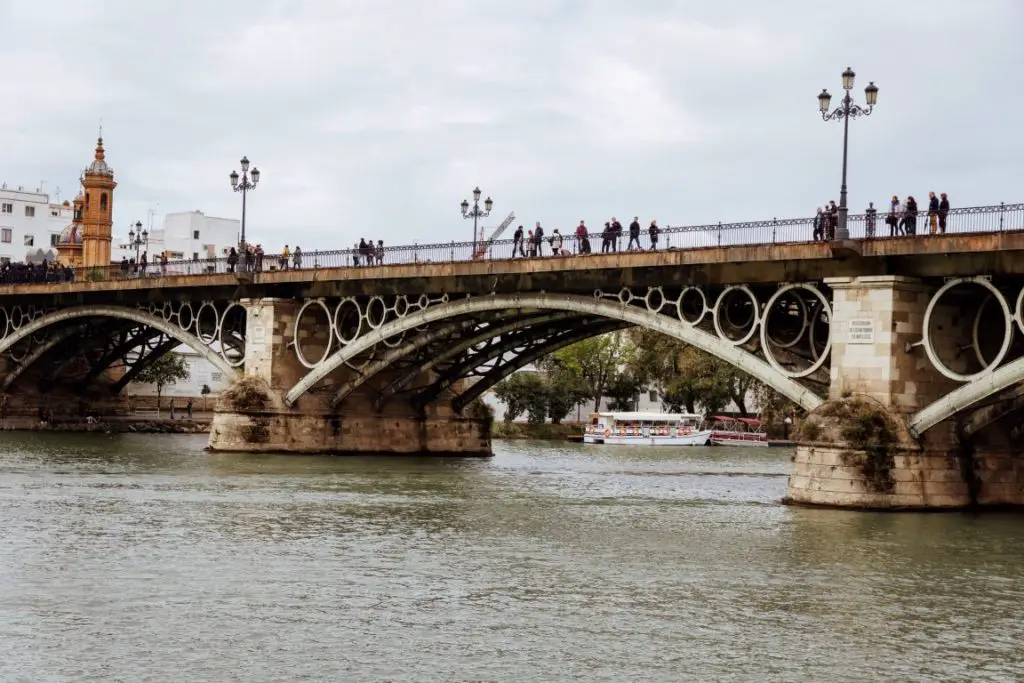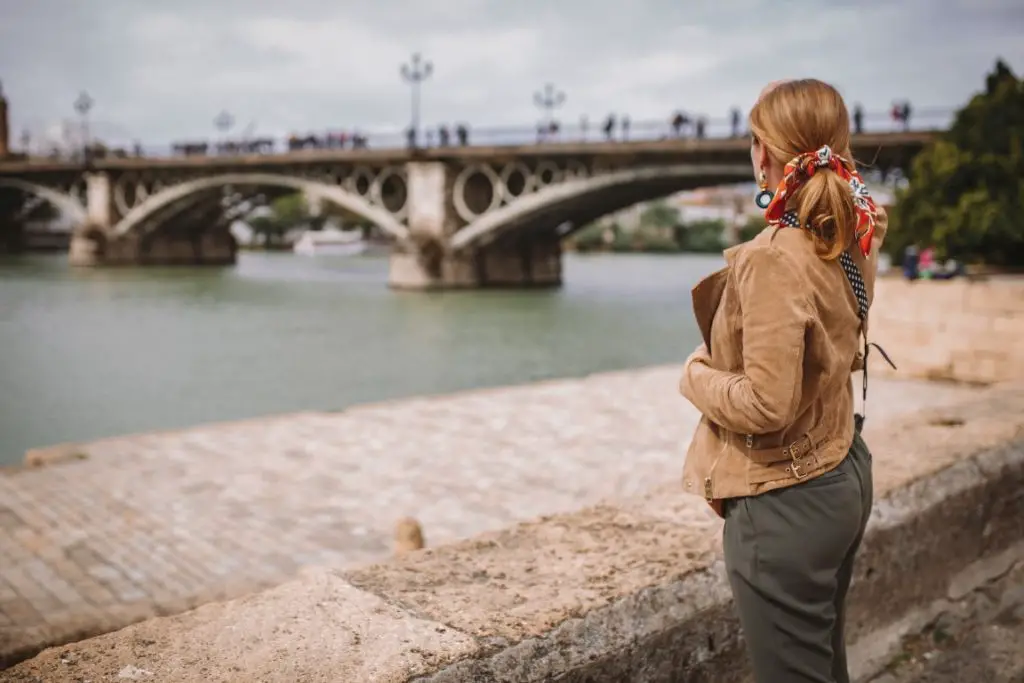 The district is the cradle of bullfighting and flamenco, and many shows are still held here every day. Triana is characterized by its colorful houses and lively streets and you can easily idle many hours doing nothing here. Just let yourself drift, stroll through the streets, feast your way through the Mercado de Triana, the Triana market (open from 9 a.m. to 3 p.m.), sit down with a Tinto de Verano on the riverbank or in one of the lively squares, people watch. Not many tourists end up in Triana, the quarter is lively and simply lives.
If you want to get to know the most important and historical places, I recommend a guided tour where you can learn a lot about Triana.
Tour through Triana with a small boat trip on the river *

Tour through Triana with tapas tasting *
Lost Place Expo 92 site
Expo 92 … World Exhibition … there was something … the older ones among us will remember: Yep, Expo 92 was in Seville. And as is the case with every city that brings the Expo to its home: a huge spectacle, loads of new things have to be built, many infrastructural changes. This is also the case in Seville – and an area of ​​almost 170 hectares of exhibition space was completely rebuilt especially for Expo 92. A good 25 years later, this site is almost like a lost place … empty streets, abandoned buildings and squares, only small parts of the site are now used as a technology park. We were there pretty much alone on a Saturday afternoon, only a lonely hop-on-hop-off bus crossed our path (but it didn't stop ?).
So if you want to get to know a little bit of the recent history of Seville, then grab a bike and explore the former expo area.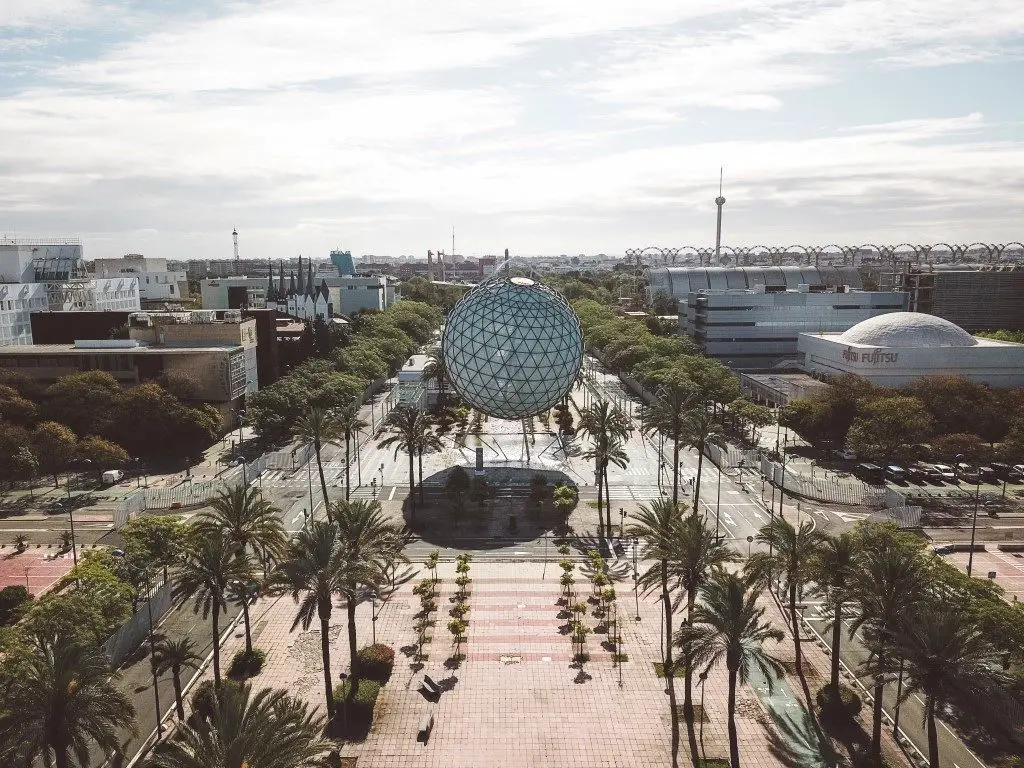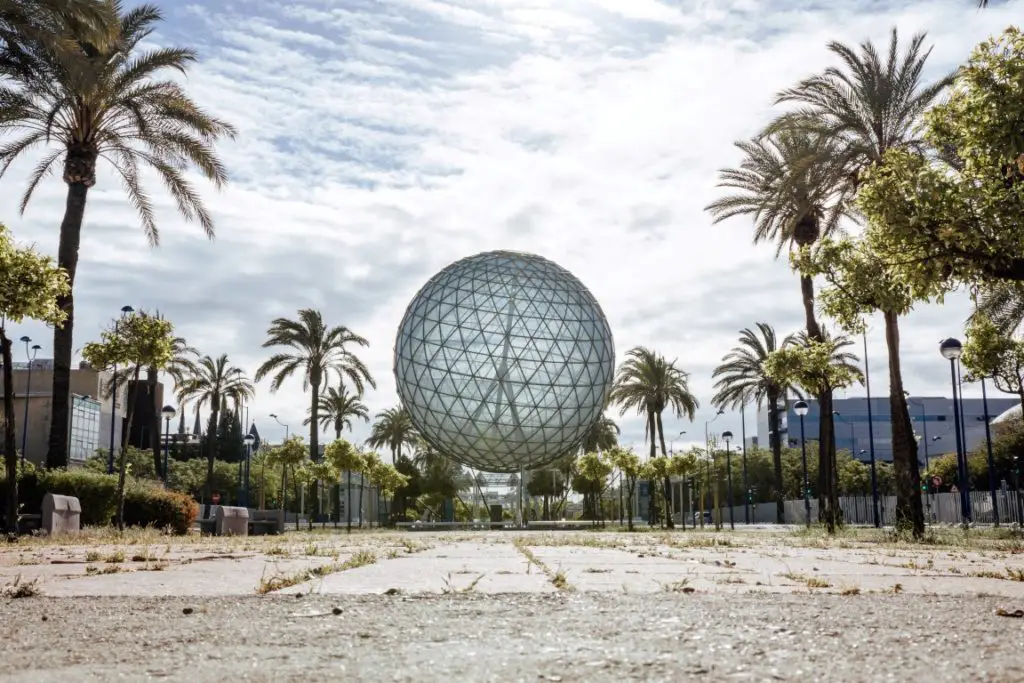 Alameda de Hercules
Nur gut 5 Minuten zu Fuß vom historischen Stadtzentrum Sevillas entfernt liegt der Alameda de Hercules, ein Platz der kaum von Touristen angesteuert wird. Früher war die Gegend um den Alameda de Hercules ein verrufenes Eck, das von Prostitution und allem was dazu gehört dominiert wurde, doch die Expo 92 hat auch hier ihre Spuren hinterlassen, es wurde nämlich ordentlich aufgeräumt. Seitdem findet man an und um den Platz herum nur noch Restaurants, tausende Tapas Bars und nette Kneipen zu wirklich vernünftigen Preisen. Ein durch und durch einheimisches Eckchen in Sevilla, an dem ihr euch am besten abends einfach ins Getümmel schmeißt und den andalusischen Lebensstil mit tonnenweise Tapas und Straßenmusik feiert.

Flamenco Show anschauen
Seville without flamenco, it's like french fries without ketchup. Doesn't work at all. Andalusia and especially Seville is the cradle of flamenco and if you want to see a really authentic (!) Flamenco show, you should definitely do it here.
Depending on how authentic it may be for you, there are basically several options in Seville. You can either get a ticket for a show in advance, where you get to see professional dancers and the price usually includes some drinks, sometimes a whole dinner. I've picked out two options for you here:
Flamenco show in Triana with drink *

Flamenco show with dinner *
Or you can visit a flamenco show completely free of charge. The most famous shop for it in Seville is "La Carboneria" in the middle of Barrio Santa Cruz (the Jewish quarter).
Attention: There is no advertising for the flamenco show at the entrance, easy to miss. Just drop by from 8 p.m., eat tapas, drink wine and enjoy the evening. You only pay for what you eat and drink, but the show is probably not as chic as a paid show. But all the more real.
La Carboneria
Calle Céspedes 21, Seville
A touch of Andalusia: mini road trip to the surrounding area of ​​Seville
If you've never been to Andalusia like me, then plan an extra day on your city trip to Seville to get to know not only the city, but also a little bit of rural Andalusia. Typical of Andalusia are the so-called pueblos blancos, the white villages, a multitude of small villages with whitewashed houses and winding alleys, some of which are hidden deep in the mountains of Andalusia. We grabbed a rental car on a Sunday and just drove off. I definitely recommend you to reserve in advance, I always book at billiger-mietwagen.de * .
Of course, you can also book a complete tour that will take you to the most beautiful Pueblos Blancos together with a local guide:
>>> Tour to the white villages via Cadiz and Malaga *
Zahara de la Sierra
Our first stop should be the village of Zahara de la Sierra, but on the way there, an old castle complex from the 14th century, the Castillo de Las Aguzaderas, was pretty captivating.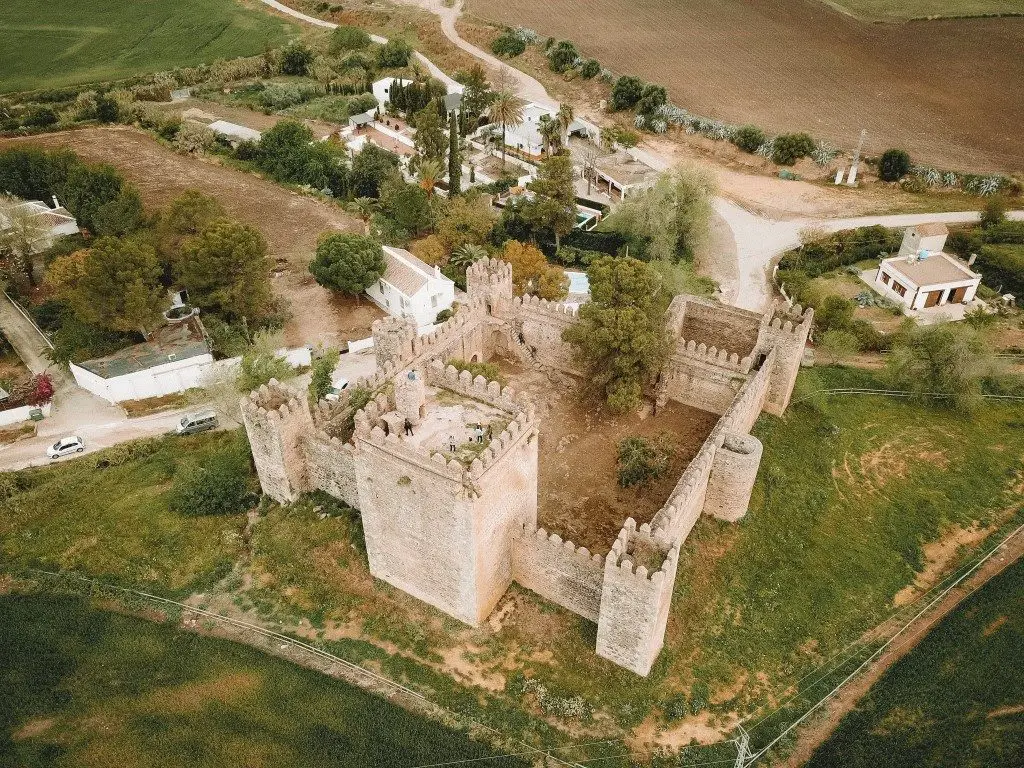 After we had let off steam there photographically, we went on to Zahara de la Sierra. The tiny village with just under 1500 inhabitants is located on a hill, from where you have a fantastic view of the surrounding landscape and the reservoir. If you have the time, be sure to check out the remains of the Moorish castle in Zahara.
Funnily enough, you can also book this route as a guided tour, which even includes the old castle ruins:
>>> Tour to the white villages via Zahara *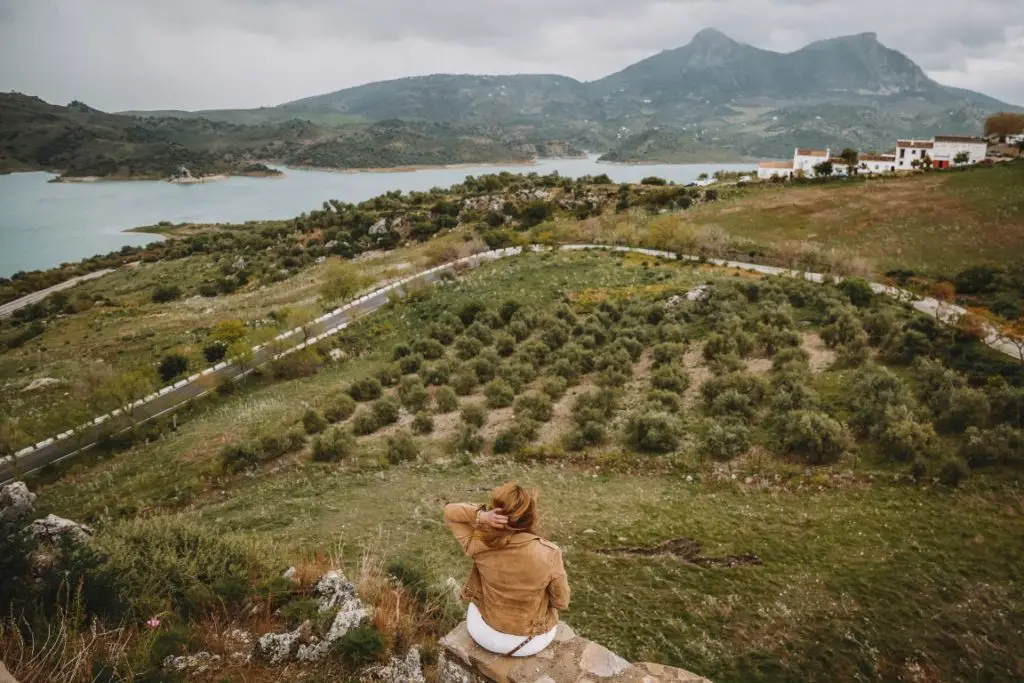 Unfortunately, we were already quite late, and it was actually bitterly cold so high up in the mountains and it was raining all the time anyway. That's why we preferred to get back into the car quickly and quickly move on to the highlight of the mini road trip.
Ronda: crazy bridges, a gorge and the most beautiful bullring in Spain
When we arrived in Ronda I wasn't really flashed at first, it rained without a break and everything was somehow dreary. But then I didn't know that the entire city is located on a rock plateau more than 700m above sea level, which is divided by a deep gorge, over which a total of three bridges connect the districts of Ronda. Can't you imagine? All right, here are a few pictures:
Crazy shit, right? The most famous and most impressive bridge is the Puente Nuevo, the new bridge. There is a footpath down into the gorge, from where you have an epic view of the bridge – unfortunately this is currently closed (as of April 2019). But don't worry, there are plenty of other viewpoints on the bridge.
In addition, there is one of the oldest and most beautiful bullring in Ronda. It has its origins, back then as a riding training ground, as early as the 16th century before it was completed in the 18th century at around the same time as the bullring in Seville.
You can easily spend a full day in Ronda, which is why day trips to Ronda are regularly offered from Seville:
>>> Day trip to Ronda *
Finally, my personal tip for a fantastic tapas bar in Ronda:
Toro tapas
Carrera Espinel 7, Ronda
Make sure to try the mushroom risotto. Divine!
Even more white villages: Setenil de las Bodegas and Olvera
Even if Ronda was very impressive – we were far from finished with our mini road trip through the Pueblos Blancos and we really wanted to see a very special white village on the way back to Seville: Setenil de las Bodegas. In the center of the village, some of the houses are built into a rock wall, and some of the overhangs of the rock wall even serve as a house roof. This means that some of the houses are even underground. Again: Crazy shit <3

I would have loved to stay in a house like this. So if you have more time than me:
>>> View rock houses in Setenil de las Bodegas *
Our further way back to Seville then led us completely unexpectedly to a village that none of us even had on our radar: Olvera . Suddenly we drove through the middle of Olvera and couldn't stop being amazed. How nice was that? Everywhere white houses, beautiful promenades and a white shining old town with a towering church tower on a small hill. Fun fact: Olvera is so picturesque that it has served as the fictional backdrop for some Chinese films! (and that's definitely true, we had a friend of our tripleader Anna who was born in Olvera)
Unfortunately it was already too dark to be able to look at the city and take photos. Here you can find a wonderful travelogue about Andalusia's white villages .
My tip for beautiful photos when traveling
Would you like to take great photos on the go without having to carry too much with you? It doesn't take much for that! The heart of my equipment are:
My camera: 

Sony Alpha 6500 *

An 

all-round lens from Sigma 17-70mm *

 (connected via 

adapter *

 )

A 

30mm prime lens with 1.4 aperture from Sigma *

 (this prime lens will revolutionize your pictures, I promise!)

A 

light, stable travel tripod *

 (for long exposures and if you want to take photos of yourself)
With this mini-equipment I shoot 90% of my pictures. You can get a complete overview of my equipment with all lenses, drones, underwater cameras, etc. here >>> my photo equipment *
The best tapas, bars and cafes in Seville: this is where you get the hot shit
Spain without tapas, that's not possible. We agree on that, right? As a tourist in a strange city, you often don't end up in the best shops and sometimes you don't really know where to get really tasty food at reasonable prices. Since we had a quasi-local with Anna who lived in Seville for almost a year, I can with a clear conscience recommend these bars for tapas and other hot shit. 100% delicious, 100% no tourist rip-off.
• Los Coloniales. Two branches: Plaza Cristo de Burgos 19 & Calle Fernández y González 36, Seville
Super cheap and big tapas. Specialty of the house: chicken with almond sauce. Also delicious: Berenjena al miel (eggplant with honey), Chorizo ​​a la Asturiana, Solomillo al Whiskey (pork fillet in whiskey sauce)
• Bodega Dos de Mayo, 6 Plaza de la Gavidia, Seville.
Super tasty tapas and great prices!
• Arte y Sabor, 85 Alameda da Hercules, Seville
Right on the Alameda de Hercules. Unusual tapas with an oriental touch, vegan & vegetarian options. Definitely try: tuna with sesame crust (awesome!), Salad with
goat cheese (also hammer), spinach croquettes.


• Duo Tapas, 10 Calatrava Street, Seville
Near Alameda de Hercules, fancy tapas. Definitely reserve and leave space for dessert. Best tapa: mushroom risotto!
• El Rinconcillo, Calle Gerona 40, Seville
Oldest tapas bar in Seville, great authentic atmosphere and good prices
• Milk Away, 32 Calle Pérez Galdós, Seville
Here is the healthy shit. Right on Plaza Alfalfa, heavenly salads, delicious acaibowl and of course lots of fancy sandwiches with avocado, sprouts and goat cheese. Extremely (!) Low prices. Perfect for breakfast.

• La Baronesa Bar (Triana), 23 Calle Esperanza de Triana, Seville
Super cute café with a great interior in the middle of Triana, almost certainly tourist-free. Typical Spanish breakfast supplemented by a fancy breakfast (avocado and such)
• Ines Rosales, 14 Plaza de S. Fancisco, Seville
If you are looking for typical Sevillian and Andalusian delicacies as a souvenir to take home, then this is the place to go. Very well-stocked shop and you can feast your way through before buying ?

• La Cacharreria de Sevilla, Calle Regina 14, Seville
At the Setas around the corner. Small, sweet breakfast café (mostly full, so make a reservation). Delicious bagels, salads, muesli and milkshakes of death for right on the hip <3

Practical travel tips for Seville
Last but not least, I would like to give you a few practical travel tips for Seville. Seville is basically very easy to reach by plane, the city is served several times a week from all major German cities, including the low-cost airline Ryanair.
I always look for flights at Skyscanner, they usually have the best prices.
Personally, hand luggage was enough for me for the 3 days and there was even room for a little shopping in the suitcase.
The best time to visit Seville is from April to June and from September to October. I would avoid the midsummer months, because then it can get unbearably hot. Due to its location, Seville is one of the hottest cities in Europe; in summer temperatures over 40 ° C are regularly reached there. Not funny.
From Seville airport to the city
The way from the airport to the city center of Seville is super uncomplicated, there is a bus for an amazingly cheap 4 € (bus route EA). You don't have to book the bus in advance. Drive to the end of the line, Plaza de Armas, which is Seville's bus station, from where most things are within easy walking distance.
Exploring Seville: on foot, by bus or by bike?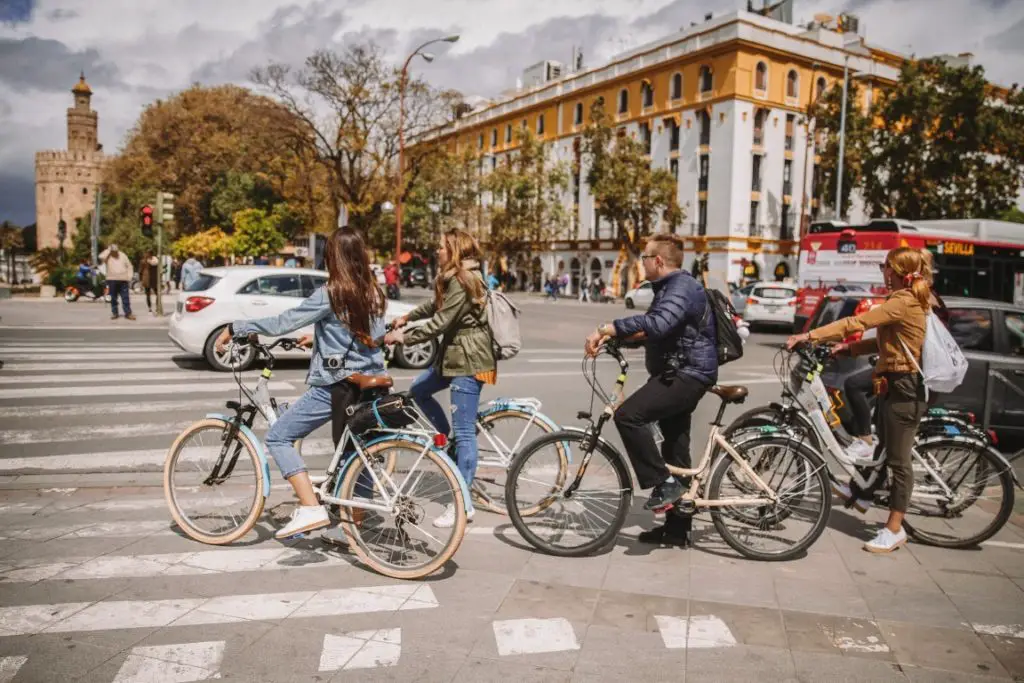 The most important spots in Seville can be easily reached on foot, but if you don't have much time or if you want to see something outside the city center such as the Expo area, then it is worth renting a bike (which we did). You can either rent a bike and set off with it yourself or take a guided bike tour.
Rent a bike in Seville *

Guided bike tour through Seville *

For the lazy: E-bike tour through Seville *
Where to live in Seville My recommendations
Seville is relatively big with around 700,000 inhabitants, so it is important that you look for a hotel that is centrally located. We stayed in an Airbnb in Triana and that was perfect because we could be among the locals and the center is still a 10-15 minute walk away.
Basically, I would recommend accommodation in Triana near the river and near one of the two bridges or the historic city center. I have selected a few nice mid-range accommodations for you:
Nice hotels in Triana in different price ranges:
AlohaMundi Castilla I *

Amanecer en Seville *

Apartamento San Jacinto *
Nice hotels in the city center in different price ranges:
Machado Suites *

Hotel Alabardero *

Apartamentos Hom Seville *
A very special treat if you want to reside in a really extraordinary hotel (and the emphasis here is really on residing ) is the Hotel Alfonso XIII. The hotel, like the Plaza de Espana, was built especially for the Ibero-American exhibition in 1929, and the Sevillians didn't mess up here either.
>>> view Hotel Alfonso XIII *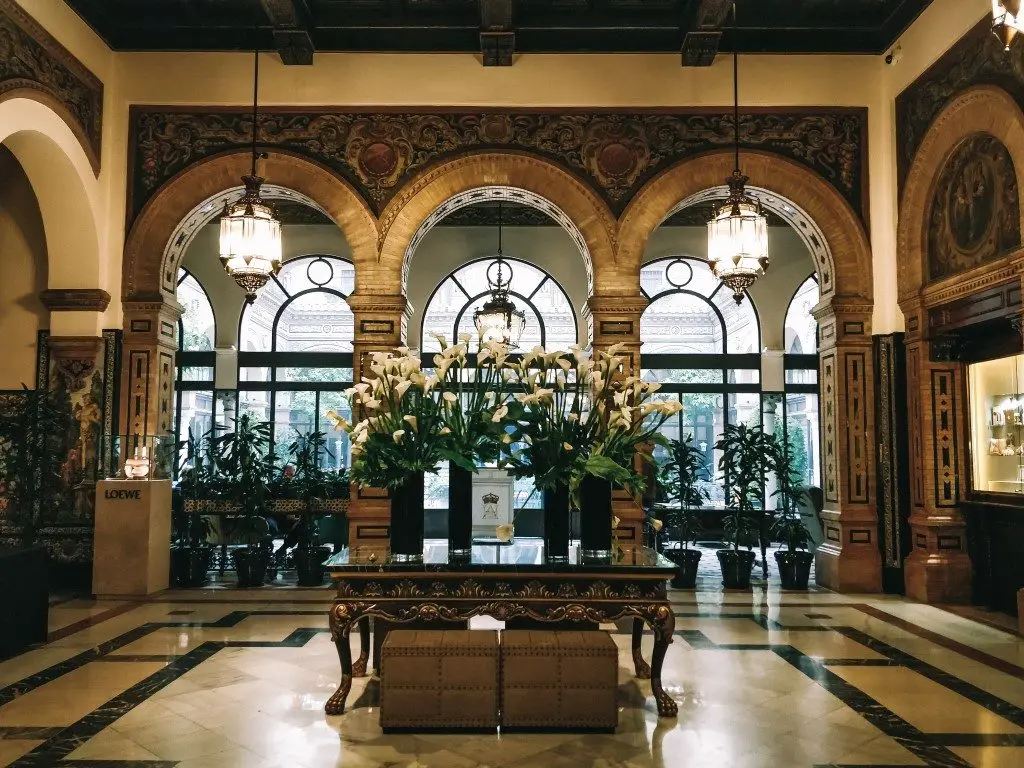 Parts of the hotel are also freely accessible to non-guests and you can have a really delicious coffee in the wonderful inner courtyard of the hotel for around € 4. By the way, the hotel is right next to the university or the former tobacco factory, so a small sightseeing combination is a good idea.