It should be clear to all of you that a stay of only two days cannot do justice to a city like San Francisco. We don't need to talk about that. Unfortunately, sometimes you don't have unlimited time to travel and have to make decisions. When we had to leave San Francisco after such a short time, our hearts were bleeding a little: Despite its many hills and its rather rudimentary network of public transport, the city is simply wonderful. And we have never met anyone seriously who did not do so too. Everyone loves San Francisco! And that although, or maybe because, San Francisco is so different from other major American cities.
We'll tell you which highlights and sights you should definitely plan for on a tight time budget, what you need more time for and what we think are overrated.
MUST DO – Highlights in San Francisco
The Golden Gate Bridge: by bike over the most famous bridge in the world
The Golden Gate Bridge is a must when visiting San Francisco. The world-famous bridge towers over the San Francisco Bay at the north end of the city and is THE landmark of the city. If you want to see the Golden Gate Bridge close enough to take photos, there are two options without a rental car: 1. On foot or 2. By bike (public transport is a bit difficult in San Francisco).
It takes forever to walk. If you also want to go to the bridge, you can safely plan a whole day for it. The distances are really enormous! We therefore strongly recommend variant 2: Rent a bike and explore the Golden Gate Bridge and the city with it.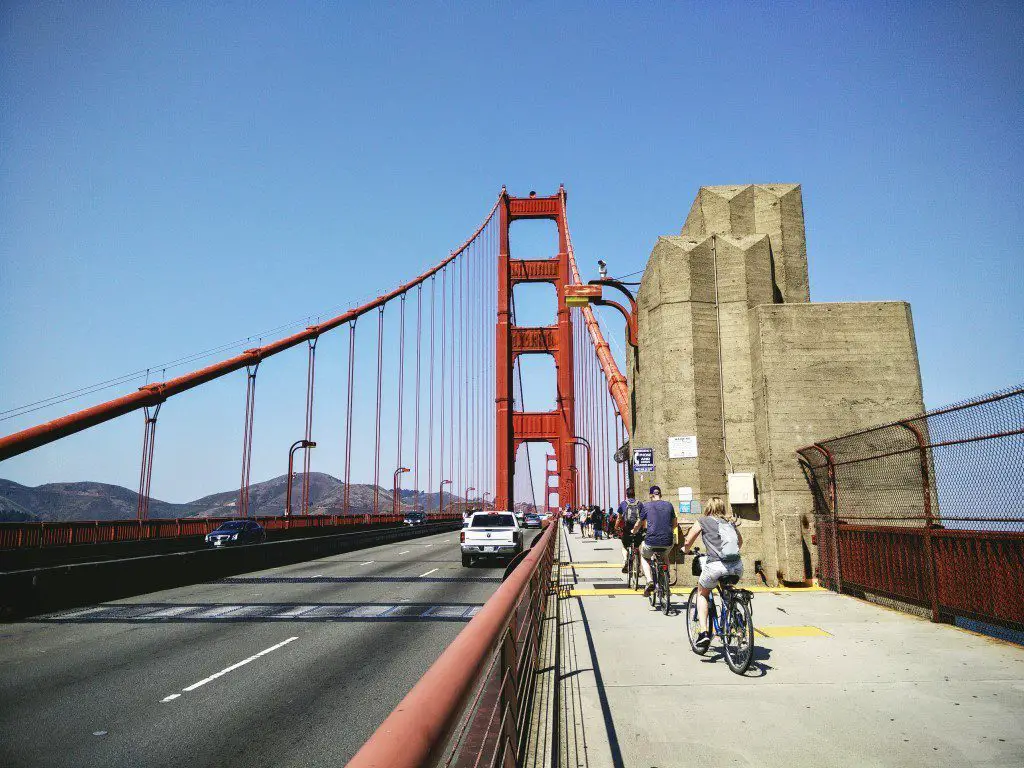 You can rent a bike anywhere in San Francisco for about $ 35 per day , the most sensible starting point for this is Fisherman's Wharf , where you will also find most bike rentals. We drove to the Golden Gate Bridge, over the bridge to Sausalito (an incredibly pretty place! Make sure to check it out if you have the opportunity!) And from there by ferry + bike back to Fisherman's Wharf ( costs for the ferry: $ 10 ). Of course, you can also go back by bike if you still have time.
But be careful, the Golden Gate Bridge is only accessible to cyclists at certain times: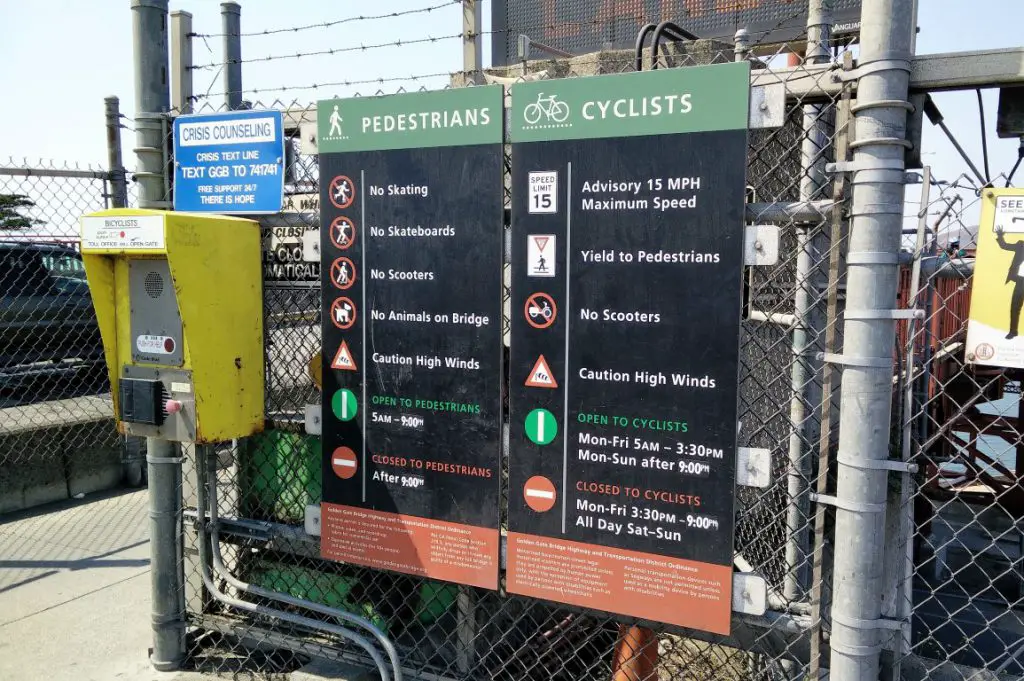 The route is 10 kilometers long oneway, here you can see it in detail:
The big advantage is that by bike you have the means of transport at hand with which you can visit Fisherman's Wharf, the Golden Gate Bridge and the area around the harbor and the bay in San Francisco the fastest. You also get to see Sausalito and have another great view of the Golden Gate Bridge, Downtown and Alcatraz from the ferry.
If you want to make sure that you get a bike and a place on the ferry on the day you want, you can also book here in advance * .
Visit the sea lions at Fisherman's Wharf
Yes, there are sea lions in the zoo too. We find zoos about as stupid as the circus. At Pier 39, you can see real, wild sea lions. The animals feel right at home here, they stink and make a lot of riot. It is wonderful!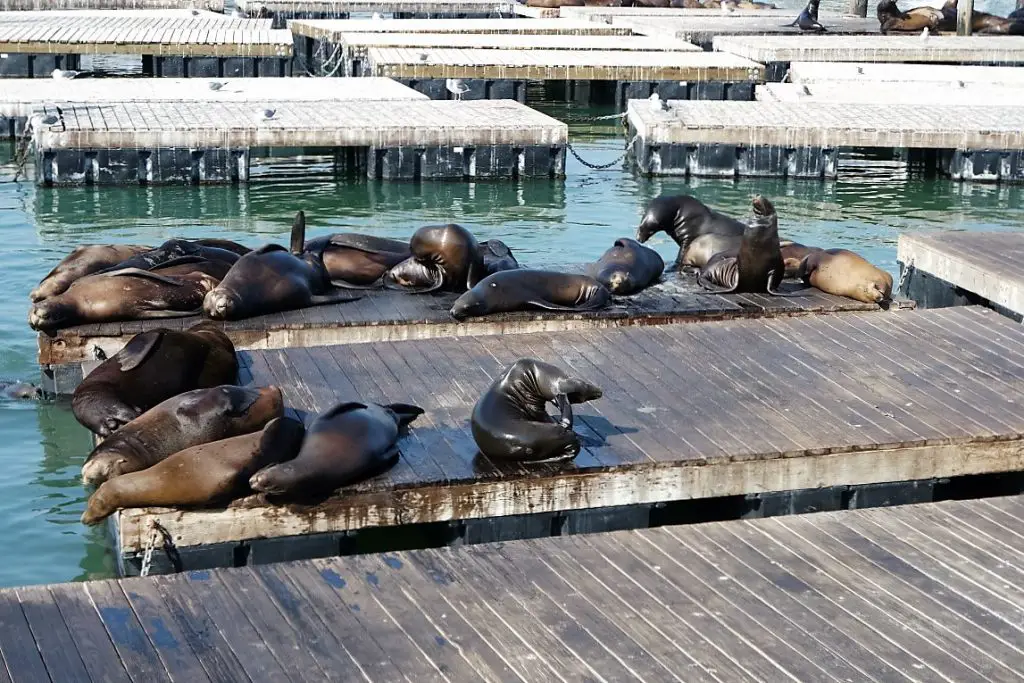 Eat a clam chowder in the sourdough bowl
A what in what please eat ?! Exactly. We thought so too and did it anyway. And only then googled what it actually was! A clam chowder is an American mussel soup that is eaten on the west coast around San Francisco as a local specialty along with a special sourdough bread. But don't we have sourdough here in Germany …? you will be surprised now. Wait. Our sourdough has little in common with the American sourdough. It's so tasty! You are sure to find a clam chowder at Fisherman's Wharf, for example at Boudin Bakery and you have to eat something anyway.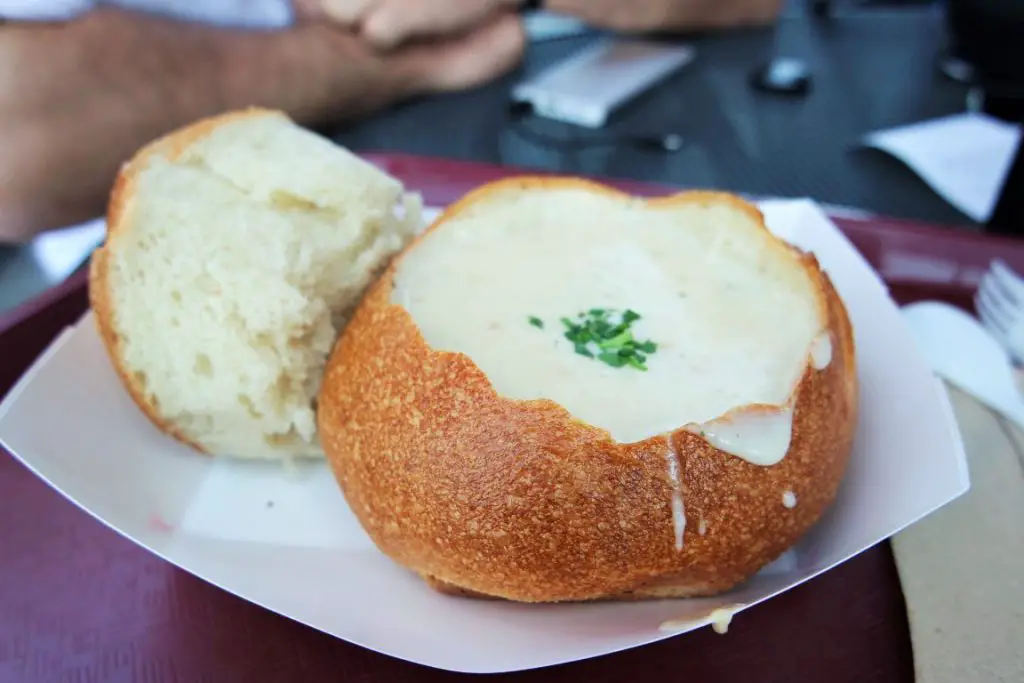 Take the cable car
Everyone of you probably knows the cable cars of San Francisco, there is not much to say about that. The locals rarely use them as public transport, they are far too crammed with tourists and simply too slow for that.
Information and tips for taking the cable car:
There are three cable car lines: the Powell-Hyde Line (the most crowded), the Powell-Mason Line, and the California Street Line (the least crowded).
A single trip costs $ 7 (no matter how many stations, you can't get off and on again in between). If you bought the Muni Pass, it is valid for all public transport including cable cars. The ticket for a single ride you can directly with the nice gentleman at the cable car purchase, but here applies cash and it is max. put down on $ 20.
If you cannot pay in cash, you have to go to one of the sales points located at the end or start stops of the respective line. But the sales outlets felt as open as they were funny (that is to say: they were always closed when we were there) and you have to get there first … you better have cash! You can find more information here .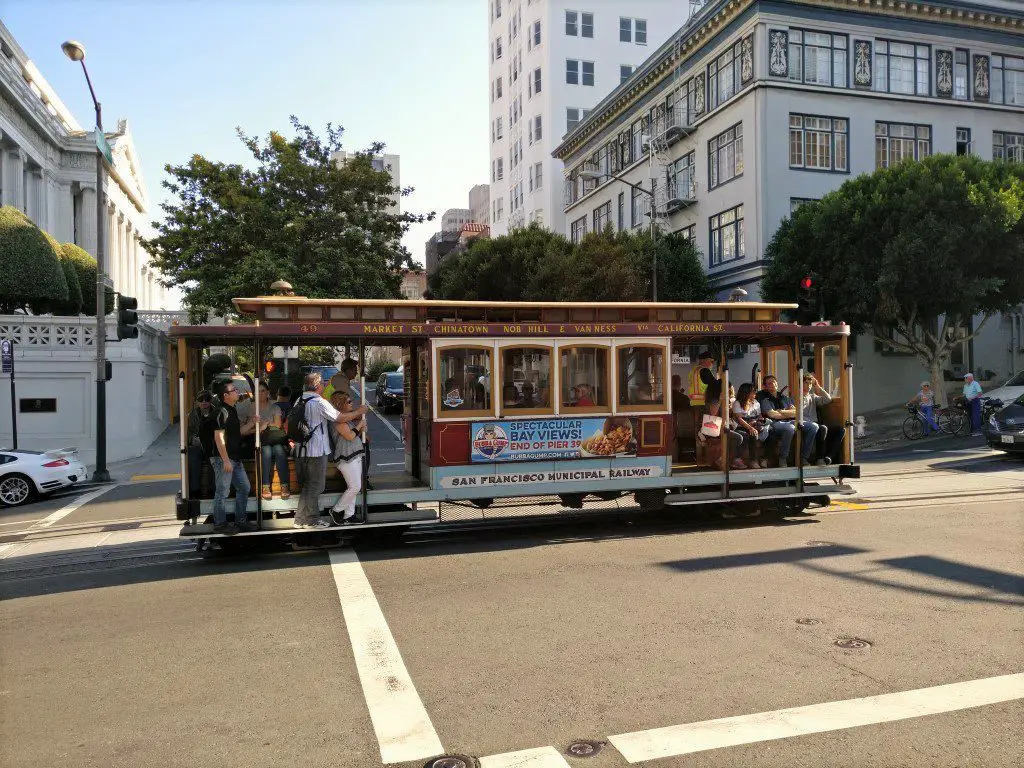 Since the journey is comparatively expensive with a single ticket price of $ 7 (there are also no day tickets), you should think about which route you want to travel beforehand. Be there early (queues form from around 8:30 a.m.) and use the cable car wisely to get from A to B. We took it from Market Street Station (our hotel was around the corner) to Lombard Street (Powell-Hyde drives past here) and walked from there to Fisherman's Wharf.
The steepest and winding street in San Francisco
You've all heard of Crookedest Street, the world-famous Lombard Street , haven't you? Whether the street is a must, one can certainly argue about it, it is always a sight. In any case, from late morning onwards, numerous tourists cavort here, who seem to take more or less good pictures of the street for hours (including us).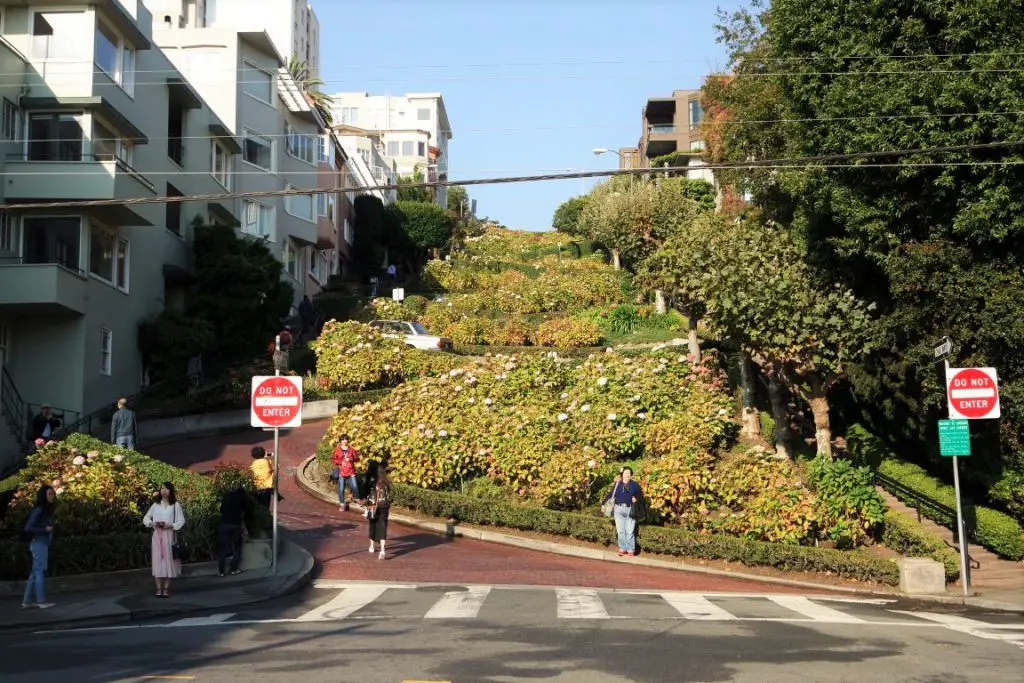 What we actually found more interesting: One of the steepest streets in the world is right next door. The relevant section of Filbert Street between Hyde Street and Leavenworth Street has an incline of 31.5%, making it the second steepest street in the world according to the Guinness Book of World Records. In contrast to Lombard Street, we were actually the only onlookers here and there was plenty of room for nonsense: p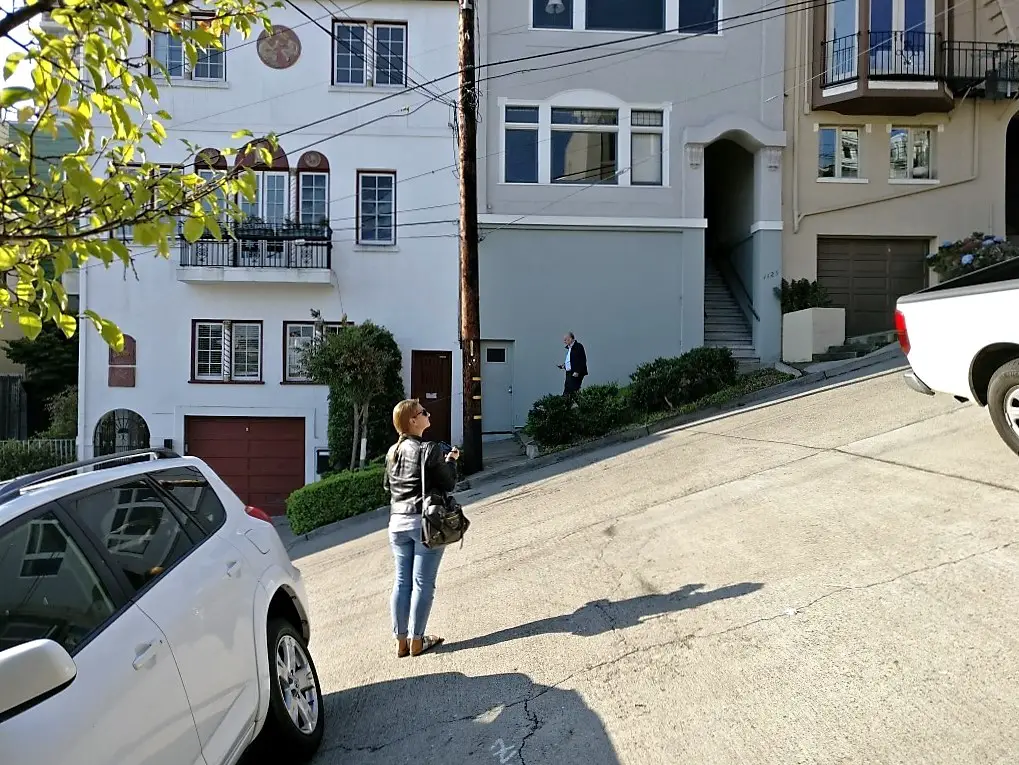 Optional San Francisco attractions
Chinatown
San Francisco can be proud to have what is said to be the largest Chinatown outside of Asia. We can't say whether that's true, but yes, there are definitely a lot of Asians in San Francisco (it should be around 80k).
Our tip: You can kill three birds with one stone here. Take the cable car (California Street Line) up California Street. Get off on California Street en route, then you will be in the middle of one of the steepest streets of San Francisco and at the same time in the middle of Chinatown. When looking towards the bay you can see the Oakland Bay Bridge and you can take photos of some of the famous scenes of San Francisco (and then stroll through Chinatown).
Alcatraz prison island
Actually a must, but you have to plan a lot of time for Alcatraz. In addition, the tours to the former maximum security prison have to be reserved well in advance, you probably don't have a chance spontaneously. We decided against Alcatraz due to time constraints and postponed it for the time being.
Here you can, for example, reserve an Alcatraz tour including a catamaran trip * in the San Francisco Bay.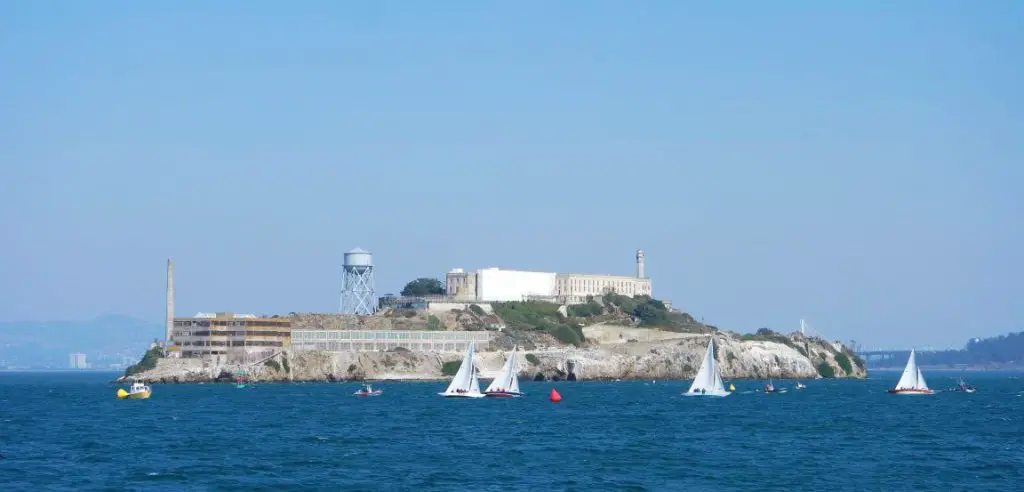 Alternatively, you can also book a combination ticket and save a lot of money. If you have enough time, don't miss the legendary prison!
 Here you can find combination tours including Alcatraz *
At sunrise or sunset to Twin Peaks
Twin Peaks is a (two to be exact) considerable hill from where you have an incredible view of San Francisco. You can watch both the sunrise and the sunset here, both of which bathe the city in an amazing light. We were lucky enough to be wide awake by 4 a.m., plagued by jetlag, so we ordered an UBER taxi and drove up to sunrise. We were completely alone up there …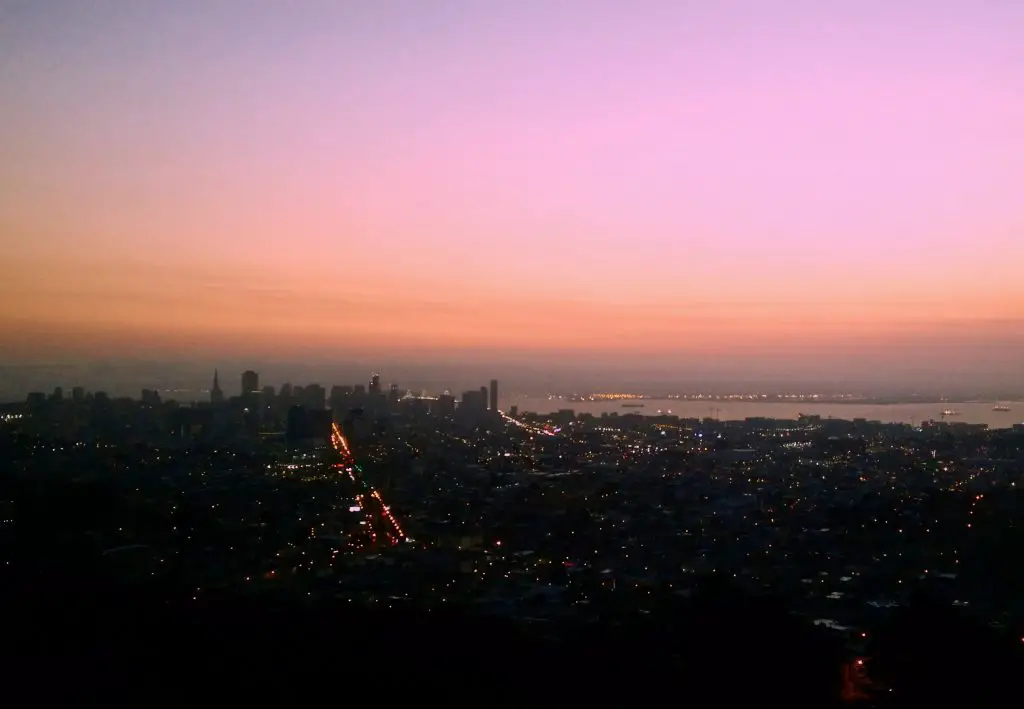 At sunset it will probably get a bit crowded here. If you can do it and don't have to rush into expenses, try taking Twin Peaks with you.
With the voucher code hf6r21k6ue you will receive a discount of up to $ 20 on your first UBER trip * (just download the app and enter the voucher code via copy + paste. Attention: the taxi service Uber does not exist in Germany, you can only use it abroad, e.g. the USA!)

Overrated San Francisco attractions
The parks of San Francisco
Joa … sitting in the park … you can do it. You can also let it stay. Sure, the parks are nice and really big, especially Golden Gate Park. But you probably don't have time to waste and parks are everywhere, right?
The painted ladies
We are a little at odds with the Painted Ladies. It's a series of brightly painted Victorian wooden houses like those built across San Francisco in the 19th century. Unfortunately, many of the buildings fell victim to a major fire in 1906, triggered by the worst earthquake to date in San Francisco. Today the best preserved, nicely restored houses stand on a hill in Alamo Square and provide a wonderful photo opportunity through the lush green meadow of Alamo Park in the foreground and Downtown in the background. Wait a minute … you don't see a green meadow or downtown …? Please read on, you are neither blind nor stupid …
What you should know: The Alamo Park is currently being redesigned, ie there is currently no meadow there, just construction fences and brown earth. No park in which you can stand on a hill to capture downtown, no lush green meadow for the famous photo motif. Unfortunately, none of the notice boards stated how long they would work here (as of September 2016). If anyone of you knows when the construction work will be finished, please let us know!
UPDATE August 2017 : A dear reader informed us that the construction work on the Painted Ladies has meanwhile been completed and that you will find a lush green meadow there again. Yeehaa! Thanks for the info, dear Clara ?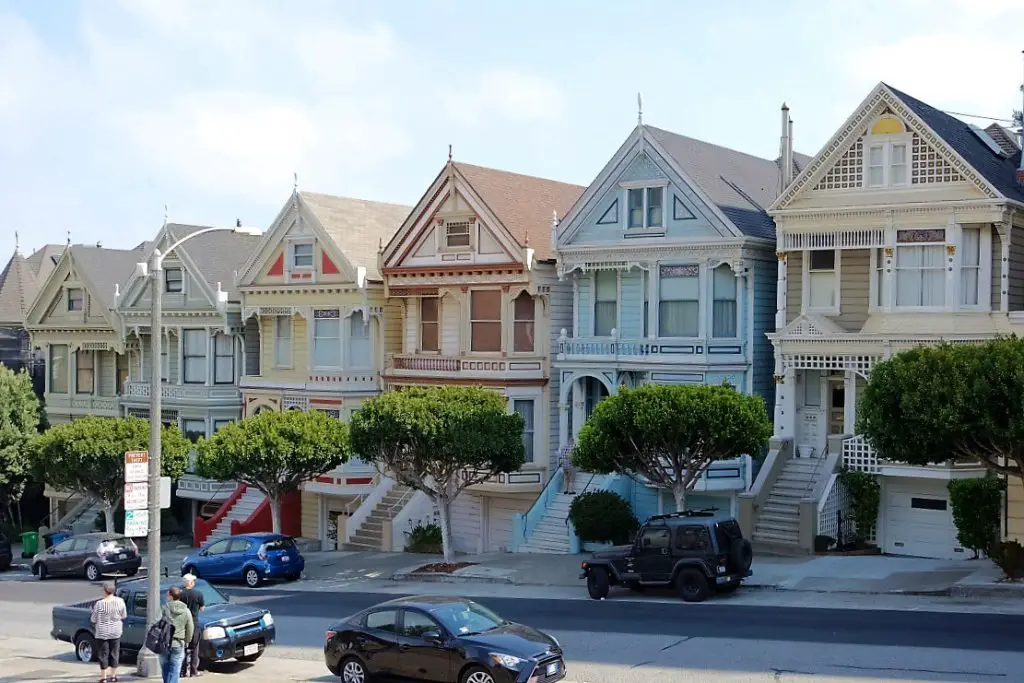 But even without construction work: There are and will only be Victorian houses as you can find them elsewhere in San Francisco. Take the bus to Alamo Square especially for that? Leave it alone, it's complicated and takes up too much time. If you have a rental car, take the Painted Ladies with you on the way, but don't drive there.