Admittedly, creating Los Angeles with all its sights in one day is utopian. Or should we say better – a challenge. We were confronted with exactly this challenge and experience has shown that most people actually do not take more than 1-2 days for Los Angeles. The mega-metropolis, at least among us Germans, has a reputation for being particularly ugly and completely unexciting. So first of all: We don't see it that way! But if you hardly have time, you shouldn't go to the "wrong" places and sights in order not to get this impression.
That is why we have put together a small Los Angeles Travel Guide with all the must sees and sights in Los Angeles that, in our completely subjective opinion, should be seen and that can realistically be done in one day.
But first things first: The prerequisites for this are
You have to get up very early. Those who still have jet lag have a clear advantage!

You have a car. Nothing works in LA without a car. Generally not, and certainly not if you have a tight schedule. We always book in advance from Germany at 

billiger-mietwagen.de *
Here we go!
Go to the Griffith Observatory for sunrise
The Griffith Observatoryis THE viewpoint in Los Angeles. From there you have a perfect view of the whole of LA and the Hollywood Sign. It is accordingly popular, especially at sunset it gets packed here. Double on the weekend. If there is an event in the Greek Theater, you can multiply the number of visitors by 3 again. Hence our tip: don't even try. You won't find a parking space in the evening, get stuck in traffic and most likely miss the sunset. That's why we're just turning the tables: very early in the morning at sunrise, the Griffith Observatory is still empty and the atmosphere is really magical. If the parking lot is still closed, you can park on the roadside and walk the little way up. The exhibition in the observatory itself is still closed at this time. Parking is free.
The Hollywood Sign up close // Best Hollywood Sign Viewpoint
Whole books have probably already been written about how to get as close as possible to the famous Hollywood Sign in the most sensible / best / closest way. The fact is: Google Maps does not provide any useful information for this, only the Hollywod Sign itself or a place called Hollywood Sign Hike Parking are stored. The latter, i.e. approaching the sign by mini hike, can be done, but it actually eats up too much time for a day trip in Los Angeles.
Hence our (maybe even) insider tip: The best place to get as close as possible to the Hollywood Sign is Lake Hollywood Park . Enter Lake Hollywood Park as the destination address on Google Maps , drive on Canyon Lake Dr. there and look for a parking space on the side of the road and walk a little further up. Canyon Lake Drive turns into Mulholland Hwy after the curveover, here you continuously get closer to the Hollywood Sign. Theoretically, you can also park here (after driving past the nice law enforcement officer who is not supposed to let Hinz and Kunz through). In practice, however, the residents here get mega grumpy if you snatch the parking spaces away from them, so parking is prohibited here before 6 p.m. (if we have understood the sign correctly). If you are unsure about the right path, enter Strategic Perception as the destination address (this is a company that simply serves as a point of reference for Google for your purposes).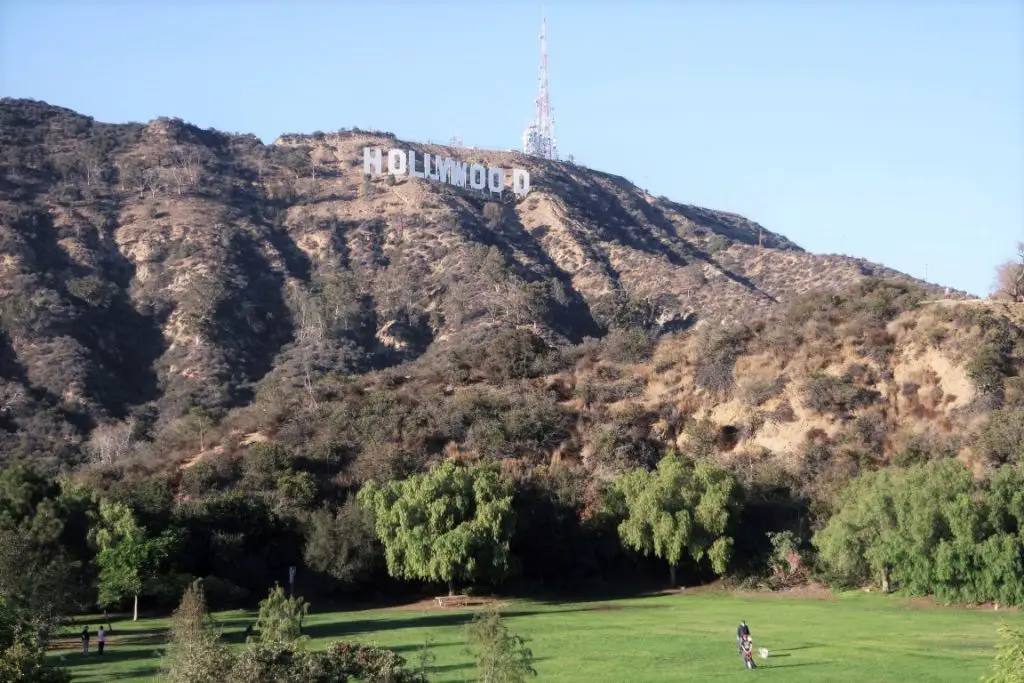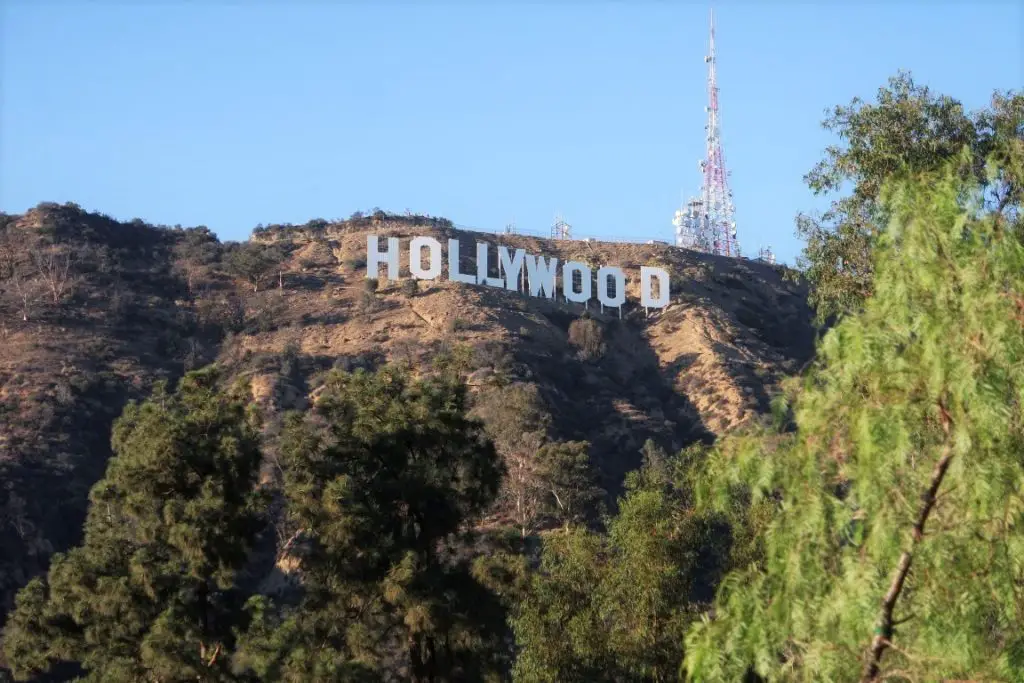 So. Is that close or is that close ?! Unfortunately, the selfie only worked so well because of personal stupidity.
Mulholland Drive through the Hollywood Hills
Basically you are now almost in the famous Hollywood Hills, you get the full roar when you drive west on Mulholland Drive. Mulholland Drive is THE scenic road of Los Angeles and offers an amazing view of the whole city along the whole route. The drive through the Hollywood Hills is particularly spectacular and if you have the time, you can make a stop in Runyon Canyon Park along the way. Runyon Canyon offers a great view over the whole of LA and is very popular with hikers and joggers. Tourists and locals meet here, and anyone who is somehow fame on Instagram and (therefore of course) in LA MUST take a picture of themselves in sports clothes. Otherwise that was probably the fame.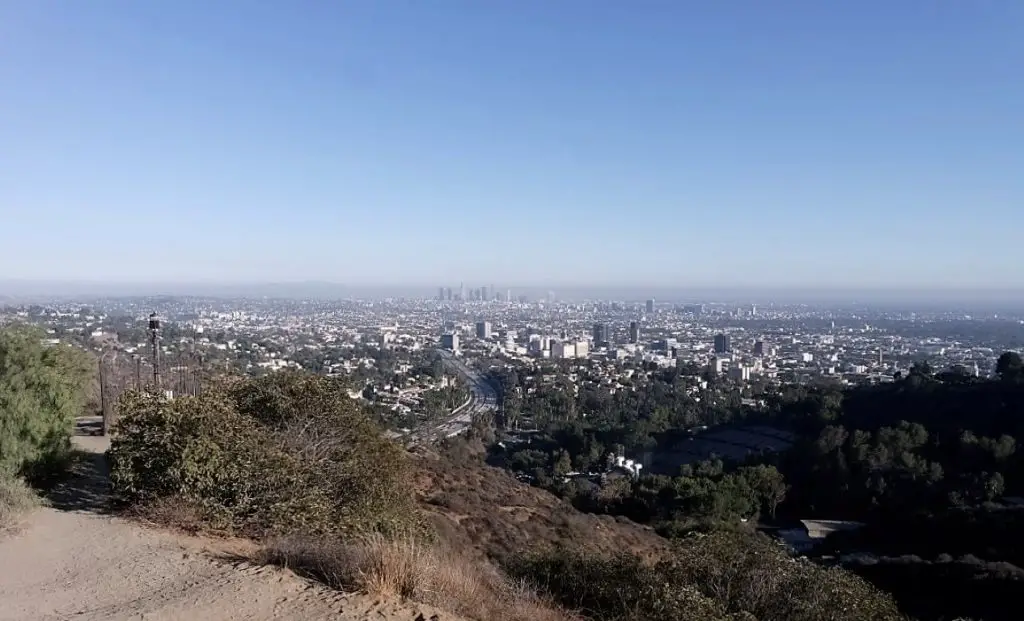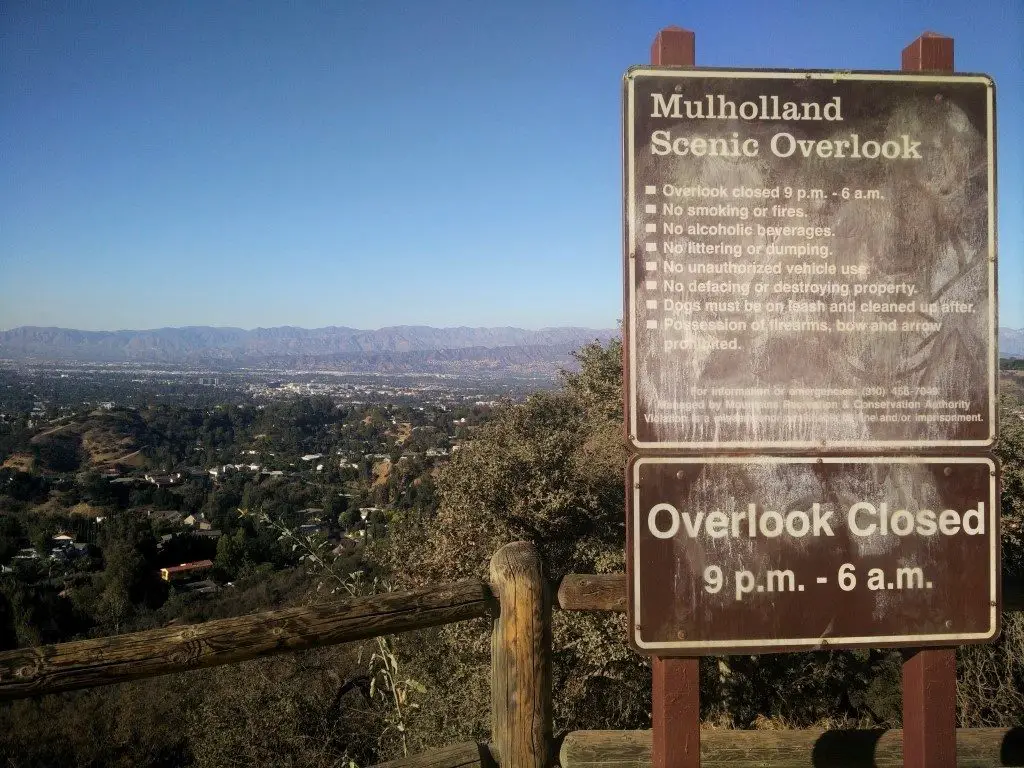 Hollywood Walk of Fame
After that is done, with or without a stop at Runyon Canyon, you head straight for the next stop: Hollywood Boulevard or Hollywood Walk of Fame. The Hollywood Walk of Fame is probably the tourist center of Los Angeles and you should take your time here. Not because it is so great here, but because it is so crowded that you cannot rush through quickly. Walking speed = city stroll. Along the Hollywood Walk of Fame you will find the Chinese Theater and the Dolby Theater, where the Academy Awards take place every year. Don't let all the people talk to you who want to sell you some nonsense or any tour, you don't have time for that anyway and you are already on your personal sightseeing tour ?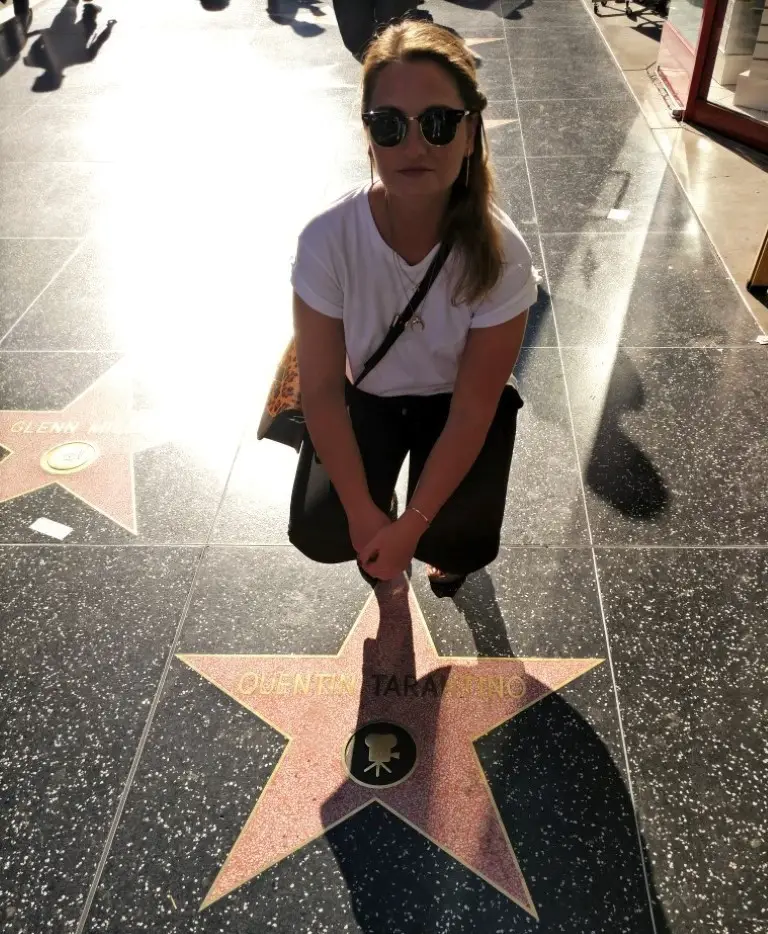 Rodeo Drive
Head west to Beverly Hills to Rodeo Drive. The famous luxury shopping street should be familiar to everyone since Pretty Woman at the latest (ok … maybe mainly the women among us). Parking around Rodeo Drive is chargeable, but quite affordable. Most of them have a parking meter with a time limit, but the time is usually easy – unless you want to escalate Pretty Woman like on Rodeo Drive. What else is there to do here? Walk through and be amazed!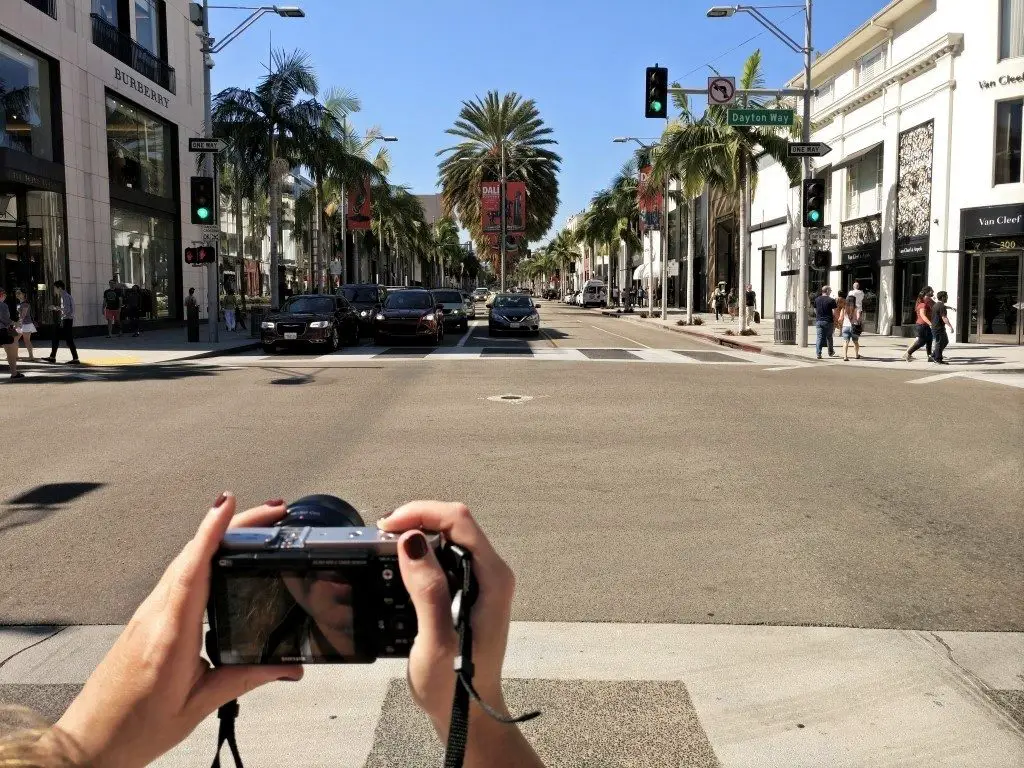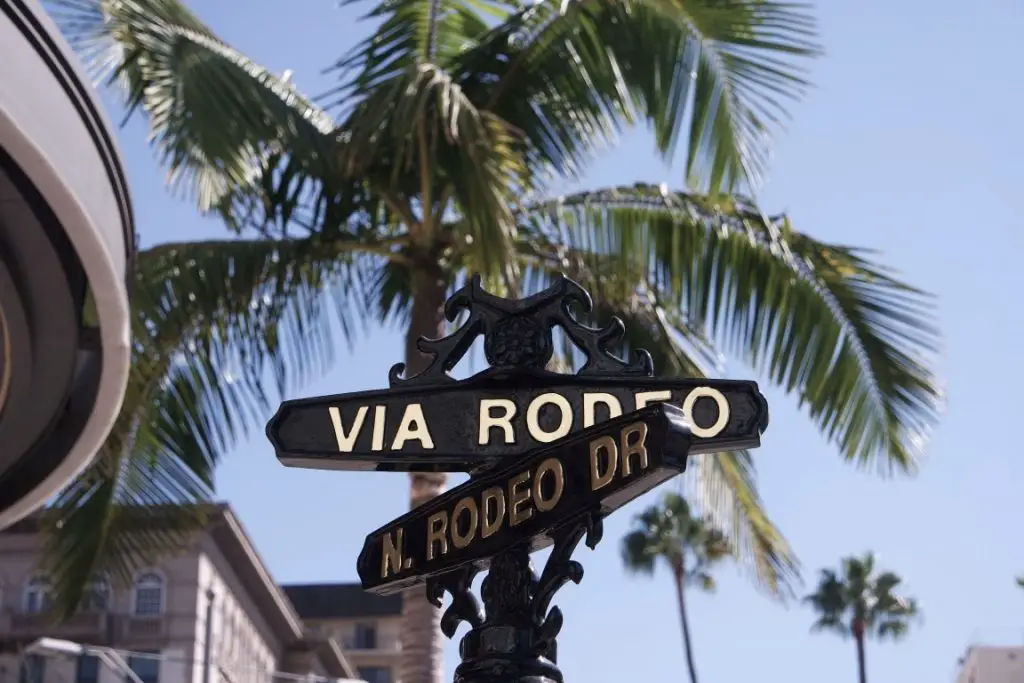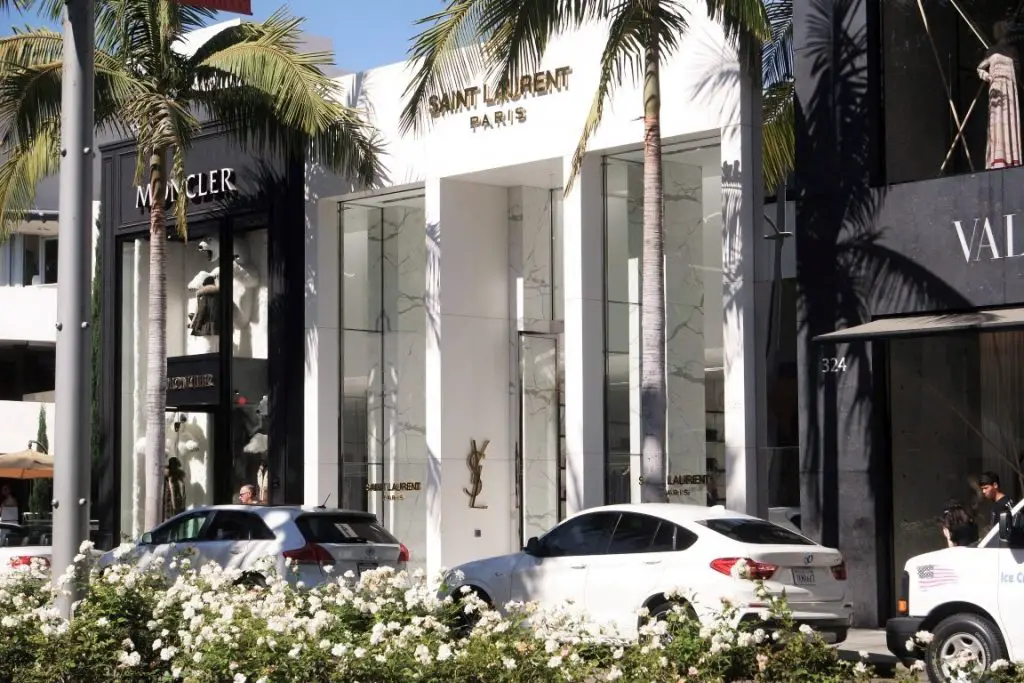 Bel Air
The same, in other words, amazement, also applies to Bel Air. Basically there is not much to say about the Los Angeles district, it is the district where the beautiful and rich finally live. Walking is not intended here, which is why there are no sidewalks at all in many places and the properties are protected from prying eyes by meter-high fences and hedges. You won't see celebrities here, the only people on the street are the gardeners and housemaids. Nevertheless, we found Bel Air worth seeing and fascinating for a short detour by car, because it corresponds exactly to the idea that many of us have of Los Angeles.
Santa Monica and Venice Beach
When the day is slowly coming to an end, you can head to Santa Monica and Venice Beach . Strictly speaking, the two small towns no longer belong to Los Angeles, but the transitions are seamless in the mega-agglomeration of LA County anyway. Most of us associate Santa Monica with the world-famous Santa Monica Pier , which is the end of Historic Route 66. And this is really a must for everyone who is in and around Los Angeles!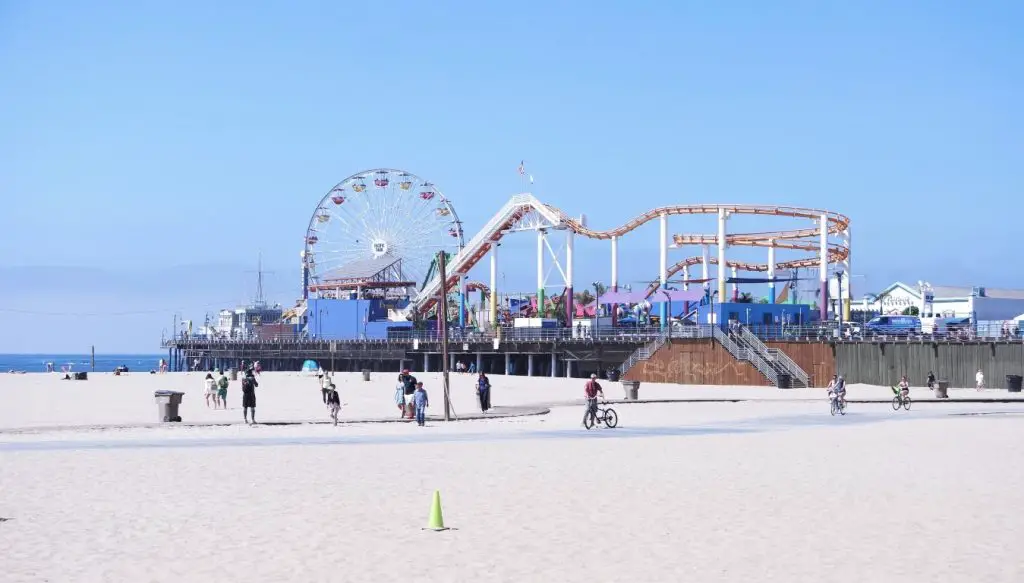 Depending on how much time you have left, you can still pass a little time on the pier … but you have to be at Venice Beach by sunset at the latest . Don't do that at the last minute, but stroll a little on the boardwalk (or rent a beach cruiser right away), watch the freaks, but don't let yourself be talked to for any freakshow … what you get to see on the boardwalk is free and sufficient. Just soak up the atmosphere of Venice Beach and don't forget to take photos as the sun slowly goes down. There is no other place in the world like it.