White and colorful, pastel-colored Art Deco buildings from bygone times, bright neon signs, bars, restaurants and a nightlife that is second to none – Welcome to Miami Beach.
It was clear from the start that we would choose the glittering beach metropolis as the start and end point of our trip through Florida . Miami, and especially Miami Beach, is the location and location of countless classic films and although the city is comparatively young, like all major US cities, there is a lot of history in it that can still be felt today.
First of all, the difference between Miami and Miami Beach is important, because they are two different cities. Miami Beach is a city on an offshore island off Miami, surrounded by the Atlantic Ocean and Biscayne Bay, which extends from the southern tip of Miami to the height of approx. 87th Street. The Art Deco District in Miami Beach is world famousand one of two places in the world where such a density and large number of Art Deco style buildings have survived. Normally we are not very enthusiastic about architecture, but Miami Beach with the Art Deco District on Ocean Drive and the characteristic mid-century buildings on Collins Avenue blew us away. Precisely because the buildings are not that extremely old and Miami has experienced phases of rise, decline and resurgence in this short period of time, you can clearly see and feel the history of the city here.
We would like to take you with us and immerse yourself a little in Miami's (architectural) history. In this article we will first show you Miami Beach and the Art Deco district, in an upcoming article we will then take you to the less touristy MiMo District along Biscayne Boulevard and to the Wynwood Art District. So be prepared for a lot of pictures!
Ocean Drive: Center of the Art Deco District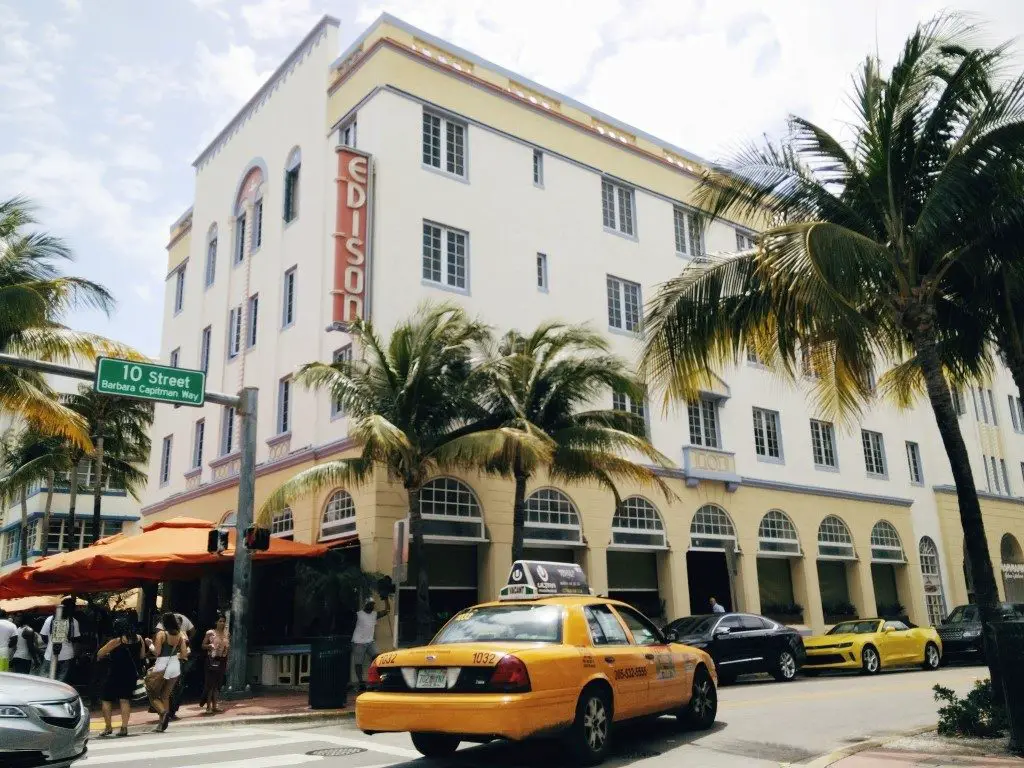 The year 1915 is documented as the founding date of Miami Beach, so the city is just over 100 years old. In 1915, the Browns Hotel (112 Ocean Drive) opened the first hotel on Ocean Drive, which is now the Prime 112 restaurant . The architectural style of this building cannot yet be assigned to the Art Deco style, which only developed in the 1920s and 1930s. Miami Beach was considered hip and trendy at the time and was very popular as a holiday destination, which is why a large number of hotels were built within a short time.
The Art Deco style was not considered an architectural masterpiece, but was primarily purposeful: The "eyebrows" above the windows were supposed to keep heat away, because air conditioning did not exist back then. The buildings were usually no higher than three or four floors, otherwise elevators would have had to be installed, which would have increased construction costs. The often nautical style, which is reminiscent of a ship through porthole-shaped windows, for example, arose from the fact that Miami Beach was laid out as a pure vacation spot and the buildings were supposed to spread the appropriate atmosphere.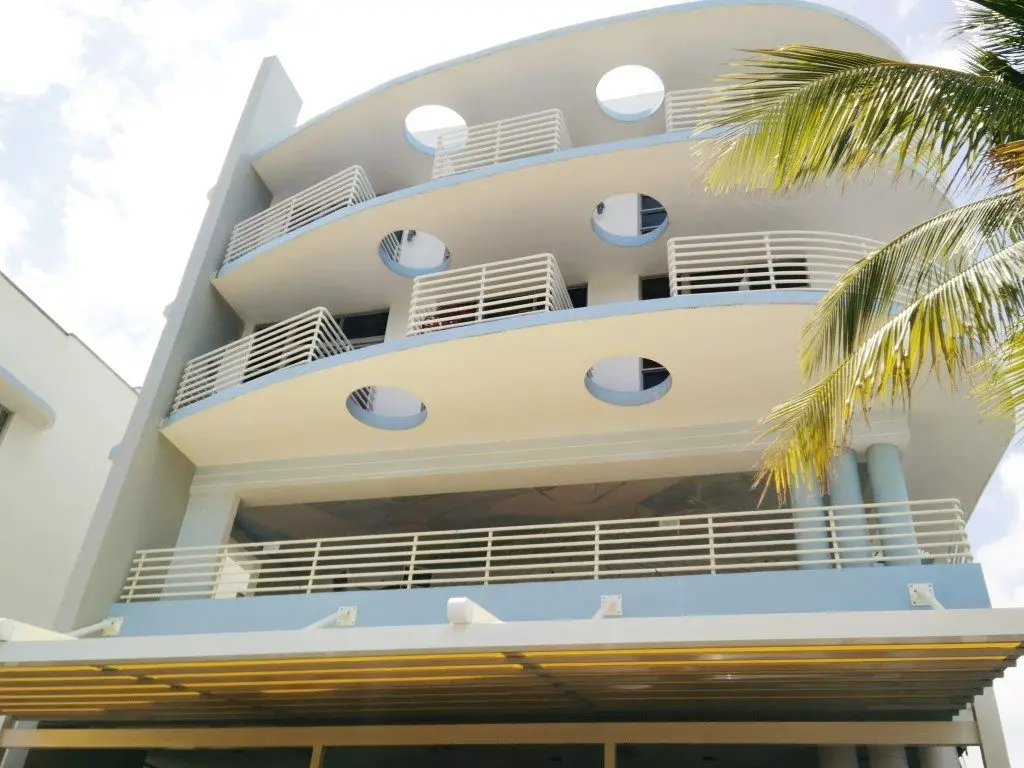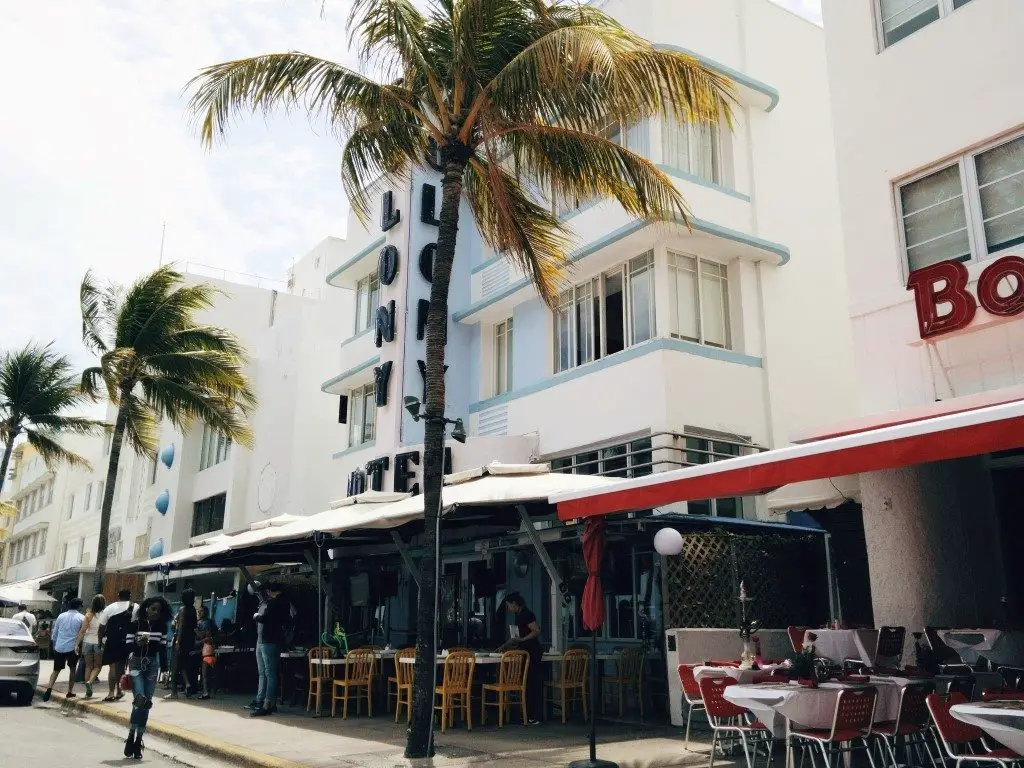 The historic Art Deco District in Miami Beach is located in South Beach and is surrounded by Ocean Drive, Alton Road and the Collins Canal. Today it houses over 900 listed buildings . The center of the Art Deco District is between 5th and 15th streets along colorful Ocean Drive and the streets behind it (Collins Avenue, Washington Avenue to Meridian Avenue). Most of the buildings date from the 1930s and 1940s, but outside of the historic district, many Art Deco buildings can be found all over Miami Beach.
In the 70s and 80s, Miami Beach was very dilapidated due to the cocaine crisis and the buildings, some of which had fallen into disrepair, were to give way to newer ones. Fortunately, this was prevented by a committed citizens' initiative. The Art Deco District is still under restoration today, and you can see empty houses that are being cleaned up and made chic.
Most of the buildings are still used as hotels with their original names from the 30s or 40s. It looks particularly impressive on Ocean Drive at night, when thousands of neon tubes illuminate the buildings with colorful flickering.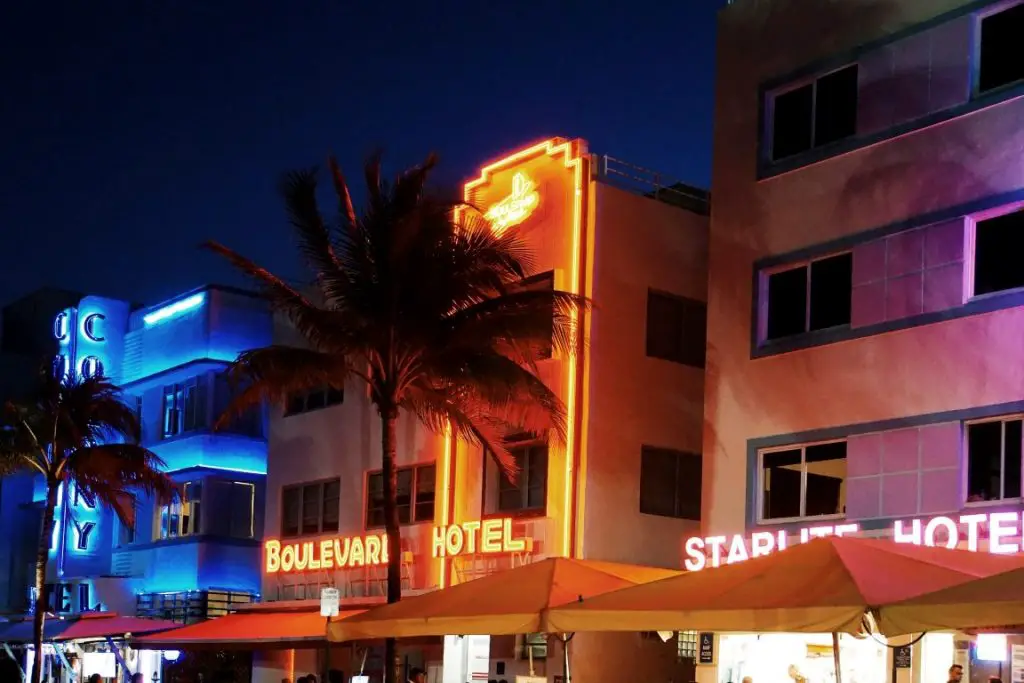 Am 1116 Ocean Drive befindet sich das am zweithäufigsten fotografierte Gebäude der Welt, die Villa Casa Casuarina. Die Villa ist das ehemalige Wohnhaus von Gianni Versace, vor dessen Toren er 1997 auf offener Straße erschossen wurde. Der Baustil dieses Gebäudes ist dem Mediterranean Revival zuzuordnen, wovon es in Miami South Beach etwa 200 Stück gibt (ein Foto der Villa zu knipsen haben wir natürlich vergessen…)
Für Fans historischer Filmorte gibt es zwischen dem BEACON und dem COLONY Hotel ein Gebäude zu entdecken, das im Film Scarface aus dem Jahr 1983 eine besondere Rolle spielt: In den Sun Ray Apartments (728 Ocean Drive zwischen der 7. und 8. Straße) spielt die berühmte Kettensägenszene (die vollständig nur im Director's Cut zu sehen ist). Das Gebäude wird derzeit entkernt und renoviert, die Originalfassade soll glücklicherweise erhalten bleiben. Ich kann Euch gar nicht sagen wie oft ich diesen Film gesehen habe. Die Szene in den Sun Ray Apartments ist eine der Schlüsselszenen und einmal selbst vor diesem Gebäude zu stehen, die Filmszenen vor dem inneren Auge ablaufen zu lassen – das war schwer beeindruckend (jaaa…nerdy, ich weiß ? ).
The film Scarface was a milestone, especially for Miami's recent history: Miami has been suffocating in cocaine since the late 1970s and the city's decline could not be stopped . In the 1980s, Miami experienced its negative climax as Cocaine Capital. Scarface (1983) transfers a gangster story from the 1930s to the real cocaine scene in Miami, thus establishing a new era of gangster films: so-called film noir has dominated urban locations up to now, and individual elements of film noir have dominated in later gangster films. Scarface is different – Miami is portrayed loud, harsh and colorful. This realistic and colorful representation of Miami in the 1980s was groundbreaking for the later cinematic rise of Miami and Miami Beach, for example through the series Miami Vice.
Mid Century Film Noir on Collins Avenue
If you want to experience Miami Beach a little quieter and less colorful than on Ocean Drive, you should plan a detour to Collins Avenue. On the section between 5th and 15th streets parallel to Ocean Drive, Collins Avenue is still relatively colorful and here, too, you can find some classics of Art Deco, such as the SAGAMORE Hotel.
Incidentally, with all the Art Deco overkill, I had to control myself again and again not to lose myself too much in the details while taking photos, but also to snap entire streets. Unfortunately it didn't work that well …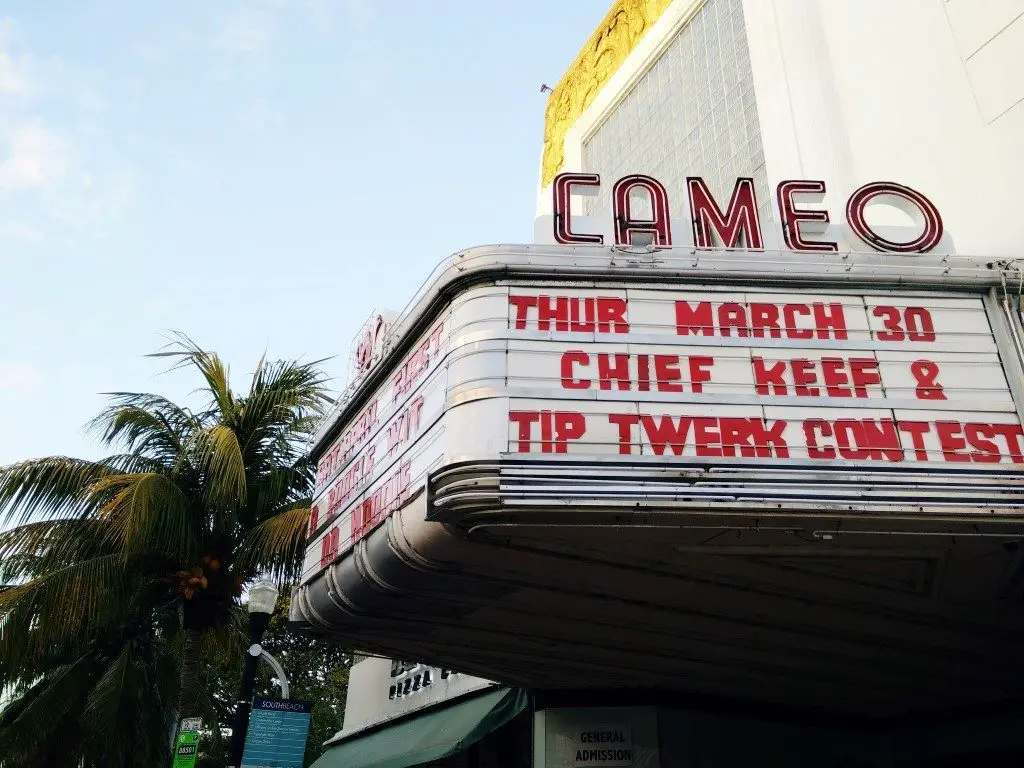 The further north you follow Collins Avenue, the quieter the scene: white neon signs, black and white film noir and green palm trees instead of bright colors dominate the street scene. Most of the buildings in Miami Mid Beach date from the late 1940s to 1960s . The typical Art Deco "eyebrows" are disappearing (air conditioning systems have since been invented) and the buildings have now been built taller and more luxurious to accommodate even more vacationers. In the 1950s into 1960s, Miami Beach experienced its peak as a vacation destination for the beautiful and the rich.
Some of the most famous and largest mid-century Miami Beach hotels are the EDEN ROC, DELANO, SHELBORNE, and FONTAINEBLEAU, which is even a listed cultural monument.
Tips for Miami Beach
Activities and sightseeing
Um es an dieser Stelle kurz zu halten: Miami Beach selbst IST die Sehenswürdigkeit ? Lasst Euch einfach treiben und erkundet South Beach und den Art Deco District zu Fuß oder mit dem Rad. Falls Ihr gerne noch mehr über die einzelnen Gebäude erfahren möchtet, dann schließt Euch einer Art Deco Walking Tour der Miami Design Preservation League an (Tickets ca. 25$).
Ansonsten: Beach, Beach, Beach! Der Strand in Miami Beach ist überall öffentlich zugänglich und erstreckt sich kilometerlang über die komplette Atlantikseite der Insel. Schnappt Euch ein Handtuch, Sonnencreme, einen Cocktail und beobachtet einfach das bunte Treiben.
Essen & Trinken
Miami Beach is expensive. The only tip we have for you: stay away from the restaurants on Ocean Drive. Ocean Drive is the tourist center of Miami Beach and, like all tourist hot spots, there is mediocre quality at overpriced prices. If you still want to have a cocktail on Ocean Drive, we recommend a mojito in Gloria Estefan's restaurant Larios on the Beach (820 Ocean Drive).
We stumbled across the 11th Street Diner (11th Street & Washington Ave.) in the historic Art Deco District, the building is a real highlight. The portions are generous and the prices are reasonable. If for whatever reason you've never been to Five Guys Burger , then you should definitely do so in South Beach (Five Guys, 1500 Washington Ave.).
Our Mexican UBER taxi driver also highly recommended Manolo , an Argentine mini-restaurant chain (685 Washington Ave. & 7300 Collins Ave.). Unfortunately, we didn't make it anymore, but when we looked at the display our mouths watered more than once.
For all advertised prices, please note that these are net prices (unless otherwise noted on the card). That means, there is still tax on top of that and you should also plan a 15-20% tip (18% is normal).
Locomotion
Miami Beach and especially South Beach are not designed for car traffic. The development began in the 1930s as a vacation spot, so no one naturally thought of large cars or parking spaces at that time. The further north you go in Miami Beach, the more relaxed driving becomes, but the parking situation is difficult everywhere and parking is extremely expensive . We therefore recommend that you do without a car in Miami Beach . We got around Miami Beach by UBER taxi and rental bike and planned our trips cleverly so that we didn't have to drive too much or long.
We can absolutely recommend renting a bike , because you are extremely flexible and can cover longer distances. There are Citi Bike stations everywhere in Miami Beach .
Miami Beach Hotels
The hotel prices in Miami Beach are affordable to extremely expensive depending on the travel time. Basically, we would recommend booking a hotel in South Beach to be right in the middle of the action, including in one of the historic Art Deco boutique hotels on Ocean Drive (e.g. the Beacon , the Colony , the Pelican , the Carlyle , the Starlite , the Avalon ) *.
Falls Ihr es etwas ruhiger mögt, dann schaut eher nach einem Hotel auf der Collins Avenue (z.B. das Sagamore, das Eden Roc, das Delano, das Croydon, das Tides, das Carillon, das Fontainebleau)*. Auch dort habt Ihr den Strand direkt vor der Haustüre und die meisten Hotels haben einen Pool und sind insgesamt luxuriöser und etwas weitläufiger als die Hotels in South Beach. Wir waren dummerweise genau zur Spring Break (März/April) in Miami und die Preise sind, egal in welchem Hotel, regelrecht explodiert.
Ultimately, we decided on the affordable Ocean Surf Hotel * in Miami North Beach. The historic Art Deco building from 1940 is beautiful on the outside, but unfortunately quite shabby on the inside.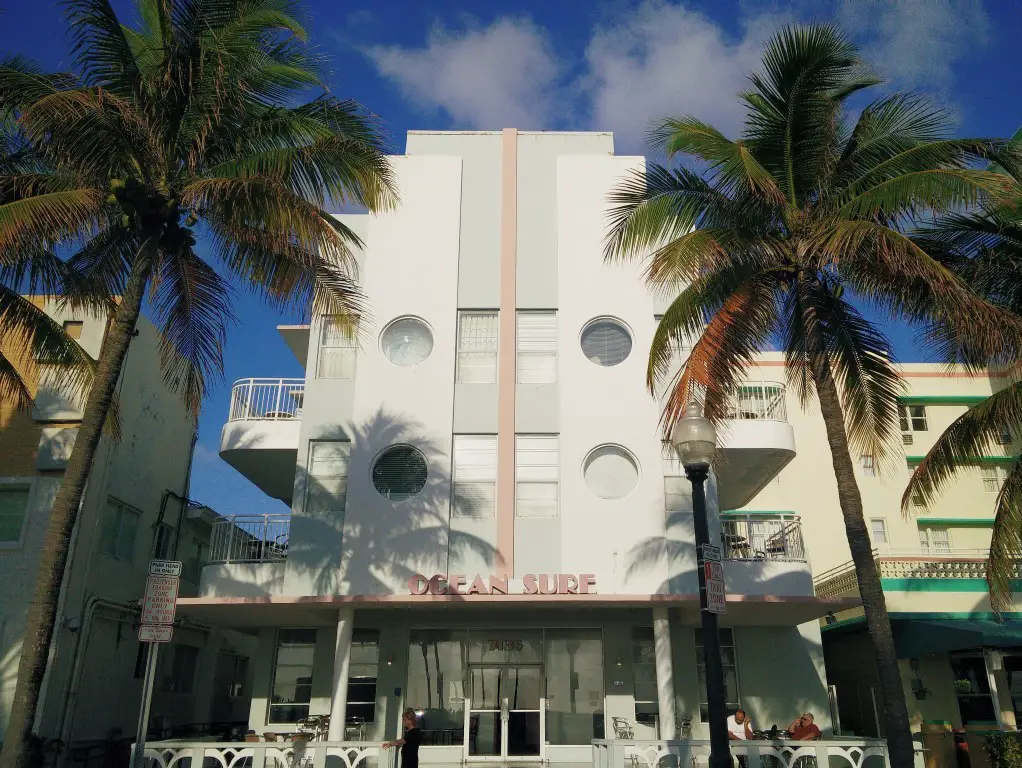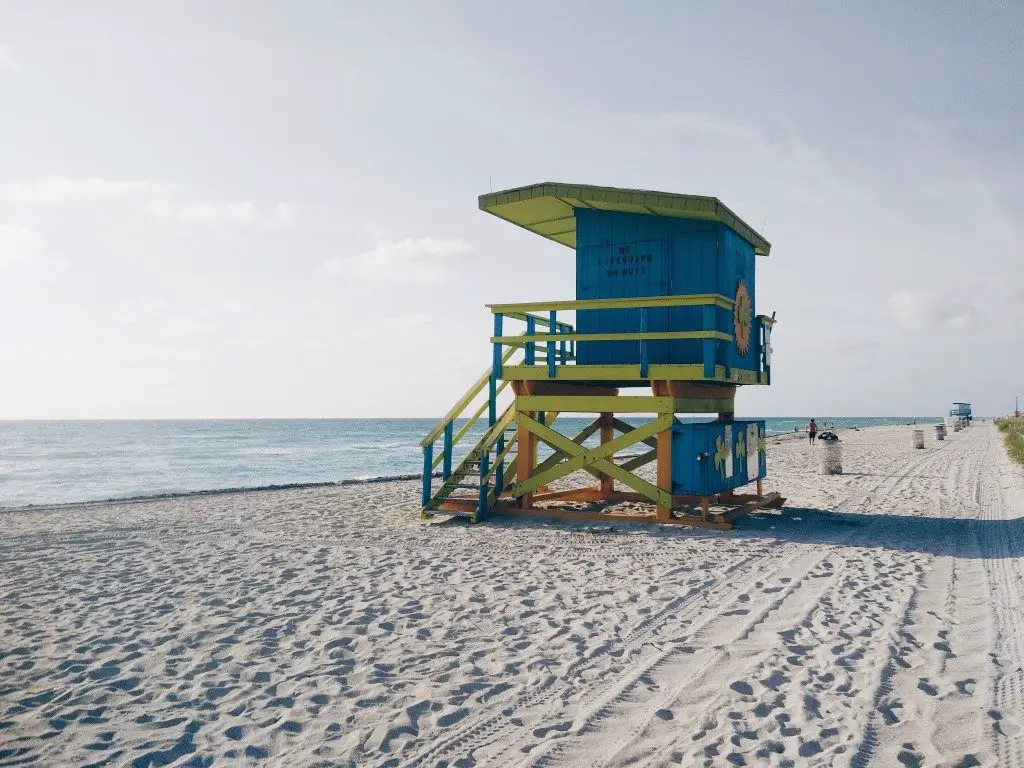 Miami North Beach is very quiet, and the beach is also very relaxed there. Because we lived in North Beach, we were forced to cycle all the way down Collins Avenue down to South Beach and probably saw every single Mid Century and Art Deco building in all of Miami Beach.
In the next part of Miami's architectural history, we will take you to the historic, but very untouristic MiMo District on Biscayne Boulevard and to Wynwood. You can look forward to many more colorful pictures ?