When Christian and I left for Prague last week, much too late and really stressed, we honestly had no idea what to expect from Prague. Yes, we had the usual sights in Prague on our screen. In our minds there was otherwise only a wild mix of fragmentary memories of the history lessons in the upper school and regulars' table knowledge about the Czech Republic in the 90s (Czech Republic = fake branded clothing and cheap beer). So our trip to Prague promised to be semi-exciting, because I don't like beer, fake branded clothing, or high school history lessons (Christian at least likes beer and has been careful about history, things looked better for him).
But what can I say – Prague completely blew us away! BÄM. And neither beer nor absinthe were involved!
To put it in a nutshell: Prague survived the two world wars completely unscathed. All the buildings, all the cobblestone streets, and even the street lamps, are still in Prague today as they were centuries ago. In other European cities there are no more than individual districts in which the architecture and cityscape of the last centuries have been preserved, mostly there are only individual buildings – but not in Prague. All of Prague is one big open-air museum. In case you've been to an amusement park before and were wondering where the hell it looks like the amusement park is in France'or' Austria 'looks like – in Prague it looks like this! It's hard to believe. The city is full of significant historical moments (just think of the Prague lintel or the Prague Spring) and is surrounded by a very peculiar mystical atmosphere: Prague lives from its centuries-old stories and myths about spirits, alchemists and mythical creatures such as the golem .
If, as a rational German, you just grimaciously smile at the thought of ghost stories: We promise that Prague will cast its spell on you too. What do you absolutely have to do while sightseeing in Prague to immerse yourself in the 'feeling' of the city? Here come our DOs and DON'Ts!
Sights Prague – What you shouldn't miss
Prague Old Town and the Old Town Square
Old towns … you know one, you know all. You hardly dare to admit it, but at some point you are just not so flashed by the 581st European old town. But … wait for it … the old town of Prague will knock your socks off! You will search in vain for half-timbered houses here, the historic center of Prague owes its architecture to centuries of Austrian influence and so you can still find numerous magnificent buildings and winding cobblestone streets from bygone times here. The center of the 'golden city' is the Old Town Square – a large square where you will find several churches (Tyn Church and St. Nicholas Church) and also the historic Prague City Hall with the astronomical clock. Prague has many observation towers and it is difficult to decide, but the one about 70m high
The observation tower of the old town hall is a must. From up there you have a great all-round view of the whole city and the entrance fee is bearable at around € 5 .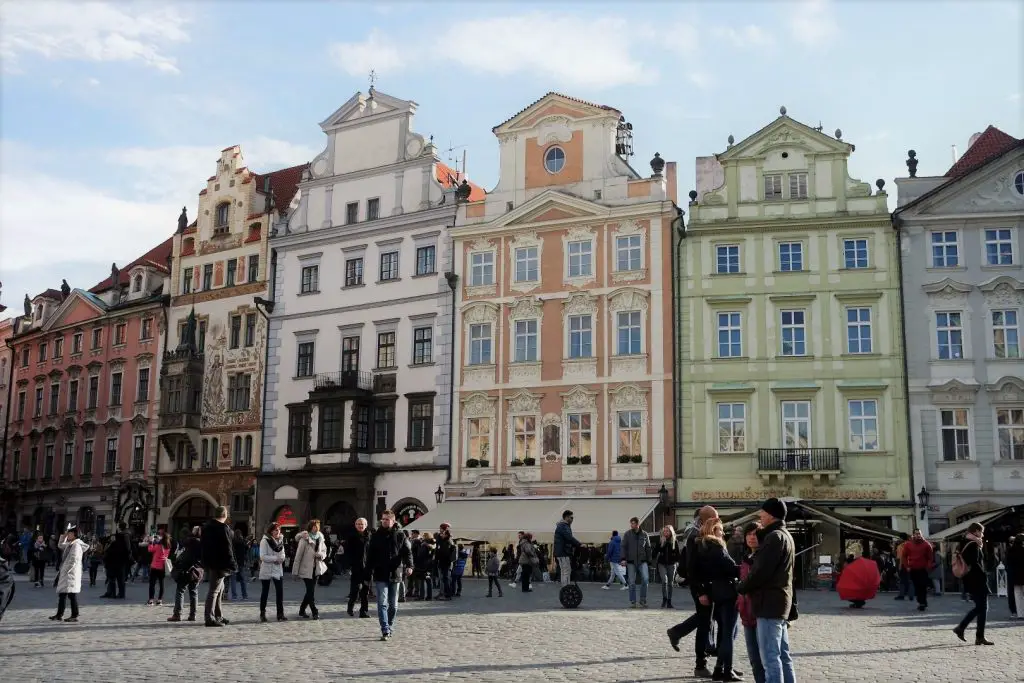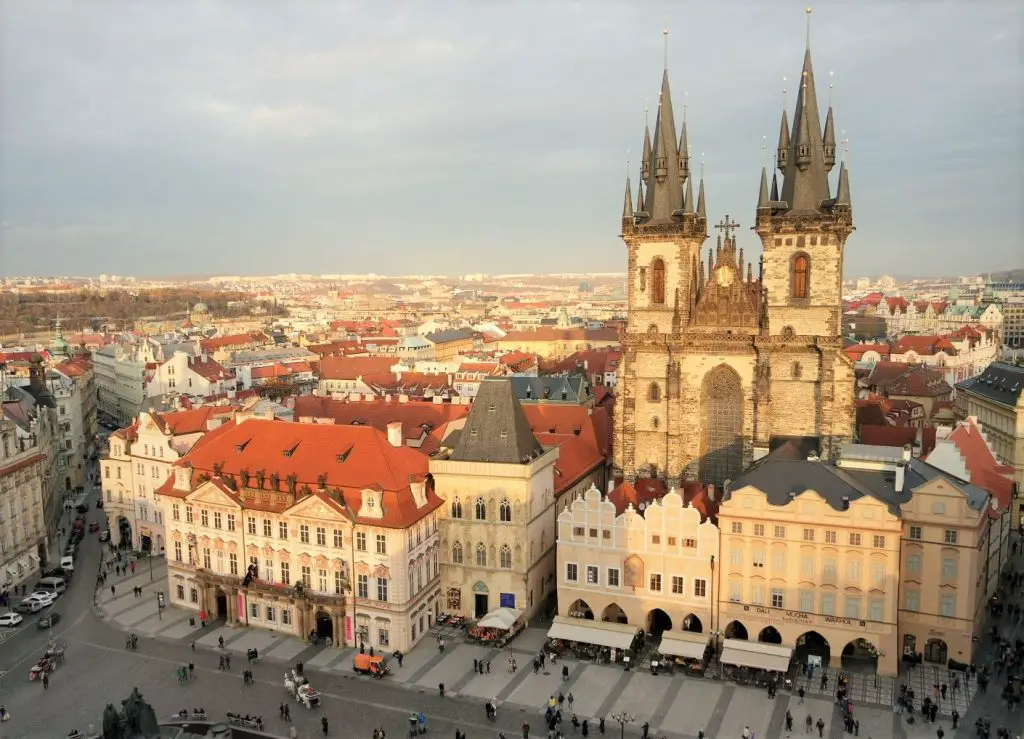 Josefov (Jewish Quarter)
Prague has a long Jewish history. Josefov, the Jewish quarter in Prague, was built before the 13th century and you can still find the oldest active synagogue in the world and the old Jewish cemetery from the 15th century here. To briefly outline the history of Prague's Jewish quarter: Since the 13th century, Jews in Prague were forbidden to live outside this quarter. The district lay in a depression and also below the level of the Vltava, which is why it had to struggle with bad floods for centuries. In the middle of the 19th century, Jews in Prague finally received civil rights and were no longer forced to live in Josefov. Most of them moved away and within a very short time Josephstadt almost completely fell into disrepair – Josefov became the worst and most dangerous district in all of Prague. Things have picked up again since the beginning of the 20th century: the district was raised and rebuilt. And so today you can find wonderful magnificent buildings from this time mixed with ancient synagogues and buildings that are full of gruesome stories. The old Jewish cemetery alone leaves you feeling cold: an estimated 100,000 people have been buried here since the 15th century, on a total area of ​​only about one hectare. That means: the corpses pile up. And so today you can find wonderful magnificent buildings from this time mixed with ancient synagogues and buildings that are full of gruesome stories. The old Jewish cemetery alone leaves you feeling cold: an estimated 100,000 people have been buried here since the 15th century, on a total area of ​​only about one hectare. That means: the corpses pile up. And so you can find wonderful magnificent buildings from this time mixed with ancient synagogues and buildings that are full of eerie stories. The old Jewish cemetery alone leaves you feeling cold: an estimated 100,000 people have been buried here since the 15th century, on a total area of ​​only about one hectare. That means: the corpses pile up.
In the Jewish Museum Prague in the Pinkas Synagogue right next to the old Jewish cemetery there is an exhibition that contains, among other things, drawings that were made by children in the Theresienstadt concentration camp between 1942 and 1944. If you have the time, be sure to visit her – she will freeze your blood in your veins.
The entrance fee for the cemetery and the synagogue is around € 12 and you should plan around 3 hours for it. You can find more information here.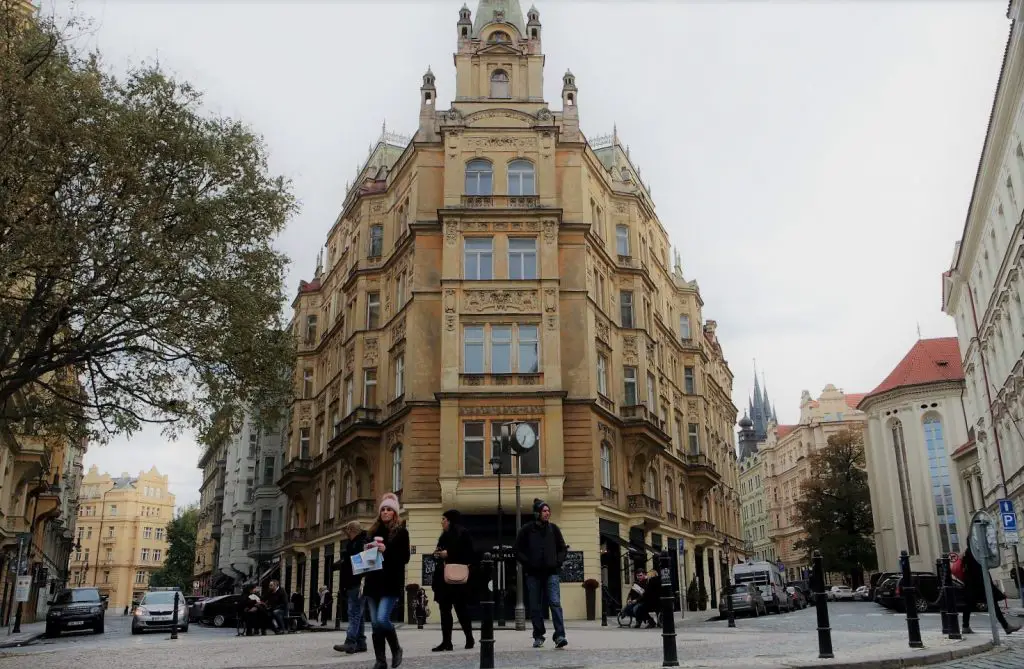 Prague Castle – Castle District Hradschin – The Golden Lane
Prague Castle is located on the so-called Lesser Town of Prague, i.e. on the opposite side (or as we Frankfurters would say: hibbdebach). As the largest castle in the world, it sits enthroned on a mountain above the rooftops of Prague and an entire district has formed around the castle. The castle district Hradschin is the largest self-contained castle area in the world, in which you will also find St. Vitus Cathedral and the 'Golden Lane'. The Golden Lane is a small section with a couple of pretty houses – Franz Kafka lived in house number 22 for a while.
Entrance fees have to be paid for certain areas of the Hradschin, for example, unfortunately, the Golden Lane. The ticket is available from around € 8. We therefore strongly recommend that you visit the Castle District in the evening! From 4 p.m. (in winter) or 6 p.m. (in summer) there is no entry and you can experience everything for free except the premises of the castle. But there is another more important aspect: The tourist masses of the day have disappeared and you can experience the entire area around Prague Castle almost completely deserted. The atmosphere so completely alone between the old walls, which are bathed in the golden light of the old lanterns, is really magical. Here you can find more information about everything you need to know about Prague Castle.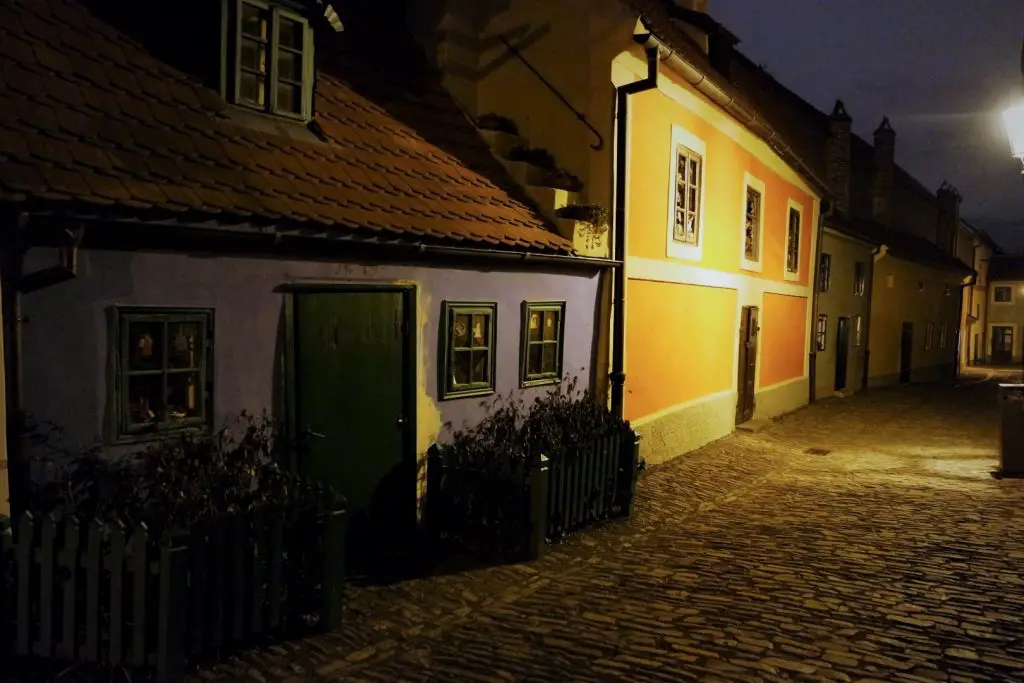 Eat a Trdelnik
Trdl … what? TR-DEL-NIK. Never heard? We neither. Google says: A Trdelnik (or Trdlo … yes, the Czechs don't like vowels) is a yeast dough that is rolled up on a stick (on an open flame) and rolled in a sugar-nut mixture. Aha. We say: delicious! How hell! Please definitely try a Trdelnik when you are in Prague, at around 3 € it is more than affordable. In Germany, this pastry can only be found sporadically at Christmas or annual markets and is sold here as Baumkuchen (which is wrong) or Baumstriezel (which we learned from a dear reader on our Facebook page , thank you for that!) .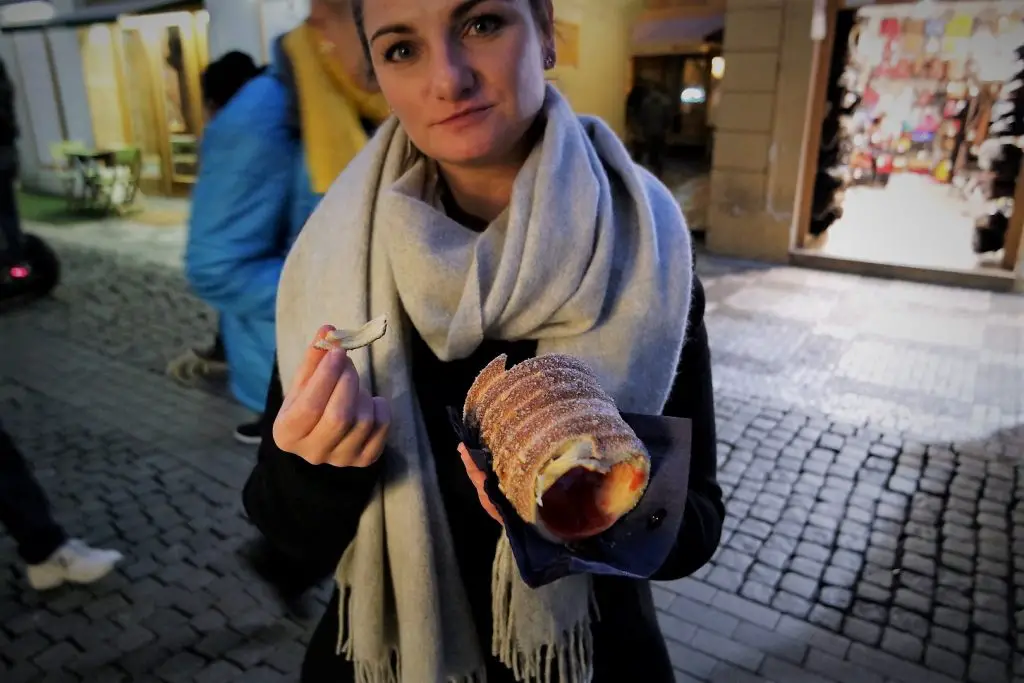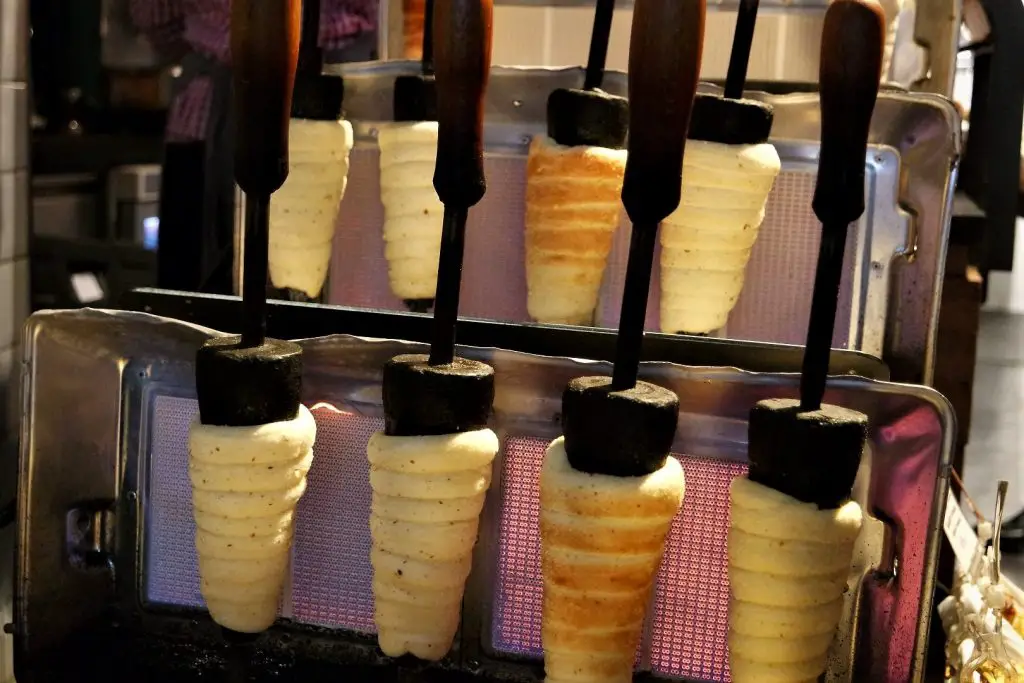 Take a free walking tour or ghost tour of Prague
In Prague, as in many big cities now, there are Free Walking Tours where you can explore the city on foot together with a city guide. And for free. The tours are no worse than tours that you have to pay for, so don't be afraid! It should be clear that your guide will be happy about payment in the end ? In Prague there are many providers of free walking tours in different languages ​​(including German), all of which start near the Old Town Square so you can confidently make a bow.
Our tip: Use a 2-3 hour free walking tour during the day to get to know Prague and book a ghost tour through Prague * in the evening . The ghost tours through Prague give you a completely different insight and you will hear many gruesome stories from historical Prague.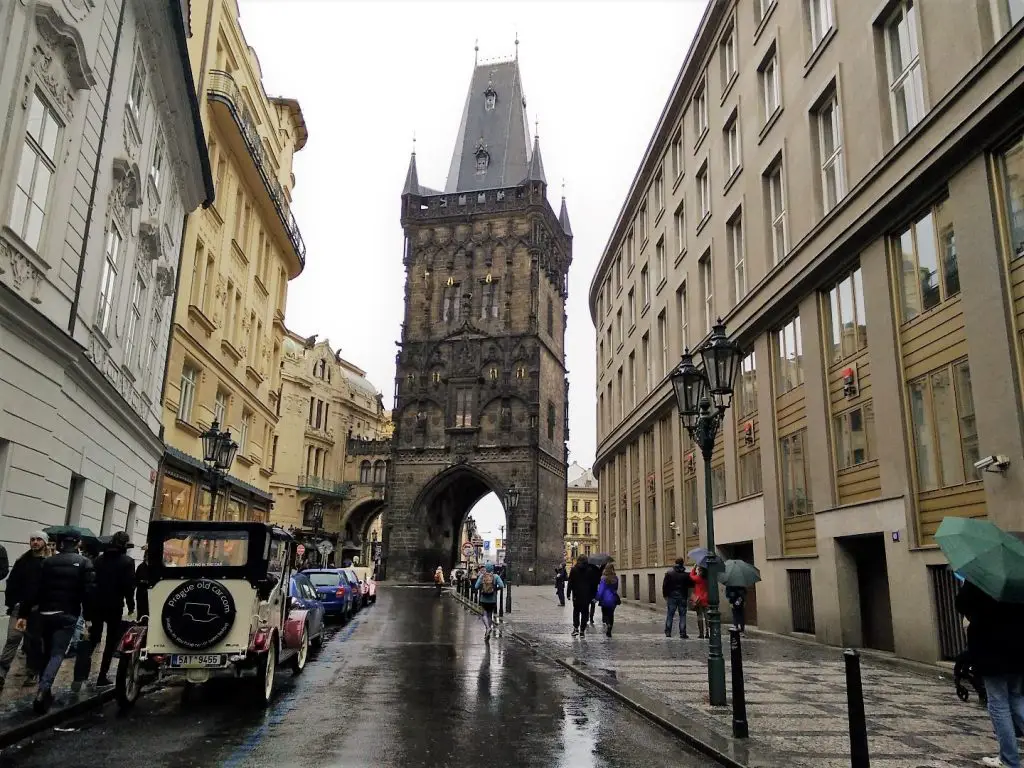 Experience the Charles Bridge at sunrise
There is actually not that much to write about the Charles Bridge in Prague, it is THE landmark of Prague. The bridge, built in the 14th century, is one of the oldest stone bridges in Europe and connects Prague's old town with the Lesser Town. The figures of saints and patrons lining the bridge are particularly striking.
The fact is: the bridge is crammed full of tourists during the day. You want a nice photo of the bridge and maybe also one of yourself on the bridge? You can bend that nicely. Just forget about it. You are being jostled nonstop and a picture without a million people in the background is out of the question. But because you are foxes, you now have the idea to just come by late in the evening to take pictures of the bridge, right? Nope. You can bend that too. The million other people are also still awake and have the same idea. See for yourself: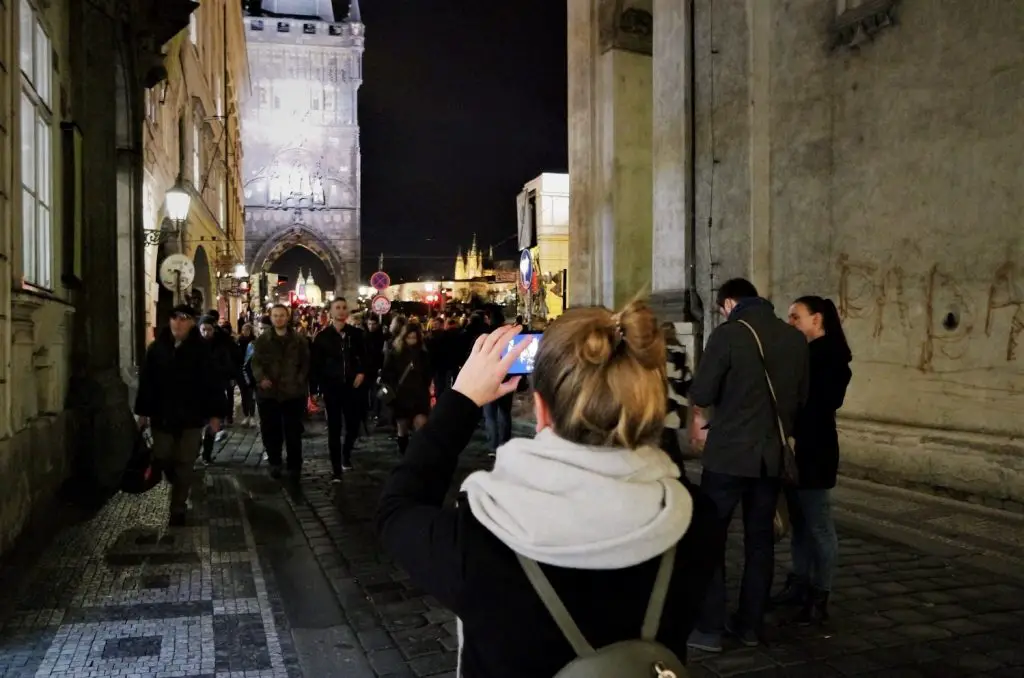 What you can do in the evening: Go to the bank of the Vltava and take a photo of the Charles Bridge from there. The bridge arches and the bridge are wonderfully illuminated in the evening and create a unique picture.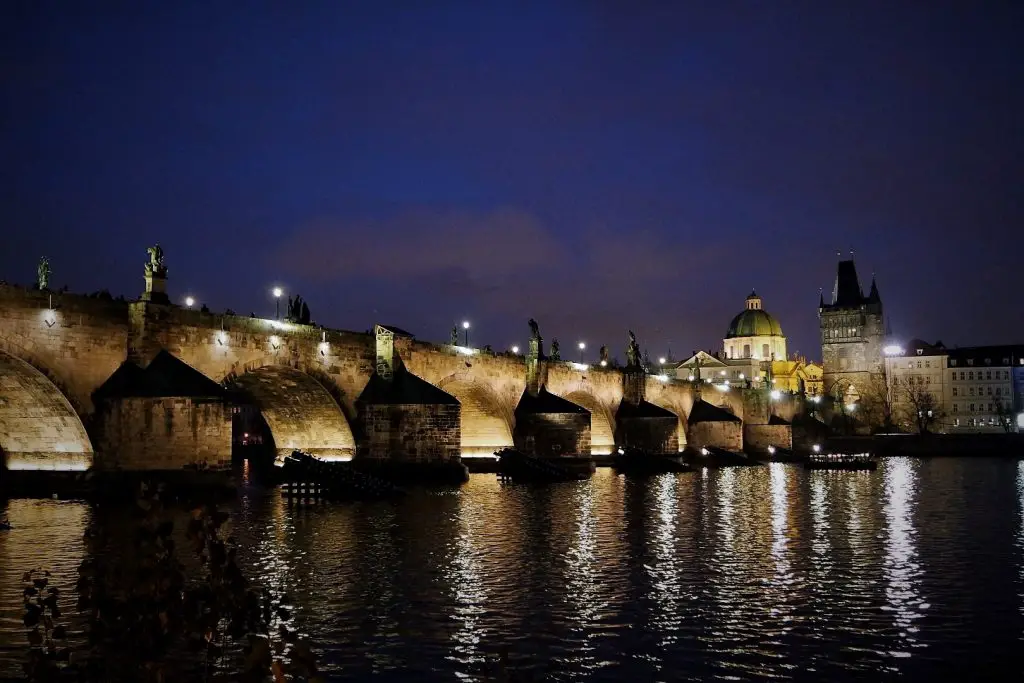 For "real" photos of the Charles Bridge, however, here is our pro tip, which surprisingly does not seem to have got around that much among tourists: Come to the Charles Bridge at sunrise! You have to watch the time when the bridge sinks into the darkness and then slowly gets lighter. At dawn there are only a handful of other people on Prague's Charles Bridge. Originally we had only hoped for a halfway deserted bridge, but the sunrise that then played in front of our eyes and behind the turrets of the old buildings was indescribable! If getting up was ever worth it, it was for this image that has now forever burned into our heads.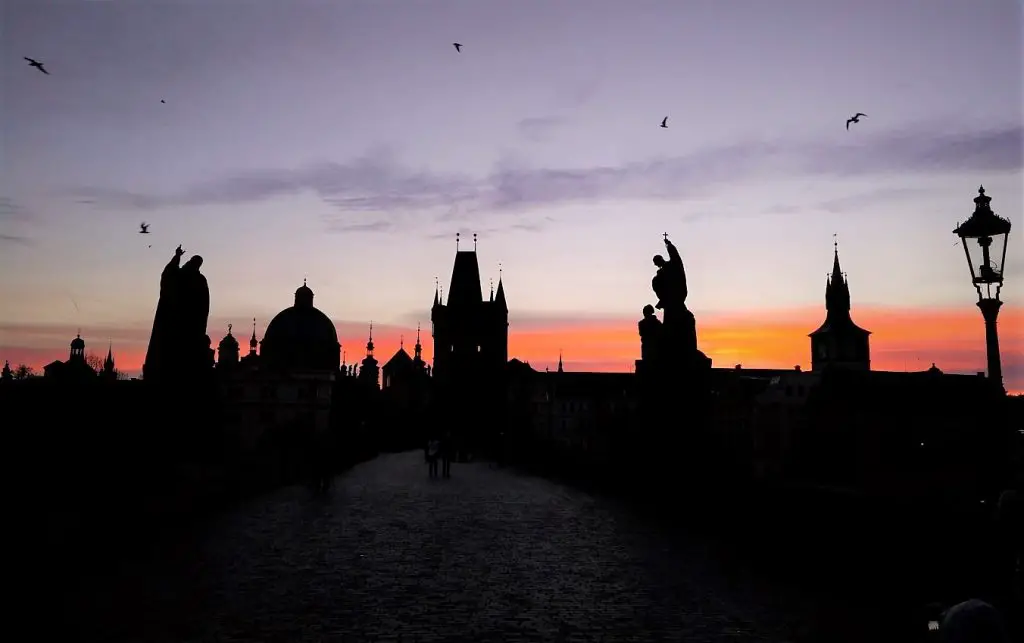 Sights of Prague- What you can save yourself
The astronomical clock on Prague City Hall
We haven't even talked about the famous clock in Prague. Why? Because it's not worth it. To satisfy your curiosity: The astronomical clock hangs on the old Prague City Hall and a carillon takes place here every hour on the hour, but compared to the carillon at Munich City Hall, it shakes off quite a bit (sorry, Prague). Inexplicably, a huge crowd of people gathers here every hour to witness the extremely brief opposite of a spectacle. That is exactly the time when you should go to the observation tower of the town hall: If everyone is standing outside to look, the queue at the observation tower is nice and short and you can easily save 30 minutes of waiting time (after the carillon everyone rushes up to the Tower).
You will see the clock either way, but for us it is one of the most overrated sights in Prague.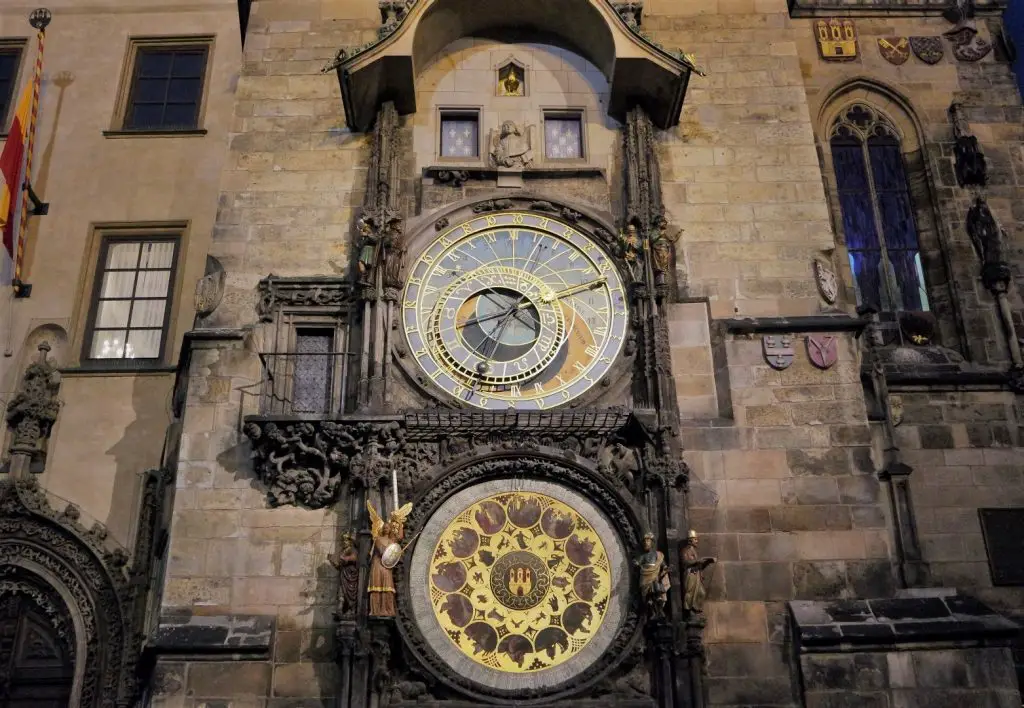 The Petrin mountain
Prague's Petrin Hill is actually more of a hill, like the ugly brother of the Prague Castle hill. There is an observation tower on top of the Petrin, the ugly little brother of the Eiffel Tower in Paris. You can either climb the mountain on foot or take the cable car that goes up (for the cable car you need a ticket for public transport in Prague; if you have a day ticket, for example, then the trip with the cable car is included, otherwise you have to You buy a single ticket).
On the Petrin Berg itself you can climb the payable observation tower, visit the payable mirror labyrinth or have all sorts of other payable half-fun. In short: we were up there and it was not clear to us, which is why you should visit the Petrin mountain in addition to the castle, which is also on a mountain. The Prague skyline is not known as particularly spectacular and we found the additional entrance fees to be too expensive. There is a pretty garden on the Petrin mountain, but hey, you don't have to go to Prague to go for a nice walk.
John Lennon Wall
That too is quick: there is nothing to see here except a wall painted in bright colors with graffiti. Originally there was a portrait of John Lennon here, but it has long since disappeared under countless layers of paint. The wall has a more symbolic character and stands for the ideals of freedom of our time. There is a small bridge very close to the John Lennon Wall, which is hung all over with love locks. It's not really exciting either, but it is definitely more exciting than the usselige wall.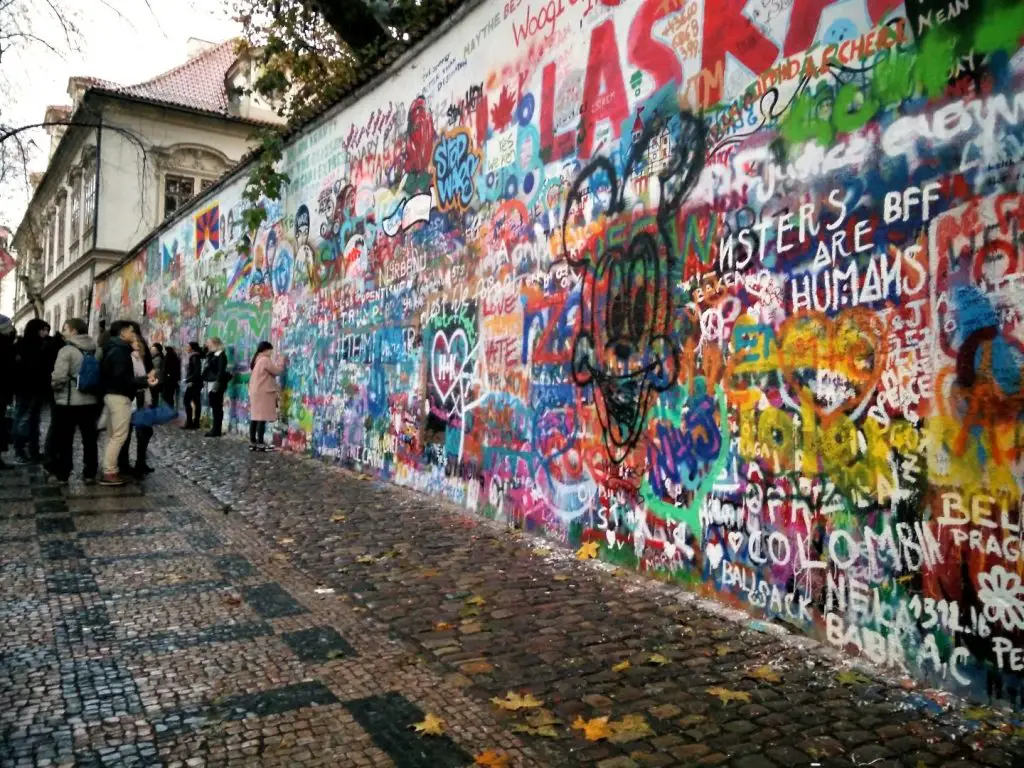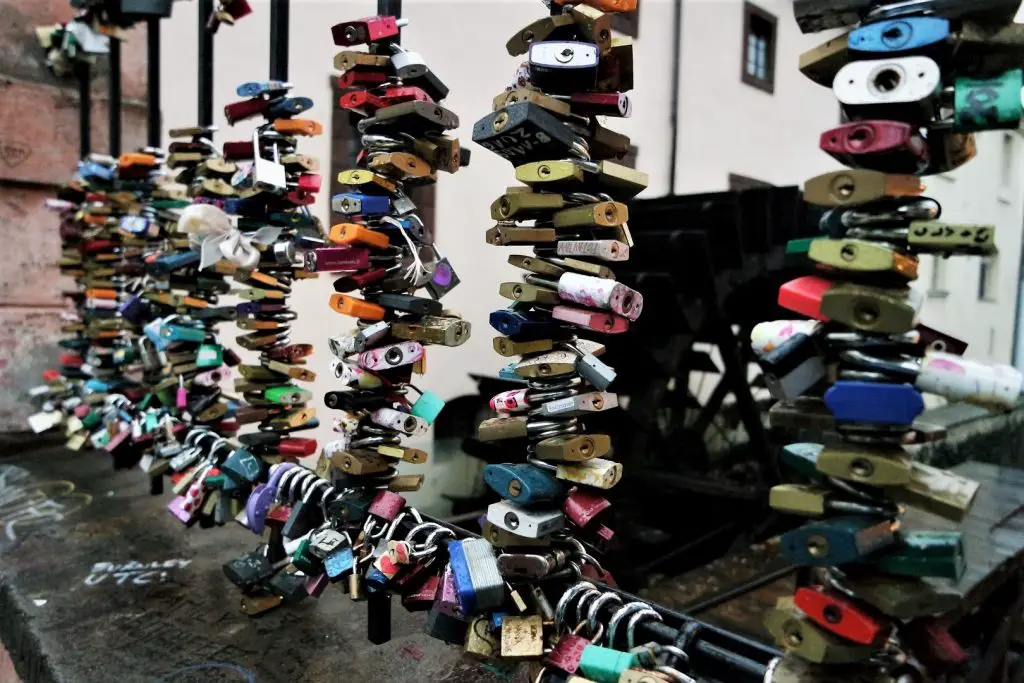 Wenceslas Square
Although Wenceslas Square has not existed in its current form for long, it was already the scene of a number of events in modern Prague history: in 1969 two Prague students burned themselves here in protest against the crackdown on the Prague Spring, and in 1989 it was the scene of the so-called Velvet Revolution. You should therefore take a look at Wenceslas Square and, above all, read a little about its history , but you should know that ultimately it is only a large square in Prague, which is now mainly lined by the usual chain of shops. Nothing special.
The dancing house
We already saw the dancing house when we drove past and at that moment decided that we would not come here again. Because: Really now? Is that supposed to be one of the main attractions of Prague? It's just a building that a couple of architects have let off steam on. Hooray. The dancing house houses office space, so there is nothing to see inside either.
Taxi driving in Prague
Just don't. Taking a taxi in Prague is too expensive compared to the usual price level there. Rumor has it that taxi drivers like to rip you off as a tourist. So we switched directly to UBER in Prague : An UBER taxi is so ridiculously cheap in Prague that it even beats a day ticket for public transport. We drove several routes for the equivalent of € 3-4 per trip!
Hence our tip: Do not buy a ticket for public transport in Prague. You can easily explore the whole old town with the most important Prague sights on foot. If a distance is too far for you, e.g. back to the hotel after a long day, then an UBER taxi will pick you up . Just note that in Prague you cannot pay your UBER via Paypal, but only in cash (at least none of the journeys we made via Paypal).
Prague sightseeing by hop-on hop-off bus
We already talked about the Free Walking Tours above, right? (This is a test of whether you have been paying attention) Therefore only briefly as an addition, which is why sightseeing in Prague by hop-on-hop-off bus is completely meaningless: All the main sights of Prague are in Prague's old town, which is too wide Share is closed to traffic. A bus would only bring you close to the sight, the rest of the way there you have to walk. Do you notice yourself, no….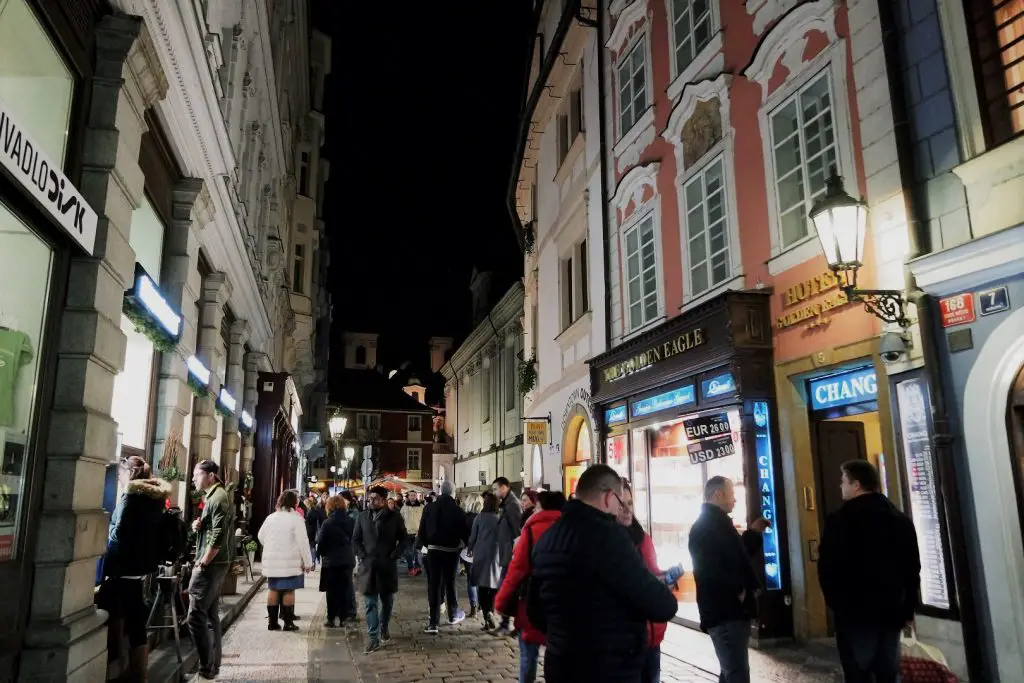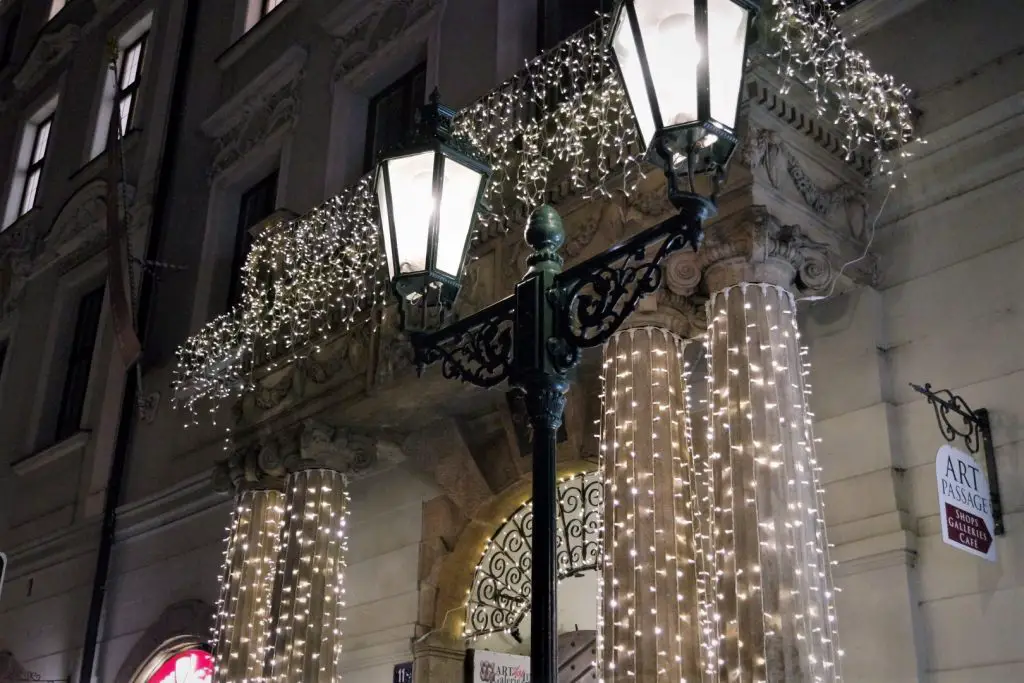 Tips for traveling to Prague: Hotels – Restaurants – Parking
Hotels in Prague:
Restaurants in Prague:
A visit to a restaurant in Prague will in all likelihood not tear a big hole in your wallet. Nevertheless, the rule of thumb is: As always, do not eat in the very present restaurants right next to the sights in Prague such as the Old Town Square or Charles Bridge, here you pay a tourist surcharge. For orientation: a meal or a menu including a starter should not cost more than approx. 250 Czech crowns, a beer not more than a maximum (!) 60 crowns.
Probably the most famous restaurant in Prague is the U Fleku restaurant. There are traditional Czech, heart attack-accelerating dishes at reasonable prices in an ancient atmosphere, which are best washed down with liters of our own lager. The waiters at U Fleku do not give you any choice, you are served beer and schnapps immediately after arrival without being asked ? But be careful: the drinks will end up on your bill! The prices are okay, but make a cut if you don't want to get poor. You are bottled here mercilessly. We thought it was great!
Parking in Prague:
Sucks. It can not be said otherwise. The entire old town of Prague has parking spaces reserved for residents; parking anywhere for free is almost impossible. Therefore, in Prague, there is an alternative to the Mr. Parkit parking garages , in which you can park your car on a relatively cheap basis (approx. € 20 / day). So if you want to drive to Prague by car, you should definitely take these parking costs into account and reserve a parking space in advance (or go straight to a hotel that offers parking spaces).